Who's Online Now
0 members (), 24 guests, and 15 robots.
Key:
Admin
,
Global Mod
,
Mod
Dear all!

I'm going to a journey of more days and I'd like to keep in contact thru my notebook, but the battery is not good for days and I have no idea of what kind of plug they use f.ex in Germany and in Dubai on the airport.

It might sound stupid but I'd feel very lonely in a remote airport in an unknown city without Internet.

Thank you all, and I wish You all a very joyful Christmas!
---
The world is full of beauty if the heart is full of love
Gloria, that plug you link to is used throughout Europe for light-duty appliances like lamps, tape recorders, TV sets or battery chargers.
Your flat plug will also fit the socket shown here:
http://www.global-electron.com/plugs/F.htm
(this is the "earthed version").
Both versions are the standard plugs for Germany.
[This message has been edited by SvenNYC (edited 12-23-2004).]
If you're visiting any British-influenced places (incl. Ireland, Cyprus, etc.) then a "shaver adapter" is suitable for low-power equipment: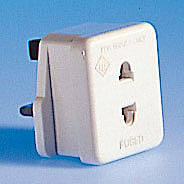 A handful of adapters is available from Radio Shack for about 7 or 8 bucks.
C-H, I checked out your site.

I've always wondered what plugs they used in Equatorial Guinea and now I know. You definately have too much time on your hands.
Ohh, I guess it is the same as ours, so I don't have to buy another wire. Thanks!
---
The world is full of beauty if the heart is full of love
Link Copied to Clipboard
Featured:

Tools for Electricians

* * * * * * *


2023 NEC Now Available!

* * * * * * *


2020 NEC Electrician
Exam Prep Combos:
Master / Journeyman