Who's Online Now
0 members (), 23 guests, and 14 robots.
Key:
Admin
,
Global Mod
,
Mod
General Discussion Area
Elk's Lodge 11th hour ritual chime clock
lemahj
09/26/23
02:24 PM
Elk's Lodge 11th hour ritual chime clock – maintenance and build

These old school custom built devices used a hand built radial sequencer to operate each of the lights and two tone chimes. A Hanson 600 series Synchron motor was used to drive the sequencer, and three single pole double throw relays were used to control the operation. Everything can still be purchased except the custom-built radial sequencer. This sequencer is built up from a LE grade linen phenolic ¼" thick board, with two rows of electrical contacts. This appears to be arranged as a twelve position radial switch, non-shorting, each at 30 degrees. The outer row is flat top button contacts for the lights, and the inner row is narrow diameter pin contacts for the chime. As an item of interest, the L1 - 120 volt AC and the 16 volt AC for the chimes are both connected to the same central wiper.

My question for the group is that I am looking for a "company" that sells the contact and wiper parts that would be installed into the linen phenolic board of this old school live face, switch gear.
FYI – If a modern PLC were to be used to duplicate operation, it would need at least 1 digital input to start ritual sequence and 13 digital outputs, where two of the DO's would need to operate at the chimes voltage of 16 volt AC and the other eleven would need to operate at 120 volt AC.

So, once again my question relates to the availability of manufacturing old school live face panel boards. I have seen old school live face panel boards at power stations that have radial tap switches for step up transformers.
0
33
Off Topic Discussion
Strange breaker tip problem
gfretwell
09/26/23
12:13 AM
I have a circuit that goes to a lot of stuff and it was tripping a 20a breaker but it was only once every few days, up to a week. The circuit was lightly used and cruised at less than an amp at the breaker until some outside lights came on, then it was still less than 2 amps. I swapped breakers right away since I had the panel open to look at the current. I kept taking things away until I had it isolated to one motion detector. The GFCI this was on sometime tripped but not always. (usually not) I still don't believe it but replacing the M/D seemed to fix it. It has been several days with no problem. After a couple days I decided the M/D was bad and I broke into it. I didn't see anything burnt or any other thing out of whack. I had that box open a few times in this process and there was nothing unusual going on. I couldn't make it fail moving the wires around hot and I didn't see anywhere that showed a burnt spot. I really expected a fault that tripped a 20 would leave a mark. This is an all plastic M/D without a green wire but all indications pointed to a line to ground fault. In a race, the GFCI should win every time. The test button does work and this is the new style "smart" one. I suppose I should just move on but I am curious. Have you seen anything like this.
0
30
NEC & other Code issues
Re: An impossible Support Violation
gfretwell
09/12/23
08:29 PM
You might be able to squeeze that polling place through the "temporary wiring" loophole. It would require GFCI tho. 590 is really somewhat poorly written since it mostly addresses wiring during construction but it acknowledges Christmas lights are included and we all know the NEC goes on vacation at Christmas. I just see Chevy Chase on a ladder with his T-50, stapling lights to the eaves and remember seeing that going on every December my whole life.
As for "mission creep";
I do agree the manufacturers have way too much power in the CMPs and that leads to abuses where they are simply using the code as a marketing tool for their latest invention, even when it is still an untested design.
14
911
General Discussion Area
Re: How are you Jersey folks about the windmills?
gfretwell
09/08/23
06:21 PM
The bridge was just a crazy idea we had drinking beer by the pool. I had the deck part, left over from a playhouse I made for the kids. I dragged it over there and it was just a deck to nowhere when my wife said I should link it to the top of the hill. I had a few hundred feet of 1.5" rope laying around and it just grew from there.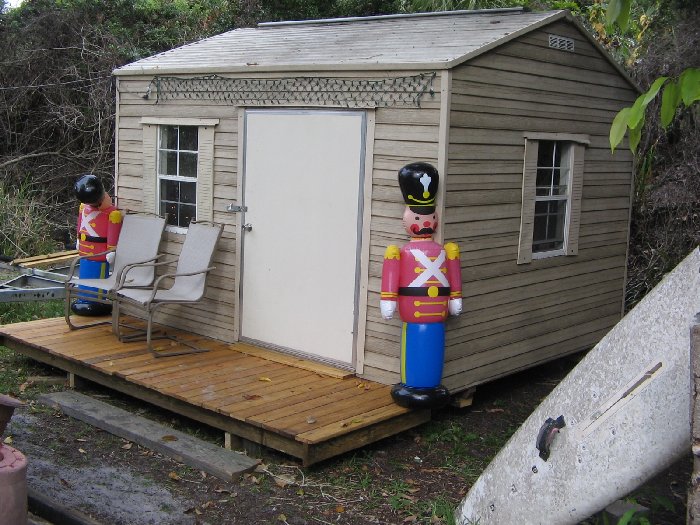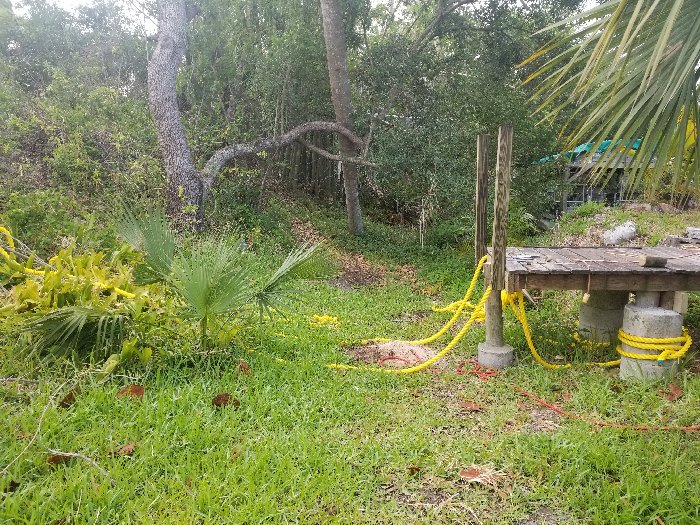 8
1,009
Featured:

Tools for Electricians

* * * * * * *


2023 NEC + Exam Prep Study Guides Now Available!

* * * * * * *


2020 NEC Electrician
Exam Prep Combos:
Master / Journeyman