Who's Online Now
0 members (), 30 guests, and 25 robots.
Key:
Admin
,
Global Mod
,
Mod
An office space I am wiring will have a drop ceiling hung just 6" below a concrete deck. There are many branch circuits that will be running above the ceiling in MC cable. I'm wondering what others would use to attach the MC to the concrete deck? I know Caddy has many neat products for securing cable/conduits, any thoughts?

Thanks
Six inches really doesn't give you much room. The Caddy stuff is good but less expensive are plain old one hole straps. Shoot em with a Hilti gun.

-Hal
---
Earl
Thanks for the replies.

What are brindle hooks? I did a Google search and came up empty.

Thanks
I think he meant "bridle rings"....

Stll, using these would be more work than shooting straps with a Hilti.

[This message has been edited by NJwirenut (edited 07-04-2004).]
Caddy makes them in a few sizes for MC support they are nothing more than a loop of heavy wire solid 8 or 10 steel made into a hook.

With only 6" I do not think bridal rings will help much.

I would shoot in one hole clips like Hal said or just shoot in some shots to use metal tie wire with.

I often use steel 'bailing wire' to tie MC to what ever, this is the same wire the cement guys use to tie re bars.

The advantage to this is you can keep the wires tight to the cement.

I would not even think about this job without some sort of powder actuated tool.

Bob
---
Bob Badger
Construction & Maintenance Electrician
Massachusetts
I always liked to use Caddy Mac2's, but they probably are more than a 3/8" one-hole.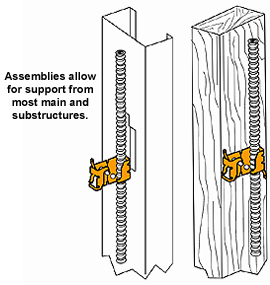 ---
Ryan Jackson,
Salt Lake City
What kind of deck is above?
You've got to be careful.

We do work on post-tension concrete decks that can only have 5/8" deep anchors put into them once they're poured, unless they're x-rayed first...S
Scott (electure)'s got a point with the post tension decks... Incredibly easy to void a warranty & make it your own on those things.... (The only post tension deck I worked around, had threaded anchors sunk into it while wet... Came back & bolted strut on.. Easy
)
I've done the Ramset & one holes before while running home runs down concrete corridors... Fast, clean & economical (As long as you use the right power of shot
)
I have seen brackets similar to the ones that Ryan shows hung on concrete with some sort of epoxy or resin.. thereby not penetrating the concrete at all... I've never used it before, but if you have something that's going to be really finicky in the way you can penetrate, it sounds like one of the best options..
good luck
-Randy
Quote
Fast, clean & economical (As long as you use the right power of shot)
That's for sure, sometimes it can be quite frustrating with old concrete.
I don't see any pour in place pretensioned floors around here, just pre-cast planks once in a while.
The most common method around here is just plain old concrete with mesh reinforcing.
Bob
---
Bob Badger
Construction & Maintenance Electrician
Massachusetts
Link Copied to Clipboard
Featured:

Tools for Electricians

* * * * * * *


2023 NEC + Exam Prep Study Guides Now Available!

* * * * * * *


2020 NEC Electrician
Exam Prep Combos:
Master / Journeyman