Who's Online Now
0 members (), 4 guests, and 17 robots.
Key:
Admin
,
Global Mod
,
Mod
How on earth can our northern brethren deal with the cold weather that Mother Nature has been so generous with lately ? If the roads were clear, I'd get the hell out of there in a hurry!! (at least until the spring thaw) I'd probably have too many layers of clothes on to reach my toolbelt anyway.
The last few days we have been around 70F and I have been cleaning on my boat, readying it for the White Bass spawn next month. Just thinking about how cold it must be on you guys gives me shivers.

Warmest wishes,
Donnie
---
Donnie
Work Gear for Electricians and the Trades
Donnie: If you haven't been to a college football game that is 10 degrees at kick-off with wind chill in the negatives in the middle of a blizzard like I was in in November.....well, you just haven't lived.
Good to hear from you again.
---
Ryan Jackson,
Salt Lake City
I'm in NJ, and i don't deal with it very well, i sometimes wear 5-7 shirts because i don't like jackets. I also whine about it alot.

Oh, and at Dallas Giants or Dallas Eagles games, i have 10 plus beers before the game, and another 5 before half time, usually i don't remember the score, or many plays, but i don't remember freezing either. (FYI that's about 8 beers past my limit)
---
NJ licensed electrician
Quote
Today
Bitter cold. Partly sunny. Highs zero to 5 below. Northwest winds 5 to 10 mph increasing to 10 to 20 mph this afternoon producing wind chills of 25 to 35 below.
Tonight
Partly cloudy and brisk. Lows 10 below to 15 below. Northwest winds 15 to 25 mph producing wind chills of 30 to 50 below.

somebody needs to invent one of these...
with enough cord for me to walk around the job with it in one of these...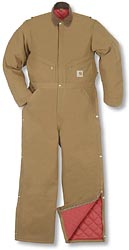 ~S~
It's snowing right now in New York City.
Thermometer reads 14 degrees (that's FAHRENHEIT, kiddies (That translates to roughly MINUS NINE degrees Centigrade).
How do we survive? I don't know. But at least it's not as bad as Minnesota and Montana, etc.
Residents from those states would be laughing at us: Six inches? Four degrees Fahrenheit? Why that's just sweltering -- where's my swim-trunks and shades, I'm going up on the roof to catch some rays.
[This message has been edited by SvenNYC (edited 01-15-2004).]
I got my first experience of such low temperatures traveling across the Mid-West on Amtrak. I stretched my legs from the sleeper car one very cold and crisp December morning in Ohio. I'd never felt anything that cold before, so it was quite an experience.
When I arrived in Nebraska (January 1st!) I remember seeing a bank sign which proclaimed it was a balmy 8 degrees outside! I soon learned that walking three blocks to pick up my car wasn't worth the couple of dollars taxi fare it saved.
The coldest I experienced while out there was around -20 F. Despite the much lower temperatures though, I found the Mid-West cold to be much dryer and more invigorating than the miserable damp English winters.
I'd still prefer a nice comfortable 70 degrees though!
We don't deal with it very well
. Today absolutely sucked. Uncovered skin would freeze in 5 minutes or so it seemed. I finally said screw this and went home. Where I'm presently sitting on my woodstove
I have a bad spell every year come December an it lasts until May
I don't and won't work outside. In this weather you could not pay me enough. Self employment actually does have a good side.
Link Copied to Clipboard