Who's Online Now
0 members (), 94 guests, and 13 robots.
Key:
Admin
,
Global Mod
,
Mod
In a previous discussion I mentioned troubleshooting and fixing issues in a rough looking parking lot that was wired from service to receptacles with aluminum. The main problem was that the neutral conductor feeding 3 pedestals popped loose creating voltages downstream ranging from about 50V to 240V. Of the receptacles affected two were GFCI. After correcting the lost neutral the GFCI's failed to reset. After talking to the owner I suggested replacing the GFCI receptacles with standard 15A commercial grade. Since I had never seen the insides of a GFCI receptacle I decided to take the two home and tear them apart. Today I finally found some time to get at it and while doing so I noticed the name "3 Grace" on the back. When I look at basic electrical components I usually expect to see one of the common names like T&B, Leviton, Hubbell, P&S, etc. I did a Google search and traced the product to a company in China called
Zhejiang trimone electric science and technology co.
Here's what it states on their website:
Quote
Zhejiang trimone electric science and technology co., ltd. founded in 2001, is an export-oriented,high-tech enterprise under the protection of intellectual property rights. We manufacture GFCIS, SWITCHES, RECEPTACLES AND OTHER ELECTRIC ACCESSORIES. We now own 75000m2 of standard workshops, which lie in the high-tech economic development zone of pinghu in zhejiang, near to SHANGHAI AND HANGZHOU. We have passed internationnal ISO9001 quality system assessment and obtained multi-country safety agency approvals: 3C, international UL, CUL, CCEE AND GS.
We live and work by our motto "Good quality and satisfied customer will make us winners", we strive to be honest and loyal to customers and we are motivated to work hard for a better tomorrow.
http://m.smkjwangxp.diytrade.com
I've never seen this brand name before and I was wondering if anyone else had knowledge of it?
---
A malfunction at the junction
--------------------------------------
Dwayne
---
A malfunction at the junction
--------------------------------------
Dwayne
Correction

Voltage readings posted above don't add-up and I can't remember the exact results so disregard.
---
A malfunction at the junction
--------------------------------------
Dwayne
I am not familiar with them but it might be interesting checking to see if the U/L certification for that particular product is valid.
---
Greg Fretwell
Quote
Hazard: The receptacle can accept plugs for either 120 or 240 volt products. A potential fire or shock hazard exists if the receptacle is not wired to match the voltage rating of the device plugged into the receptacle.
A major point of the differing plug and socket patterns is to prevent voltage mismatch mistakes. Most 120V loads will get really unhappy with 250V, and the results will not be good...
If the load is a switching power supply that can take 100 to 250V you'd get away with it, but more traditional loads will be severely damaged.
Yikes. I haven't seen that receptacle pattern since stuff made before WWII (maybe WWI)
I think that is why NEMA came up with the standards we have today.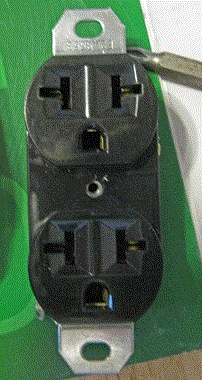 ---
Greg Fretwell
Interesting with the 3Grace GFI....
I watched 7 cases, pack ten (10) each being destroyed today at a ECs shop today. They had them 'in stockroom' for a while. I had a conversation with the EC about this, he had his shop man lay them out, and run a forklift over them!

Yes, the cases did not look like the typical 'asian' cardboard!


---
John
I have to ask him if he has any of those multi-volt receptacles (LMAO)!!
---
John
Link Copied to Clipboard
Featured:

Tools for Electricians

* * * * * * *


2023 NEC Now Available!

* * * * * * *


2020 NEC Electrician
Exam Prep Combos:
Master / Journeyman