With the latest storm comes yet another wave of questions to electrical forums about hoohing up generators.

When the weather is nice, we have loads of questions about tying in solar, wind, and other 'alternative' power sources.

Both issues come down to there being a transfer switch. So, I ask: is it time to mandate a service-capacity transfer switch with every service change or new house?

Is it even time to consider adding one as a matter of design choice, for 'just in case?'
Stay up to Code with the Latest NEC:
The easy way to do this would be to incorporate a lock out device in the cover with a back fed generator breaker. As long as it was an available option for the enclosure, I think your requirement would be met.
---
Greg Fretwell
Adding an ATS/MTS may be a good design choice, service rated, or as Greg mentioned a compliant lockout and backfed.

There are a lot of generator permit apps rolling in here after the recent storms. Whole house setups, and manual backfed setups with a twistlock inlet for gen connections.

A few comm buildings are and have been preping with tap boxes for cam lock connections, with transfer equip ranging from auto to manual with 'Kirk Keys' lockout.

An issue that has come up recently (pre-storms) is the capacity of the natural gas utility systems to handle the influx of whole house, natural gas gens!

There are two apps for whole house gens powered by compressed natural gas, awaiting reviews by Fire, Zoning before they get to me. I wonder where ya get CNG?

---
John
I hear people are already telling the government to make it mandatory for gas stations to have back up generators. Next I am sure they are going to want the banks and convenience stores to have them too. How many large grocery stores have you seen throwing out dumpsters of food that defrosted or went bad?
Publix, our biggest grocery chain here, has generators at most of the stores, enough to run the coolers, POS and enough light to get around the store.
It is nice knowing that a store will be open shortly after the storm passes.
Gas stations on major routes are required to have generators by law here.
Maybe you folks up there should just schedule a conference with Florida emergency response and building code people before you reinvent the wheel
We may have more preparedness than you all need but we are not strangers to that kind of storm. It was certainly an eye opener for me when I came here 30 years ago and things for coping just keep getting better.
Looking at all the damage pictures, a few things stand out. Your houses are not strapped (no uplift protection) and you should cut down or severely trim a whole lot of trees.
I also see virtually all the power poles and pilings on the beach that failed are creosote. When was the last time they were allowed to install those? the 60s?
Those are old poles.
---
Greg Fretwell
Greg,


You are absolutely correct about the old and tired ways that we still use up here. People around complain like crazy when the POCO wants to cut down trees by the power line. Yet they are the first ones to bitch and moan when they are out of power.
Yup, we trim our trees all the time, NEVER let them grow near the lines: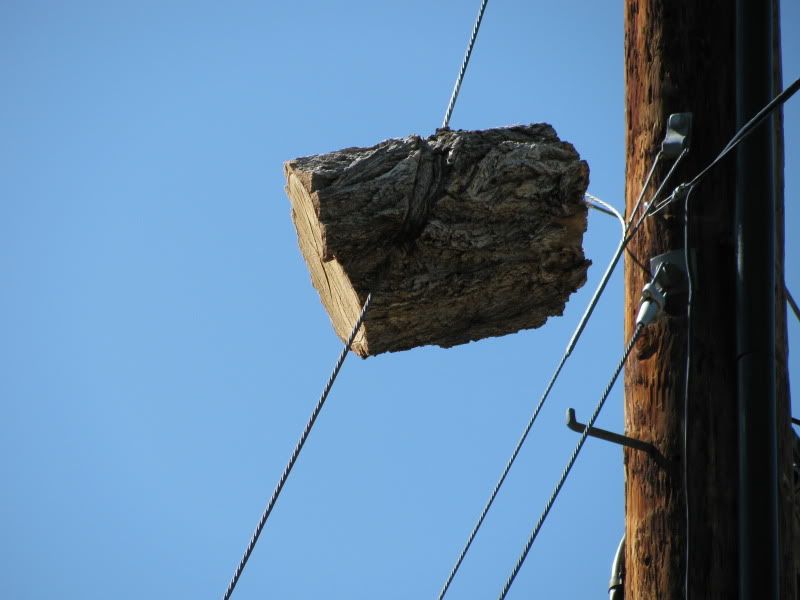 Around here it was Charley that got FPL to get medieval on the trees. When Wilma hit our power problems were minimal. They have stayed aggressive with the trees. My lineman neighbor says trimming trees is a lot cheaper than replacing broken infrastructure.
---
Greg Fretwell
Guess Reno made a trip over to the Great Garden State!!

I knew I should have taken a pic of the HO who tied a leaning telco pole to an evergreen tree. I had to look twice when I drove by!

The populace is getting more upset with JCP&L, and there is a few towns that are legally looking to get them out of town. (Good Luck)

My home area was mostly flood related, going inland it was trees and snapped poles. Other areas were blown substations. Old and tired? That's the popular opinion!
Last edited by HotLine1;
11/26/12
08:51 PM
. Reason: added tree support
---
John
"There is a few towns that are legally looking to get them out of town."

There's the problem.

Some folks think you solve problems with your attitude. That is, if your ego is bigger, you can push the other guy around. That if you argue and BS enough, problems are solved- to your liking.

I once had such a discussion with a gent regarding the help he was supposed to provide. I ended that with this statement: "The concrete is here. You see that pile? It is setting as we speak. Either you find bodies for shovels NOW, or you will have a very big lump of hard concrete sitting in the middle of your parking lot. Do you still want to waste time arguing?"

That's what ALL of our power grids are coming to. The 'lawyers' and 'activists' have done a wonderful job of obstructing everything the PoCo wants to do. Sooner or later, things WILL break - and no amount of clever talk will get power restored.

You make the PoCo limit their stores of spare parts, you restrict their manpower to absolute minimums, you deny them the money to make upgrades or to perform preventive maintenance - and one day you'll be without power, and have no one to blame but yourself.

Investing is 'alternative energy' might sound sexy, but it won't replace that rotting power pole.

I get the point about trees. Everyone plants them and then forgets them. Worse than that, they want to plant something that grows fast, because they want the shade NOW. When the branches get near the wires, suddenly it's the PoCo's fault / problem.

When your power is out, the linesmen are heros. Come summer, and we're back to the usual "PoCo is a bunch of crooks" mindset. Ever pause to think maybe WE are the problem?
Link Copied to Clipboard
Featured:

Tools for Electricians

* * * * * * *


2023 NEC Now Available!

* * * * * * *


2020 NEC Electrician
Exam Prep Combos:
Master / Journeyman