Who's Online Now
0 members (), 122 guests, and 11 robots.
Key:
Admin
,
Global Mod
,
Mod
I had a nasty little pull today that really needed a helper but I was here alone. I really needed to push and pull at the same time.
I was poking around in the garage trying to come up with an idea and I spied a 10' roll of bungee cord.
Short answer.
It worked great. I tied jet line on one end and pulled it through the void with my fishing string, Taped it good to the RX and pulled what I could get, leaving it stretched pretty tight and went up into the attic to see what I had. Yup there was a little kink but when I straightened it out, the cord pulled it on down.
---
Greg Fretwell
Now that is working smarter and not harder there, Greg.
I like people that can improvise stuff like this at the drop of a hat.
This is the light that started the project. My wife suddenly decided this had to be on a 3 way and that required another wire, snaked down into an old masonry wall, not one I had run the smurf into. It involved drilling a 16" concrete and steel tie beam.
The light is a nautical pull down to stay with the motif of the room. I am still working on how to terminate the cord. This is just my testing setup.
I have some coiled cord but that may not pass muster with the captain. She wants the cord to retract too. That may mean the octagon box is just going to be a pass through and a mount for the canopy that goes with the light. I end up moving all the wiring to another box in the attic.
I am still fighting for the curly cord so I can be done with this thing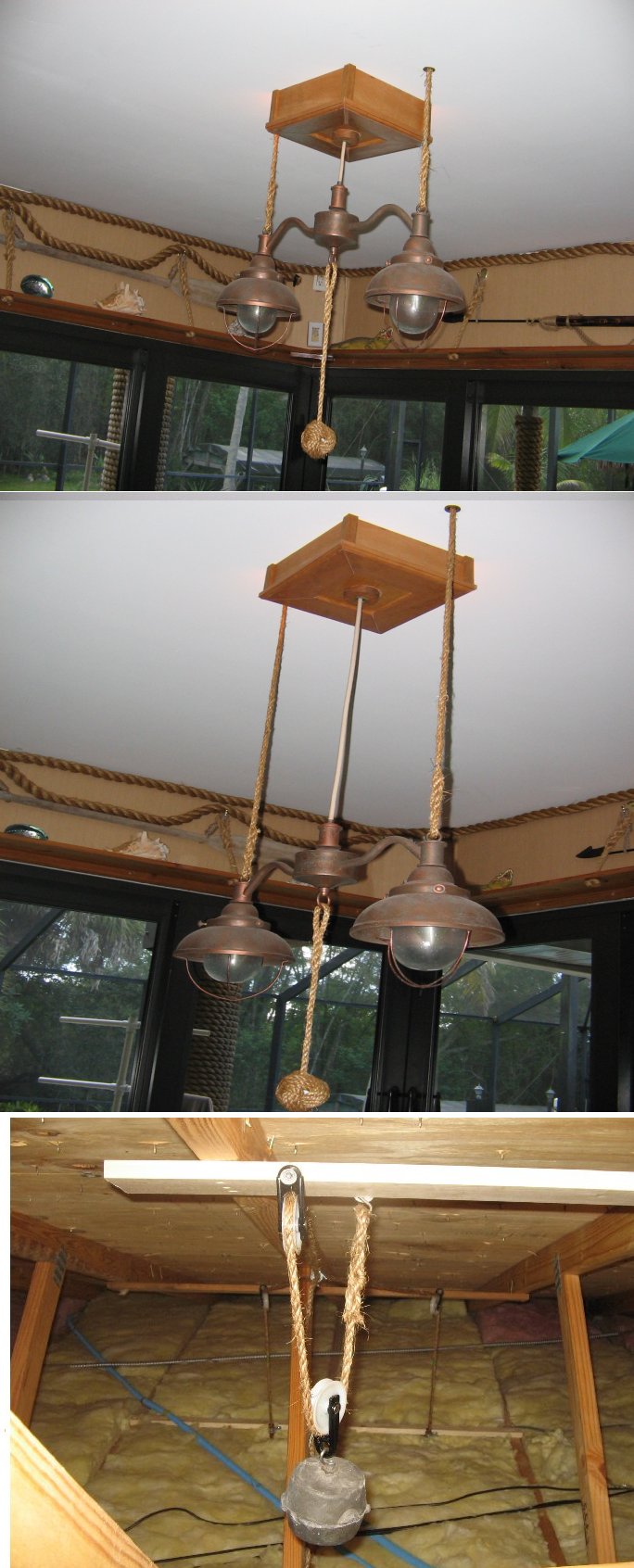 ---
Greg Fretwell
We had one with single lamp and had fabric covered SO cord on a spring reel in a canopy, I still have old light, if its in storage I'll shoot some photos and you might get some ideas....Chris
This must be the house of an inspector.
I mean, who else would have a double recept above a light fitting?
Surely you'd send the flex into the roof and terminate it in a suitable box?
Oh and one other thing, Greg, do you have shingles on that roof?
Man, them nails look dangerous sticking through the plywood.
I know Angelo Bros. used to sell the retractable cord ball assemblies, but since Westinghouse bought them out I canít seem to find diddly on them.
I found a fixture from Pottery Barn that has a neat looking retracting cord setup with the pulleys and all. Maybe you could get the less expensive one and cannibalize it just for the cord set. The only thing is that it looks like it may be more of a pewter color than the copper you have, so you may need to do some detailing.
Light Fixture
Yup those are roofing nails. This is the "good attic" since it is 4:12 and you can walk around up there. The tough one is the other part of the house where it is 2:12.
Anyone who spends a lot of time in attics does get poked a bit if they are not careful.
I am still working on the cord problem. I am sure I will come up with a more compliant solution although I am not sure why the duplex receptacle is illegal
We did have that discussion once in an IAEA meeting about whether a blanked off ceiling box was a lighting outlet and if putting a duplex on the box would do it if you didn't like the blank.
---
Greg Fretwell
KJ I saw something similar to that light but it is probably not legal to do the cord thing in the attic although that is what the captain wants. (cord passing through a wall/ceiling)
If I did it I would nipple through the ceiling box with bushings on each end and terminate the cord in the attic with that pulley deal but I am still bothered by the illegal part.
Does 400.7(A)(2) trump 400.8(2)?
It sure sounds like a place for an AFCI
Those old pull down ball retractors seem to be unobtainium.
---
Greg Fretwell
Ahh, so the cord also has to retract into the ceiling as well. That is going to be a challenge. Does anyone even make something like a resi chandelier lift that also retracts the fixture wiring?
Iím sort of wondering how big a hole has to be before it no longer counts as a hole when passing a cord through a ceiling.
Back when I was an apprentice, one of my old bosses used to say to me, ďitís okay, because at least we know betterĒ, whenever he needed to apply some of his own creative free style wiring to the task at hand.
If anybody makes one, my wife doesn't want it
It is why we have so many things nobody has ever seen before around here.
Now she wants the cord to look like rope ;(
I am looking for a manila colored, hollow core polypropylene rope. I have some 3 lay I used for the monkey fist that is the attic pull and will be the dongle on this light but it is not hollow core.
---
Greg Fretwell
Link Copied to Clipboard
Featured:

Tools for Electricians

* * * * * * *


2023 NEC Now Available!

* * * * * * *


2020 NEC Electrician
Exam Prep Combos:
Master / Journeyman