Who's Online Now
0 members (), 14 guests, and 8 robots.
Key:
Admin
,
Global Mod
,
Mod
Ever seen anything like this?
Note the looped filaments. I assume these have to be base up.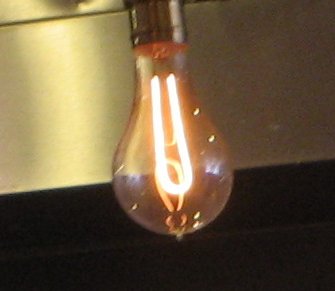 ---
Greg Fretwell
I wonder if that's original or a repro. Most of my collection has pear-shaped envelopes, not A-lamp ones.

In any case, it looks like a carbon filament, probably in the 10-16 candlepower range.
/mike


This was in an old bar in Crested Butte CO. It could be pretty old but I doubt it is an antique. They had a bunch of them.
---
Greg Fretwell
And $19 for a push button switch!
---
John
Here is another source:
http://www.aamsco.com/
And here is article about the Nature Nazi's being miffed 'cause folks are using them.
I picked one up a few years ago in FLA at Edison's winter retreat. Don't remember hoiw much I paid for them but they were a remake of the old
---
"Live Awesome!" - Kevin Carosa
They have a long life [c.2000 hours] if not subjected to physical shocks, but tend to blacken as the carbon filament 'evaporates'. That was the main reason for changing them out.
---
Wood work but can't!
Greg,
Nice picture.
I must say there's nothing like the yellow/orange glow from an incandescent lamp.
When they've all been banned, we're going to be left with the fake looking "warm white" glow from fluorescent lighting sources.
I'm certainly not looking forward to that day.

To the same degree, this is why I'd always choose a wood burning heater to heat my lounge (and the rest of the house) over any sort of electric heater.
I think it's a psychological thing that being able to see real flames, in your lounge (without having to run to find a fire extinguisher), makes you feel warm.

I used to send a lot of my customers to that company "Rejuvenation" because we have a lot of 200 year old houses here and the people would want to use "old" hardware. The old 2 button switches, the old Edison light bulb, old paddle fans, grills on the floor/wall, etc. It makes the old home looking like you stepped into time.
Link Copied to Clipboard
Featured:

Tools for Electricians

* * * * * * *


2023 NEC Now Available!

* * * * * * *


2020 NEC Electrician
Exam Prep Combos:
Master / Journeyman