Who's Online Now
0 members (), 37 guests, and 14 robots.
Key:
Admin
,
Global Mod
,
Mod
Interesting to see that the radio is priced in 'gns'! 17 1/2gns! I ask you! Why on earth not put the correct price, and who thought of gns anyway? Just another way of letting you think that something is cheaper than it actually is. For thoses who have not heard of 'gns'...gns = guineas

1 guinea = £1-1-0d = £1.05p [ I think ]

Also it says 'Radio suitable for Escorts etc etc' dated 1959 I thought Escorts came out in 1968; I was wrong, they actually named a mid 50's Anglia derivative 'an Escort'. I have sent pauluk a pic of one to put up [looks more like a Hillman Husky to me]
It's Sunday, I'm bored and nobody wants to go diving; hey-ho.
And here it is:
Dagenham (British Ford's equivalent of Dearborn) changed several of the model names around over the years. Wasn't it the Ford Popular which at some point in the late 50s/early 60s took over what was then the body of the Ford Anglia? The Anglia then became the very distinctive shape that most people think of for the sixties Anglia model.
By the way, my father once owned a Hillman Husky. That was a couple of years before my time, but I have pictures of it somewhere. Had a 1961 Hillman Minx by the time I was born.
[This message has been edited by pauluk (edited 02-11-2007).]
At least they included sales tax! Wasn't that 4% ?
By quoting in guineas they make them sound like race horses and looking at the prices they're about right! The Pye is going for 24 gns (or £25/4/-; or £25.20). In 1959, my grandparents bought their 3 bed semi-detached house for £500 and my dad was earning 18/6 per week (92.5p) doing his National Service.
They were a king's ransom - no wonder they quoted them in guineas.
As we're on the topic of old UK cars... does anyone recognize that car?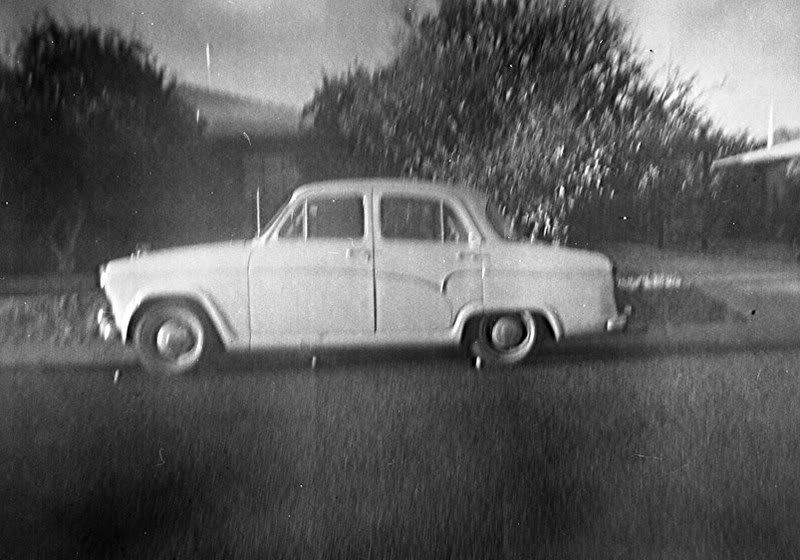 The guy who has the original picture thought it was a Peugeot convertible, but that can't be true.
Brings back some memories for me, my first car was a 1962 Triumph Herald for $30.00, cost me $35.00 to tow it home. Took it down to the frame, threw together some bits of engine and drivetrain from a wrecked 1973 Spitfire, and had a ball with it. Electrical fires from the 'Lucas - Prince of Darkness' system were numerous, as were the 'no-starts'- got really good at pushing it myself hopping in and popping the clutch.
---
Even a blind hog can find an acorn every now and then
Texas,

Thatsa Hillman Minx isn't it?

TW

Edit: Maybe not This is the car I thought it was.
http://www.charm.net/~pdbragg/whatsahillman/emseriii.jpg

[This message has been edited by Trainwire (edited 02-22-2007).]
Thanks!
While there are some minor differences, the Hillman looks a lot more similar than any other car I compared so far! So I guess it's just a different year or something like that.
Definitely not a Hillman Minx, although the Minx went through many variations of style from the 1930s through the 1960s.
It looks like a mid-1950s Austin Cambridge to me:
http://www.philseed.com/austin-prefarina.html
(Have a look through the rest of that website -- Some great old car catalog pictures!)
Oh yes, definitely! The doors give it away!
Thanks a lot!
Link Copied to Clipboard
Featured:

Tools for Electricians

* * * * * * *


2023 NEC Now Available!

* * * * * * *


2020 NEC Electrician
Exam Prep Combos:
Master / Journeyman