Who's Online Now
0 members (), 18 guests, and 12 robots.
Key:
Admin
,
Global Mod
,
Mod
That actually raises an interesting point.

There is a British Standard which lists the colors to be used for identifying pipes and conduits, and it specifies orange for electrical conduits.

So wouldn't it be sensible if we could obtain orange PVC conduit?
EN 50086-2-4 specifies underground conduit: Red for power, black for communications.
Red seems to be the accepted standard for underground power conduit here in Ireland.

Yellow for gas pipes.

Orange gets used for Public Lighting and Traffic Lights

Telecommunications ducts are a mixture of colours:

Eircom (the former state owned phonecompany) has black ducting for bundles of copper telephone cables.

Fiber optic and coax cables tend to be layed in green duct (for all companies)

Although, sometimes trunk network fiber optic cables are ducted in blue.

Communications companies are now required to print their name along their ducts too as it makes identification easier.
Quote
So wouldn't it be sensible if we could obtain orange PVC conduit?

You would think so wouldn't you? I have yet to find it around these parts - and not even the utils use it around here ( although the u/g cables are now sheathed in orange ); they still use black + warning ribbon.
---
If hindsight were foresight, we'd all be millionaires!
We've always used the Orange conduit here for underground Power services, at least as far back as the 50's.
Mind you, the older (first) form of PVC conduit here was nothing short of rubbish and we are still digging it up today, to find that most of it has collapsed.
Green conduit is used here for Telecom's cabling and Yellow for Gas.
Just as a little note, I once connected up a shed for a guy that pulled the submain cable through 2" Galvanised Steel water pipe.
The cable was 2.5mm2 and he was remarking as to how hard it was to pull it through.
After hearing that I went to get my Megger, it shouldn't be that hard to pull and I suspected cable damage.
The Megger confirmed this and up came the pipe-work!.
4 90 degree elbows.
I dismantled the work and pulled the cable out, to find all 3 cores bare at one part of the cable, the result of a huge burr on one of the pipe threads.
That was lucky!.
There were major road works going on in the city centre here over the past few years and you could see a lot of older duct work some of which would date back almost 100 years. Interesting to see how the very old ducts were fully intact while the 1960s and 70s plastic ducts, particularly ones carrying public lighting cabling had collapsed.
The power and telephone service ducts were huge concrete pipes several inches in diameter. They certainly didn't skimp!
The electrical service cables from the old distribution pillars were all direct burried sheilded cables. They looked like about 2" thick with a layer of coiled metal around the outside. These were replaced with modern multicore shielded equivilants layed in red ducting.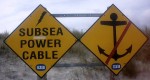 Warning for cable serving a small island off the west coast of ireland.
[This message has been edited by djk (edited 01-04-2005).]
If I were supposed to do it ba German standards I'd definitely bury it by all means. NYY cable is available at every hardware store and can be buried direct.
An overhead service would (according to some German sparkies) have to be NYY or similar strung on steel wire for support. The steel wire would have to be connected to the ground bus via 16mm2 Cu (sic!) and surge diverters would have to be fitted at the house end.
So guess what's easier...
Even if the feeder was, say, only 20A?
For an overhead lemgth of maybe a few tens of feet at most?
Sounds like those German rules are a little excessive.
Quote
Sounds like those German rules are a little excessive.
Vorsprung durch technik!
(Spelling probably upp thu kreeck)
---
If hindsight were foresight, we'd all be millionaires!
My intention was a 6A feed off an existing 10A circuit, just to power a 60W light bulb and a single receptacle for maybe a table light or a 800W heater in the winter. The 16mm2 were for lightning protection.
The surge diverters weren't required, just strongly recommended. Hearing about the 16mm2 I nearly choked and had to strain hard not to call them crazy.
Besides, there's no way I could attach a 16mm2 wire to the equipotential bonding bus bar in the basement. All screws are rusted shut, except for the part of the bar that has already broken off from rust...
According to new code we would have to drive a 30mm copper ground rod with a length of 4,5m(!).
Link Copied to Clipboard