Who's Online Now
0 members (), 8 guests, and 13 robots.
Key:
Admin
,
Global Mod
,
Mod
My usual supplier was out of a few urgently needed items yesterday, so I had to go to the nearby B&Q (big DIY store, very similar to HD even down to the orange color scheme).
Here's the entire printed wording on my individually wrapped earth clamp:
Quote
Earth Clamp EC 15/2 - 19749BQ
195mm to fit 35-50mm approx.
For indoor or outdoor use.
Not suitable for use on pipes with non-conductive surfaces.
Accepts earth cables A-E 2.5-16mm2
Not for use on the sheath or armour of a cable.
Ah well -- So much for bonding to the PVC water pipe!
Yes that's a good one Paul.
Just how do you bond those PVC pipes?.
Geeeez,
I thought YOU two were better than that.

WITH A PLASTIC BOND BUSHING!!!!!!!!!!1
Don't they mean a painted surface?
Quote
Don't they mean a painted surface?
C-H, You might have it there.
Does it have a smooth contact area Paul?
Or 'teeth' that might dig in?
Bill
---
Bill
It seems that plastic, not necessarily PVC, pipes are being used absolutely everywhere in domestic installations here for both hot and cold water systems.
This house is still fully plumbed in copper. It'll be interesting to see how well the plastic actually lasts
Plastic water mains and cold water systems have been common for quite a long time though and I've never seen them give any problem.
These plastic piping systems make plumbing more like wiring. No more bending copper pipes
[This message has been edited by djk (edited 03-27-2004).]
Good point about painted pipes -- Maybe that's what they're trying to warn against.
The typical British pipe clamp has a saddle and a metal strap, like this: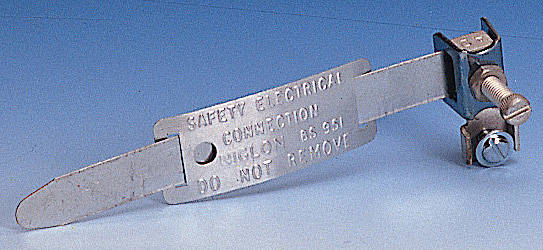 Polyethylene (I am sure that is what we use here), works well for us, and lasts quite a long time.
Have you seen the new type of earth clamp made by MEM ?
Looks a bit ropey to me but the 2 field reports
Here
say different, might look into getting a couple, and give them a try.
San,
No, I haven't seen those before.
Quote
The sample clamps had been received by our electricians with some suspicion and apprehension
That's my initial reaction on seeing them. My first inclination is to categorize these along with "push-wired" receptacle terminals and such like.
Link Copied to Clipboard
Featured:

Tools for Electricians

* * * * * * *


2023 NEC Now Available!

* * * * * * *


2020 NEC Electrician
Exam Prep Combos:
Master / Journeyman