Who's Online Now
0 members (), 27 guests, and 12 robots.
Key:
Admin
,
Global Mod
,
Mod
Looking through TLC-Direct UK's range of shaver sockets, I've noticed they've added something to it.
A note that says only dual voltage 120/240 volt shaver sockets can be used in washrooms and bathrooms.
I had never noticed that before. Is this something new and why did they change it? I thought the 240 volt only shaver sockets also came with an isolation transformer?
Anyway, there is still one shaver socket sold that is 240 volt only, with the warning, obviously.
So....why is this single voltage device still being sold? Is it for replacement use or do people install these in other places besides the bath?
See here:
http://www.tlc-direct.co.uk/Main_Index/Wiring_Accessories_Menu_Index/Shaver_Sockets/index.html
They are not intended for installation in a bathroom or a washroom. They're typically installed in places like perhaps over a mirror in a dressing area or near a dressing table in a bedroom and could be used for charging electric toothbrushes / shavers. There is an increasing demand for this type of socket in places other than a bathroom as most modern shavers are not plugged in during use.

These sockets could be added to a lighting circuit feeding an over-mirror light for example. (although that would be unacceptable under Irish regs as they would need RCD protection as single phase sockets up to 32Amps!)

BS1363 sockets would be unsuitable as they're designed for up to a 13Amp load and require grounding etc.

these sockets only fit shaver plugs and are fused at 1Amp.

Only the isolation transformer types are suitable for use in bathrooms/washrooms (i.e. over sinks).
They are commonly built into a mirror lamp.
Yes, as Dave has said it's the isolation angle rather than the voltages.
The single-gang size 240V only device is connected directly to the supply, with a small fuse to enable it to be used on existing lighting or power circuits: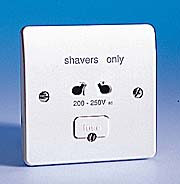 The dual-voltage types, on the other hand, have the required isolating transformer for use in a bathroom. Notice that the plate is the usual two-gang size, to allow room for the transformer:
It just so happens that all of the isolated types sold by TLC are dual voltage. It's quite acceptable to install a 240V-only outlet in a bathroom, so long as it has the isolation xfmr.
THe dual-voltage types are quite handy to cater for tourists from the Americas in hotels and similar places.
Notice that the receptacles will accept different plugs. The 240V side takes British and Continental round pin, plus Australia flat-pin. THe 120 side accepts Continental two-pin and American NEMA.
From my earliest memories, shaver sockets in UK bathrooms have always been dual voltage. Years ago the voltage was selected by a slide switch rather than two seperate outlets.

Why is/was this dual voltage offered? Nowhere else in the British home is a voltage choice offered.

Were the first UK electric razors American in origin and only available in 115V - long before battery driven, 100-240V types became the norm?

Has anyone in the UK had reason to use the 115V side of these units?
They're a bit over the top but when you're installing an outlet with an isolation transformer anyway it doesn't really make a lot of difference to add a 110V tap too.

However, the vast majority of shavers and toothbrushes will happily work on anything from 100 - 240V 50 or 60 Hz so it doesn't make any difference which side of the socket you plug it into or what position the slide switch is in.
The dual-voltage shaver outlets have certainly been around a long time. I can only assume that someone in the past decided that an electric shaver is the sort of thing a tourist would be likely to bring along and that it would therefore be a good idea to provide 110-120V.

Once one manufacturer did, the others probably followed suit and the idea just stuck. Don't forget that in the past some Continental visitors might also have had shavers designed for the 127V supplies that were used in parts of France, Spain, etc.

As Hutch mentioned, a single receptacle with a switch to select the voltage was commonly used. I think there are still one or two models which use this approach.

There are also types where the receptacle is designed with three connection points in a row. You just plug into whichever side you need for 120 or 240V.
I wouldn't have been too eager to use an early electric shaver in a bathroom at 240V anyway.
No RCD...
But wasn't/isn't that the idea behind the isolation transformer? No reference to ground even at 240V potential.
Paul,
That outlet in the lower pic, looks rather familiar.
We've had them here for some years now.
Ours actually have an isolation switch on them that also had a thermal overload in series with the switch.
So that if you overloaded the transformer, you had to switch off the switch to reinstate the supply.
Hutch,
The use of the dual voltage, is to enable non-local shavers to be plugged into them,
even the sockets here give you 230/115VAC, through the Secondary of a Centre-tapped transformer I guess.
And yes, this is why the Isolation Transformer is used in these devices, because of the earth-reference free situation.
Most Brits probably never use the 115V side for anything. I think the biggest use is likely to be in those hotels which cater to a large international clientele.

On the RCD angle, yes, the point of the xfmr is that it removes the ground reference from the shaver supply.

If you put an RCD on the primary side, it would have no effect on the output even if one pole of the latter were to be grunded.

If you put an RCD in the floating secondary side, it would still be of no use because touching one side of the supply while in contact with earthed metalwoirk would not result in any substantial flow of current (only a little leakage due to capacitive coupling).
Link Copied to Clipboard
Featured:

Tools for Electricians

* * * * * * *


2023 NEC Now Available!

* * * * * * *


2020 NEC Electrician
Exam Prep Combos:
Master / Journeyman