USAF/ANG 1981-1993
E-5
Aircraft Armament Systems Specialist (In civilian-speak, "Bomb Loader" lol)
A-10's in Tucson, AZ.
F-4C, F-4E and F-4C recce in Riverside, CA.

Basic Training: Lackland AFB, Texas
Tech School: Lowry AFB, Denver Co.
(A-10) Davis-Monthan AFB, Tucson
(F-4 series) March AFB (Now March ARB) Riverside, CA

Got a back seat ride in an F-4E while there, it was incredible! I lost close to six pounds in sweat! Very hard work to fly one of those beasts, our pilots and GIB's(Guy-In-Back) are the best!!

Our unit missed deployment to the first Gulf War by two months.

My uncle was AF, doing same job I chose. (B-52's)
Father was Tank Driver in Army, in Korea.

A salute to all who have served and to those who are serving now.

[This message has been edited by mxslick (edited 08-05-2005).]

[This message has been edited by mxslick (edited 08-05-2005).]
---
Stupid should be painful.
Work Gear for Electricians and the Trades
Any of you ever been in a so-ju hut, drinking so-ju and eating yakimandu at 3 in the morning?


Running from town patrol?


Dnk......
From an electrician who was never in the Service of our country, Thank you for all that you guys have done, do and and will be doing.

Rob

[This message has been edited by sierra electrician (edited 08-05-2005).]
RN armaments for 20 years over here in the UK. Just one of a multitude of divisions supporting the guys in the front line.
- "It is the soldier, not the reporter who has given us freedom of the press.
- It is the soldier, not the poet, who has given us freedom of speech.
- It is the soldier, not the campus organizer, who gives us the freedom to demonstrate.
- It is the soldier who salutes the flag, who serves beneath the flag, and whose coffin is draped by
the flag, who allows the protester to burn the flag."

Dnk, this was actually a speech given by former Senator Zell Miller (D) Georgia, at the RNC convention last summer in New York.

I'm impressed with all the sailors we have onboard here.

Anchors away my friends!
I know I'm just a poseur on this topic, but I became a Navy wife at 17:

Wife of AQ2 (Aviation Fire Control Tech) on USS Midway, 1980-84
homeport Yokosuka, Japan
Graduated from Nile C. Kinnick High, Yokosuka, Japan
1 dependent's cruise

I also had 2 occasions when I was set to enlist:
- took the ASVAB in Japan after high school and scored in the 98th percentile but the arrangements weren't working out so the plan got sidetracked.
- was set to muster in to the Navy Reserves on Sept 10th, 2001 when the recruiter said I would have to sign custody of my kids over to their dad and it nixed the plan - the day before the terrorist attack on US soil.

God bless all who serve!!

[This message has been edited by BuggabooBren (edited 08-06-2005).]

[This message has been edited by BuggabooBren (edited 08-06-2005).]
So-ju... Short stint in Korea, N.Korea announced (One of many times) that they were nuclear capable, stopped Op cold after only 3 days.
But also served generously in Oki, doesn't mix well with Habu Sake.
Shore Patrol... Only in San Diego. They picked me up at the Police Station, and dropped me off at the next bar.
---
Mark Heller
"Well - I oughta....." -Jackie Gleason
USN Diesel submarine 1976-1980 electricians mate, a few scary times
Hey DenverSparky (dbf) - which one(s) were you on, and where was it/they homeported?? What kinda scary stuff can you tell us about??
BuggabooBren - here is a picture of the USS Midway - shot thru a periscope.
Radar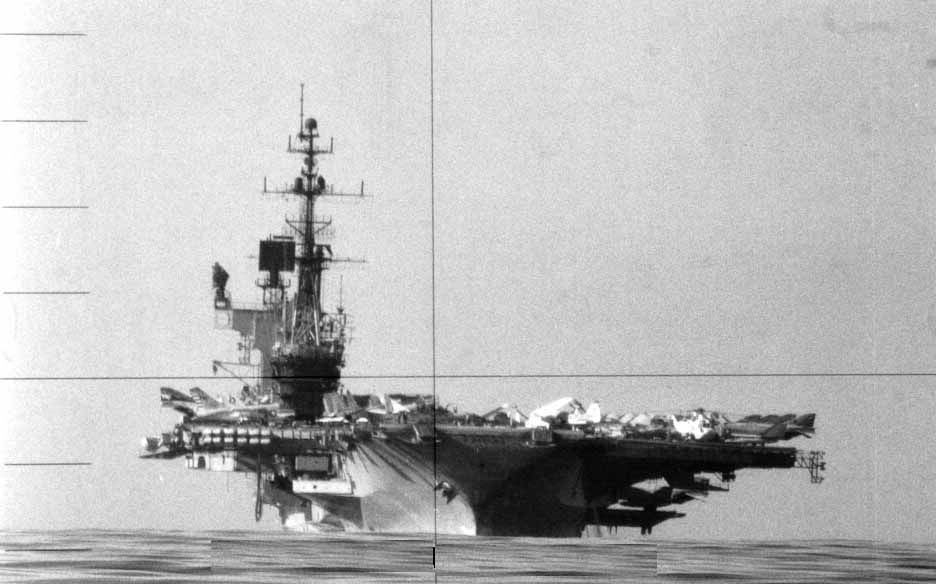 [This message has been edited by Radar (edited 08-06-2005).]
---
There are 10 types of people. Those who know binary, and those who don't.
I would like to take this opportunity to say
THANK YOU to all of you who have served and are serving to give the rest of us some sense of security. Don't think it's not appreciated . May God Bless You and continue to watch over you !

Ken
Electrician from Maryland
Link Copied to Clipboard