This is the unicorn. First one I have ever seen. I am still not sure why this was a thing.
Has anyone seen one of these?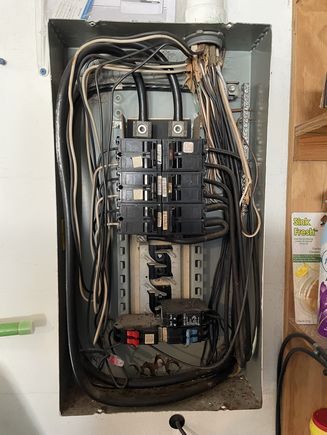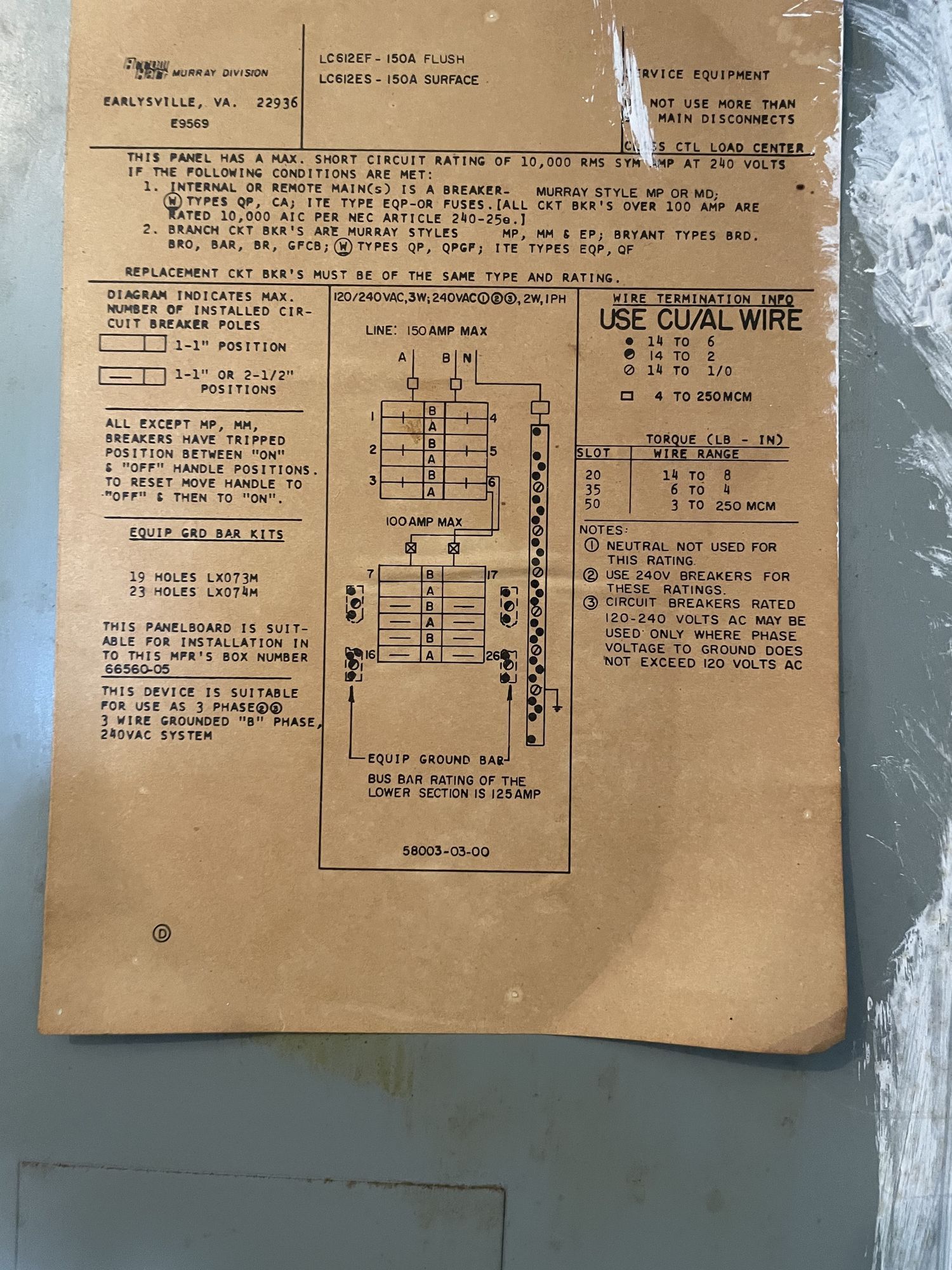 ---
Greg Fretwell
Greg:

Yes, I have come upon split bus panels over the years. main reason for using these is ....there is no 'main' CB; via the six-switch rule. The top section is 'supposed' to be ONLY 5-2 pole breakers (the 6th feeds the lower section)

Now, the above being 'the rule'; I came upon many that had more then 6 switches in the top section.

That's the only reason that I can come up with for this setup.
---
John
Originally Posted by HotLine1
Greg:

...I came upon many that had more then 6 switches in the top section...

So some of the 2-pole breakers were removed and 1-pole breakers loaded instead? Nice.
Probably tandems, too.
This particular panel has plenty of breaker slots below for your general lighting circuits. I just never saw a breaker panel with a spiit bus, I have seen plenty of split bus fuse panels. That was probably because fuses over 60a started getting pretty expensive.
This particular one really surprised me because of how small it was. You could put in a regular 150a load center with a main breaker and still have plenty of opportunity for up to 100a feeders using branch circuit rated breakers. Those service rated breakers have to be pretty expensive. I might understand this if it was a 400a panel and you were feeding a 200a feeder along with some other loads, still serving your general lighting from here. I did that with a 200 and a 150a feeder off of it at my house. I had the 8 slot 150a service rated breaker even tho a regular one would have worked.
It is all moot now. In the 2020 code that panel is illegal. (One service disconnect per enclosure, grouped, with up to 6 boxes instead of up to 6 in one box) 230.71
---
Greg Fretwell
Seems hard to be believe when you look at how split-bus panels were made but the 100 Amp panel cost was less (I think it was $5, might have been $2) than a main breaker panel. The place I've seen this panel the most is in tract homes.
I can't see the pics for some reason. Split bus
panels were very popular here as the main service, we have swapped out hundreds. Mostly FPE but some GEs as well and a few QO. One house had a QO with 3 busses, first one of those I ever saw on a residential service. Most of our service equipment is outdoors and FPE made a 200 amp split bus outdoor panel that found it's way onto thousands of tract homes here. Of course DIYs and AC guys don't understand them and just plug stuff on anywhere they see a hole.
edit: I figured out the pics, seen a few of those too but the FPE was by far the most popular. A lot of times home inspectors will call those out for not having a main and we have to explain the 6 main rule.
Last edited by BigB;
02/07/21
08:33 PM
.
Quote
I can't see the pics for some reason
It looks like Chrome and MS Edge are 'protecting us' from seeing the images in the post.
For anyone else that can't see them you can right click on them and have them open up in a new tab.
---
Bill
I've seen & replaced many, they were common in St.. Louis area. Mostly FPE, probably because we had an FPE manufacturer (closed around 1984 when Washington Univ wanted the property). They are still legal to stay, but most buyers inspectors call for replacement.
That is the FPE problem, not the split bus tho although I imagine a lot of HIs are confused by them. Most HIs are confused about a lot of electrical issues. I assume a plumber would have the same opinion about HI's plumbing knowledge. Most of them passed a trivial test, sent a check to HACHI or someone similar and "poof" you are a certified HI.
---
Greg Fretwell
Link Copied to Clipboard
Featured:

Tools for Electricians

* * * * * * *


2023 NEC Now Available!

* * * * * * *


2020 NEC Electrician
Exam Prep Combos:
Master / Journeyman