Who's Online Now
0 members (), 23 guests, and 17 robots.
Key:
Admin
,
Global Mod
,
Mod
In this crazy state that the world is in for the last 9 months or so....

To all here I wish a Happy Thanksgiving and most important stay safe.
---
John
Two of us will be trying to eat a 16 pound turkey. We can't have a big gang to help and they don't have smaller birds here. Chili it is
---
Greg Fretwell
I am grateful for the small turkey my wife found and for her working away right now to prepare a meal for three of us (and taking to 4 more who are quarantined). Happy Thanksgiving everyone.

Shane
I'm going to stay home sequestered from the World this year with sliced turkey and ham from the deli!
Hope they let you keep your power today Electure, just heard they might be planning some Power outages there in CA.
Everybody, no matter what you're doing this year stay safe as you can.
Bill
PS, can't tell you what I'm doing, might be close to the 'allowed' head count, but it's with family that I see every day...
---
Bill
We just are going to ou daughters house with the grandkids for the day..

Staying below the 'suggestion' of our Gov; aka "the murph". Max 10 people, windows and doors open for ventilation, and social distance. Hell, that sounds like a 6'wide by 24' long table for eight people. Add in a really large dining room, or we may have to go and set up in the backyard.
---
John
Two people and a big yellow dog didn't make a dent in a 16 pound turkey.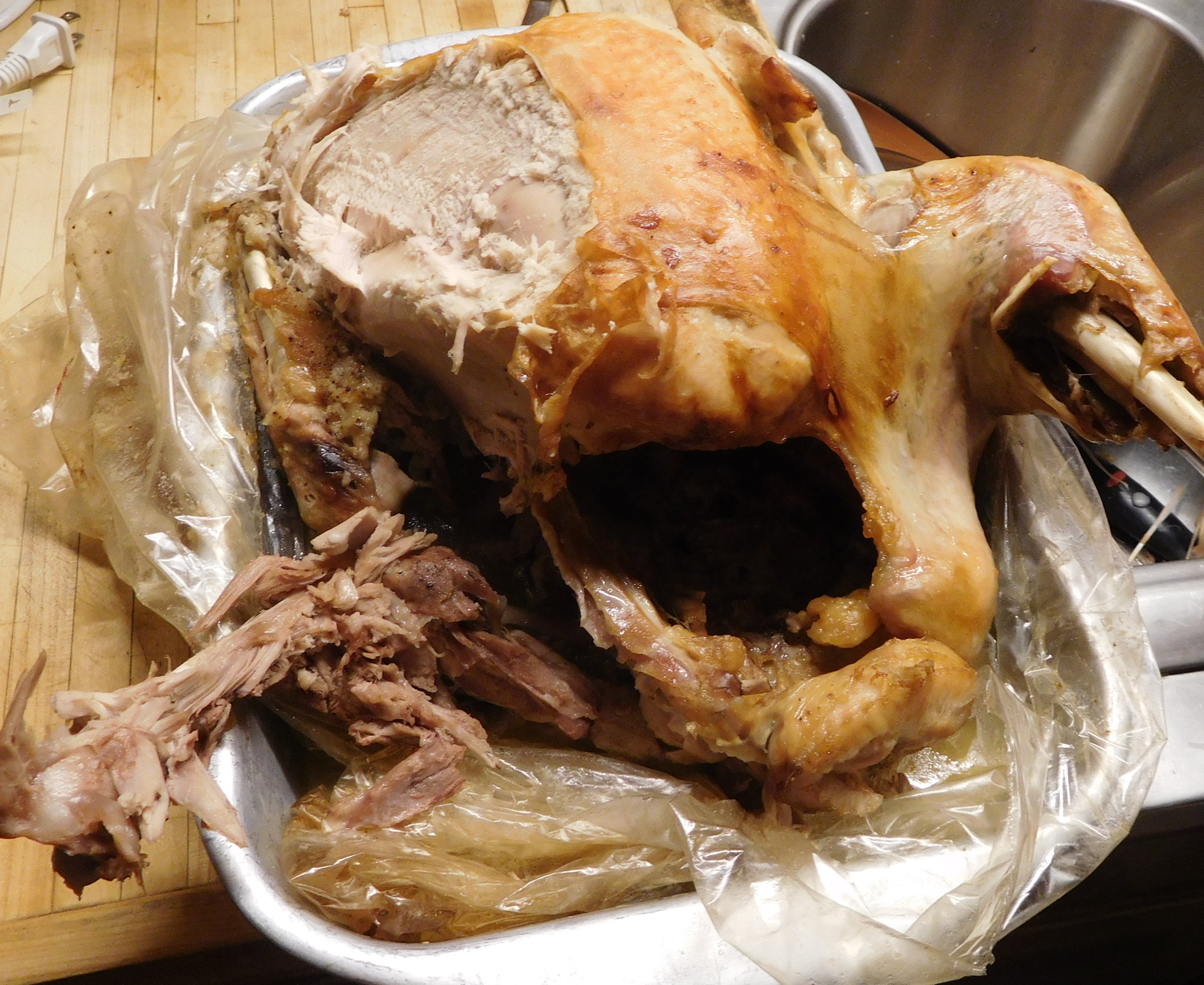 ---
Greg Fretwell
Greg,
A couple of years back, my older sister called me up and asked me if I could possibly "bone out" a turkey for her.
I said maybe, when I had this in front of me, it seemed enormous.
Sharpen the knife and remove all of the meat without removing the skin, because that is where all of the flavour is.
We obviously had to take the wings and drum-sticks off.
She made all of the stuffing and we made it into a rolled roast, baked it in a fan oven for 2 hours, basted it in the juices and some cranberry sauce, after the centre was at 51°C, we took it out of the oven and rested it.
No one more than me was more amazed as to how that came out.
It is either over-cooked, or it's food-poisoning.
I always use a thermometer and cook it in a bag.
---
Greg Fretwell
Yes,
We had thought about the bag idea, but after having gone to multiple places, we couldn't find an oven bag large enough to fit the original turkey in (turkey is not that well favoured over here, chicken is a lot more popular, or a rolled roast of beef. )
However, I was reminded the other day when I was on YouTube, as to how many people, still deep-fry turkeys in the US (and other places) and never take into account the actual displacement of the turkey when they lower it into the fryer, some of them quite suddenly.
Of course, there are no fire extinguishers or a hose to put out the side of the building, just lots of bad language and "call the Fire Department!!!!".
Link Copied to Clipboard
Featured:

Tools for Electricians

* * * * * * *


2023 NEC Now Available!

* * * * * * *


2020 NEC Electrician
Exam Prep Combos:
Master / Journeyman