Who's Online Now
0 members (), 12 guests, and 14 robots.
Key:
Admin
,
Global Mod
,
Mod
Typically what kind of overload protection is provided for distribution transformers in a residential setting (US)?
I am pretty sure there is nothing on the secondary but I was curious if they protect the primary side beyond the protection for the whole run.
Is it up there by the disconnect coming down from the primary?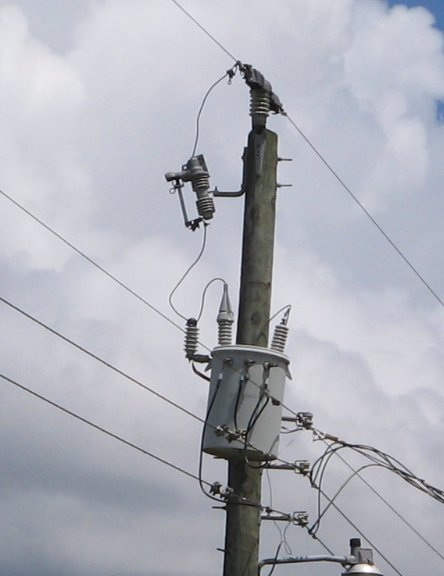 ---
Greg Fretwell
That thing up there is a "cut-out fuse" on the primary.
See:
https://en.wikipedia.org/wiki/Fuse_cutout
Don't know if that particular transformer has any secondary protection, but if you look at the product literature from distribution transformer manufacturers, there are options for integral primary and secondary protection (e.g. a breaker on the secondary). Of course there are external protection options as well.
A good example of available protection options is in:
http://www.powerpartners-usa.com/wp...otection_package_spec_sheet-1.pdf?x39528
With that said, I don't know what's most common, but now that you've raised the question, I'm going to be looking up a bit more when walking around.
Greg:

The info and links provided by libellis answers the questions.

The 'cut out' on the primary tap is fused, and most here 'drop out' if/when the primary fuse faults.

A majority of pots here have built in secondary OCP, which can be reset via an external handle on the side of the pot. I've come across a few linemen/shooters who do the reset via a long hot stick from grade when bucket access is limited.

The above links are very informative.
---
John
I had a chance to look over a bunch of 50KVA transformers here when they were lined up next to the power station before a hurricane. I didn't see any evidence of secondary OC protection or taps to fine tune the voltage, only a selector for the common medium voltages available here. It does make sense that the fuse is in that cut out tho. Thanks. Any idea of what the fuse rating would be vs the KVA of the transformer? 125% of the rated current or would it be higher than that?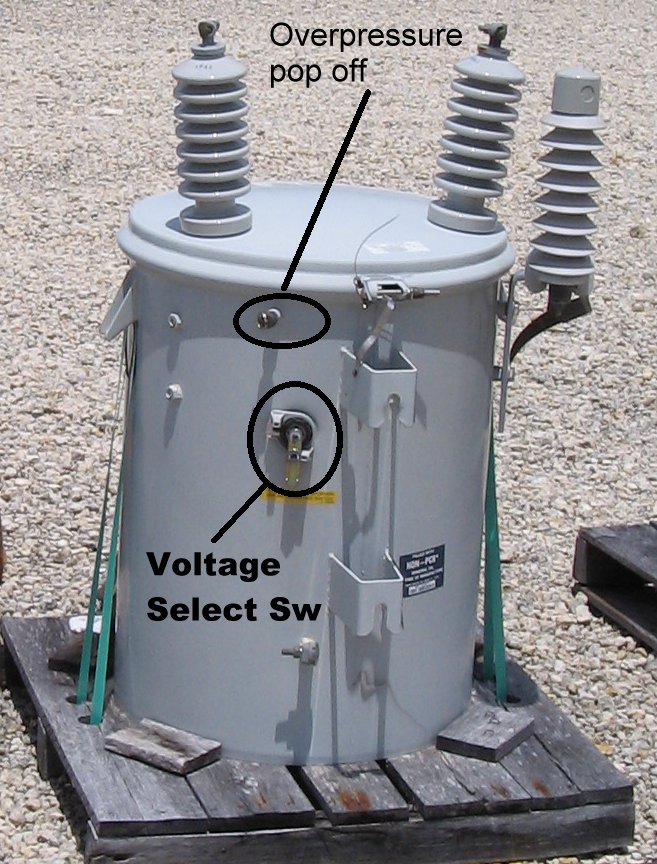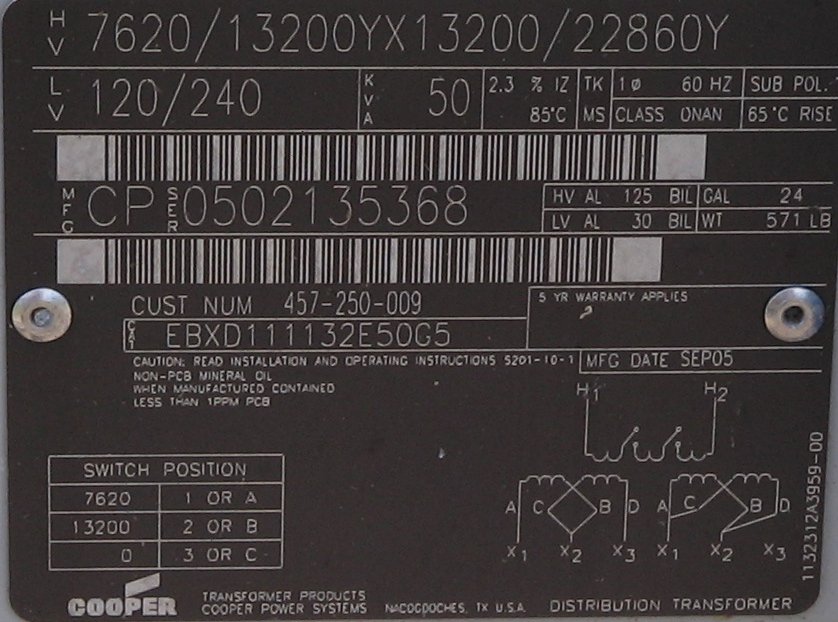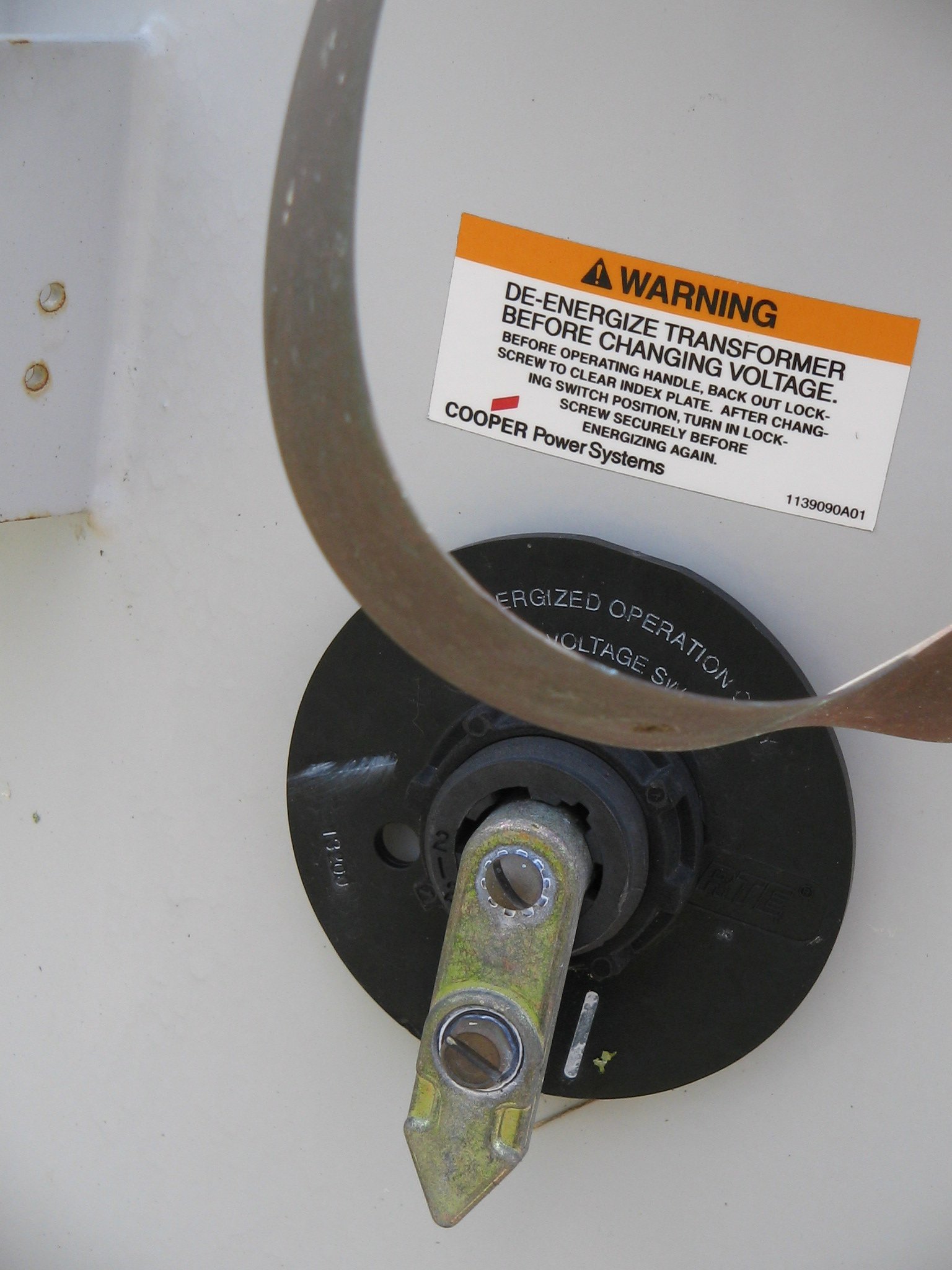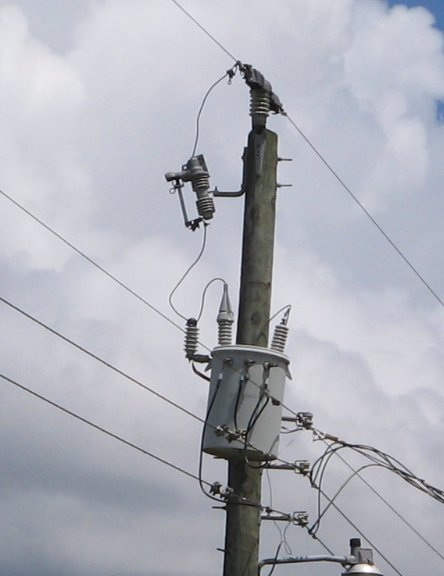 ---
Greg Fretwell
I found this in the specification guide on the Cooper web page.
Quote

4.13 Overcurrent Protection

4.13.1 The overcurrent protection scheme provided with the transformer shall consist of the following checked attributes. If for any reason a special protection scheme is required it will be clearly stated on the inquiry.

[ ] Standard–No overcurrent protection is required with the transformer.

[ ] Protected–Primary overcurrent protection shall be provided by an internally mounted cartridge fuse.

[ ] Protected Plus–Secondary overcurrent and transformer overload protection shall be provided by a breaker installed on the secondary side of the transformer. This breaker shall have the capability to energize and de-energize the secondary service by one hotstick operation. This device shall be used in conjunction with an expulsion fuse on the primary side of the transformer (5-75 kVA).
[ ] Protected Plus (MagneX) – Primary overcurrent and transformer overload protection shall be provided by a breaker installed on the primary side of the transformer. This breaker shall have the capability to energize and de-energize the transformer by one hotstick operation. This device may be used in series with a current-limiting fuse to provide 50,000 A interrupting capability.
[ ] Magnex [ ] Magnex in series with current limiting fuse

---
Greg Fretwell
Primary protection at 125% would probably be a lower limit. I believe it can go to well over 150% depending upon transformer KVA rating, allowable overload and temperature rise, and other factors. For greater protection a current limiting fuse can be used as well (last option in that Cooper info) to protect against peak currents that might pass through the primary protector before it blows.
OK thanks. this is starting to come together for me. It does seem to be more than simple arithmetic tho. Say a 50 KVA transformer has a 6 amp fuse on a 13.2kv primary, it would theoretically limit the secondary to a bolted ground fault of 650a or so on a single 120v ungrounded conductor but we know the momentary AIC might be ~10ka depending on the impedance of the service conductors. I assume some of this is just the electrical inertia of the collapsing field but there is probably trip curve that carries an overload for a while.
From a practical standpoint we still have to consider a service conductor as unprotected. It would be interesting to see what a fault would need to look like to blow the primary fuse and what else might burn up first.
I guess I spent my 30 years in this trade on the load side of the service point and just took the PoCo side as magic.
---
Greg Fretwell
After re-reading the wording in my last comment, and the subsequent response, I wanted to clarify a bit. I didn't mean to imply that the choice of primary fuse rating would somehow allow a transformer to indefinitely see fault current at some high value beyond its ratings. Primary side fuse choice, and the characteristics of the fuse (e.g. time delay vs amount of overcurrent before it blows) is in turn based on the transformer characteristics. Transformer related standards, such as the IEEE C.57 series (C.57.109 in particular for fault current duration) have all sorts of graphs and tables setting levels of short time thermal overloads for liquid immersed transformers of various rating classes. More recently they've tried try to factor in not only thermal damage but mechanical damage as well. For the type of transformer we've been discussing, a 2x rated current overload might be allowed for 30 minutes, while a 25x overload might only be allowed for 2 seconds. As always, there are all sorts of real world complicating factors, including coordination of primary side protection with secondary side protection, and product specifics that might go beyond standards minimum requirements.

At this point, I'm already beyond what I feel comfortable commenting on. Anything more and I'm likely to open my mouth only to change feet, so best that l leave it here.
Greg:

Two comments for you from two different utility co's up here.

Pot two houses down block from home has a trip/reset hamdle on the side for the 120/240 secondary; it was reset many times due to overload until they replaced the 25KVA with a 50KVA. (12 homes load, summer time) It was reduced to 10 homes when they redid the block and added a additional pot.

Up where I work, the troubleshooters carry 5-10-15 & 25 rated fuses for the primaries; I do not know any info, but when I catch up with my 'go-to' shooter I'll chat with him.

Stay safe
---
John
They seem to have a policy that 25s are for one house, 37.5 for 2 houses and 50s serve 3 houses, just based on driving around my neighborhood and looking. These are "all electric" homes tho with no other energy utilities available. I still find looking at transformers can tell you a lot of what to expect when you get your meter out. I figured that out after that "Delta Vee" fiasco 30 years ago when we were blowing power supplies left and right at one company. I learned to spot this configuration right away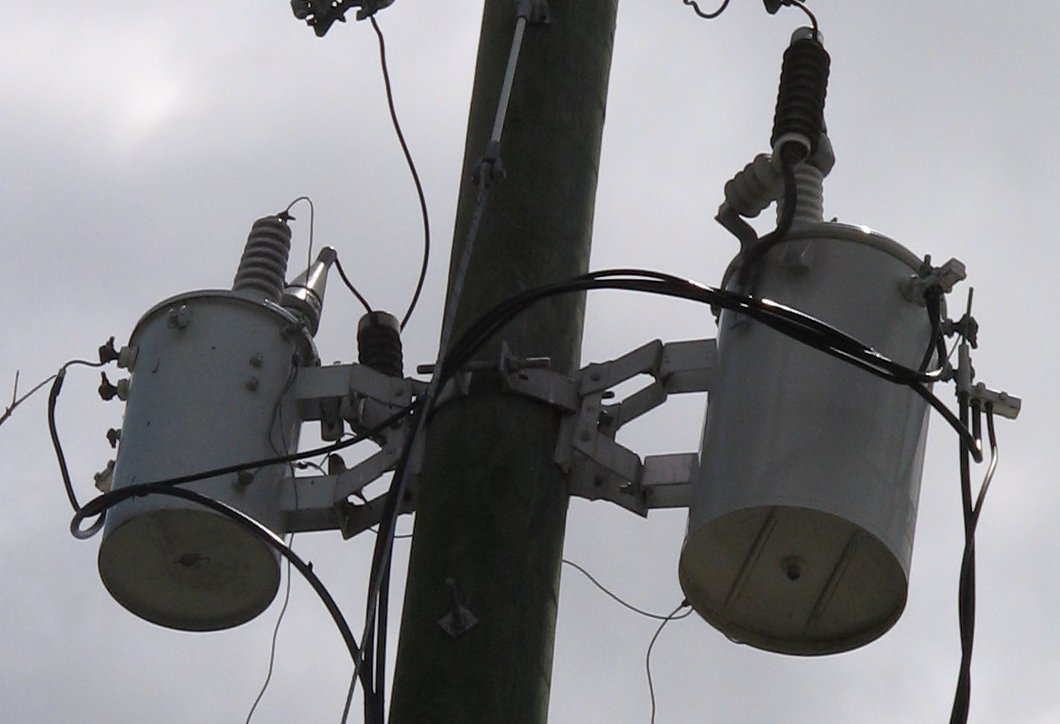 ---
Greg Fretwell
Link Copied to Clipboard
Featured:

Tools for Electricians

* * * * * * *


2023 NEC Now Available!

* * * * * * *


2020 NEC Electrician
Exam Prep Combos:
Master / Journeyman