Who's Online Now
0 members (), 22 guests, and 21 robots.
Key:
Admin
,
Global Mod
,
Mod
I am getting EC&M magazine again in the hard copy and every other page is a full page Arlington Innovation ad telling you how many seconds this widget saves you per cable connector (or whatever). Is this really about saving seconds or is this "Any idiot can do the job with this"?
Is this just more dumbing down of the trade, at least the "labor" part of repetitive tasks. I saw guys who are not even close to electricians doing roughs. It looks like people are paying extra in materials so they can pay the worker less because he is so easy to replace. (Like Henry Ford)
---
Greg Fretwell
Latest Estimating Cost Guides & Software:
Greg:

On a 'lite' side, I count seconds when in indulging in food!! HaHa!

To your point, yes, the proliferation of 'new and improved' products for our trade, and others can be overwhelming. Some of the items are IMHO, great, some are 'gadgets, and some are just another item in the supply chain.

A recent experience along this note; tenant fit-out, office space, 15 story bldg; 1/3 area of 1 floor. Owner specs out framing to be 2x3 metal studs, and the ECs that have worked in the building know that, and run circuits accordingly. A new EC takes this job, and runs the MC thru the stud keyways; (300.4) issues, and the "never failed for this b4";

I red tag it, tell him nail plates required, and leave. When he called me on phone, I suggested he look for the Caddy nail plates that just clip on to the face of the stud that are a real time saver. Now thats a GOOD widget!!

He was a very happy guy on re-inspection.


---
John
I agree there are some pretty handy things out there. I do think new products tend to be stripping away the skills necessary to do the work.
---
Greg Fretwell
Greg,
I too have seen these "time-saving" apps.
Normally they are provided by people that have no idea how an electrical business runs.
Take for instance, over here, I have access to so many apps on my phone that will make my life so much easier, a lot of them have trackers built in,
I don't like that and I agree with what you say about this dumbing down people in the trade ("Let the apps think for me").
It's old-school people like us that never needed this before-hand, so why do people need this now?

It was a chance chat I had with an Inspector who does apprentice night classes here and she said that most of these kids wouldn't make it in the real world, without their phones.
The phone is your brain these days, that is really sad.
Trumpy
I hear you.
I used to teach Fault Current Calcs as a CE subject, and to apprentices at the local VoTech. I used the Bussmann methods, along with books and worksheets that they were kind enough to provide.

Now, there is an app!! Heck, why would you do it with a pencil and calculator, when you can do it on your phone?

Yes, the app is also Bussmann, and it's free.

Stay safe, and have a pleasant holiday.


---
John
I worry about the day when if a guy loses his phone, he becomes a useless fool, unable to do anything. Technology is great but you still need to understand what the numbers mean and be able to do a quick back of a doughnut box calculation that is in the ballpark. It is like people who can do the ohm's law math on their phone but they are still confused about why there is a red light on their ground bus bar.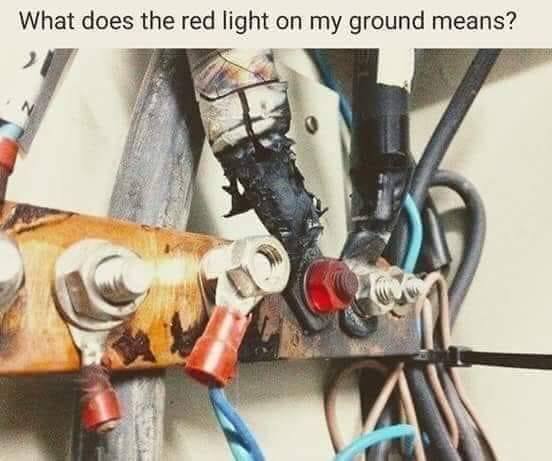 ---
Greg Fretwell
I had an instructor decades ago that banned all calculators in class

further, he 'gave it to us' , should we answer in 'the ballpark'

~S~
Sparky,
I was quite "lucky" in that I missed out on having a calculator at high school, because they were so darned expensive to own at the time.

Your calculator back then was a pad of blank paper that you did your equations on, with a pencil and an eraser as I recall, I used the eraser, a LOT!

That held me in good stead for when I sat my Registration Theory Exams, where if you didn't show all of your calculations and the method as to how you came up with your answer, you failed that particular question, which a lot of candidates did, having been taught to use a calculator.

Don't get me wrong, I am no mathmetician (sp?) by anyone's stretch of the imagination, I am however able to work out most stuff in my head or on a sheet of paper if need be, a lot of that comes down to experience with reactive components, power factor and the like.
I have met "qualified" electricians here that can't work out basic Ohms law calculations without reaching for their phones.

Last edited by Trumpy;
12/25/19
08:25 PM
. Reason: Typo's
I don't remember being allowed to use a calculator in High School, not sure if I even had one. I taught myself how to use a slide rule at some point, but couldn't use that in class either.
---
Bill
They let me use a slide rule ... am I dating myself
---
Greg Fretwell
Link Copied to Clipboard
Featured:

Tools for Electricians

* * * * * * *


2023 NEC Now Available!

* * * * * * *


2020 NEC Electrician
Exam Prep Combos:
Master / Journeyman