Who's Online Now
0 members (), 9 guests, and 14 robots.
Key:
Admin
,
Global Mod
,
Mod
Hello- I have a question about installing mc cable under a patio or porch that is 12 x 12 open wall.

I say damp location.

Are stamped octagon boxes and screw type connectors allowed?

Thank you
---
Don't drive and TEXT! Drive now TALK LATER!
Stay up to Code with the Latest NEC:
If it is a rain tight deck, (no water feeds through the cracks) it may be damp but I would still use bell boxes. Those galvanized octagon boxes will still rust up pretty bad in a damp location. I am not sure how they are listed because few people even try it here.

---
Greg Fretwell
Although the Code allows MC, I will go along with where Greg is going regarding the patio/deck being rain tight.

Are you talking alum jacket MC, or steel jacket? Personally I would have an issue with alum jacket being 'outside'. Note I say 'personally'. Or are you talking PVC jacketed MC which would be no issues, with the listed connectors, and a suitable box for the enviornment.

Maybe PVC conduit and PVC device boxes would be a better choice?


---
John
There was a while when aluminum MC cable was sold as wet location. I am not sure why it was OK and then why it wasn't.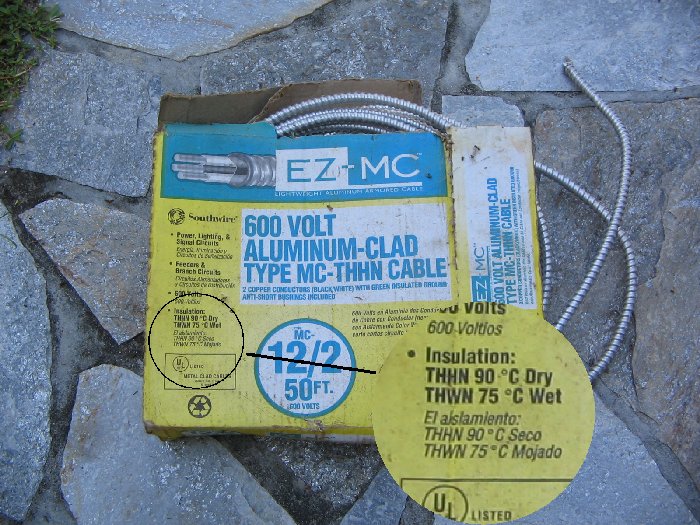 ---
Greg Fretwell
I like RNC but it does have that sagging problem in the summer unless you strap it every 2 feet or so and you also need to deal with expansion issues.
---
Greg Fretwell
Greg:

I take that label as the rating/listing for the conductors, not the jacket, unless I'm missing something here.

I have seen the al jacket corroding in a few unfinished (older) basements that had no cliamate control.
---
John
Link Copied to Clipboard
Featured:

Tools for Electricians

* * * * * * *


2023 NEC Now Available!

* * * * * * *


2020 NEC Electrician
Exam Prep Combos:
Master / Journeyman