I was at our 4 plex today and I looked in the dumpster. I came up with this and it wasn't even all that was there, just what did not fall out of the box when I pulled it out.
I was amazed nobody thought this was worth sorting out.
Maybe I am just a cheapskate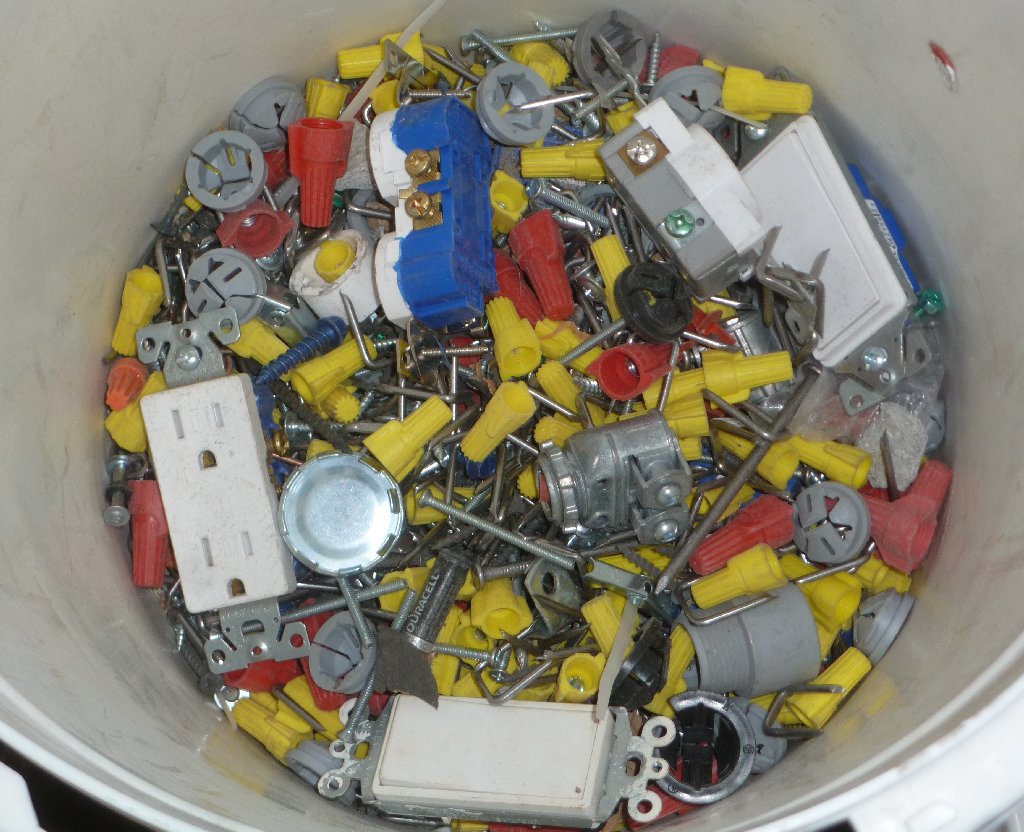 ---
Greg Fretwell
Latest Estimating Cost Guides & Software:
Assorted left over/pocket items where a pain. Most (not all) wound up back at the shop for sorting.
---
John
It is hard to tell from the picture but that white bucket has about 3 inches of stuff in the bottom. These guys were going pretty fast and I am sure if the dropped something off the ladder they grabbed another one and kept going. I suspect at the end of the day, they swept up and threw everything in the dumpster. The strange thing is the box that had all of this stuff did not have much trash or dirt in it. It is like they did pull all of this out and then someone said to hell with it.
Maybe it was just a business decision that $30 worth of unsorted material was not worth fooling with.
I know in the go go days of the early 00s they threw a lot of material away just to keep going but I thought things were tighter now.
Maybe not.

---
Greg Fretwell
Some if it is garbage, like the used switch. I wouldn't sort it out either, but I might throw it in the back of my van and give it a tour of the city until it fell out when I opened the door.
sorting that is apprentice (or journeyman if its real bad) busy work when they need something to do, and having to sort stuff like that is an indication of a problem to begin with
Last edited by Wiresmith;
05/05/18
02:57 PM
.
I asked a fireman about sweeping up and throwing away perfectly good fittings and wirenuts at the end of the day.

He told me that the guys cost him more than $1 a minute and he's lose money if they stopping working to pick up something they dropped or sit there sorting for the last part of the shift.

The guys at the big box stores probably just do what the boss tells them and throws everything away.
Even when there's a bin for 'misplaced parts' at Menards I suspect they just pitch everything out when the bin starts to get full instead of sorting it back into the right bins.
---
Ghost307
oops...I meant foreman.
(Stupid autocorrect)
---
Ghost307
None of these devices were used. I looked them over and they were tossed for things like missing a mounting screw or having a smudge on them from what I can tell.
I agree time is money and these days I guess everyone is staying busy so it might not be worth sorting out a bucket of "nickels and dimes". I think that is a good thing. Maybe I should have just taken comfort from it.
Five years ago trades were being a lot more careful with materials. Maybe looking in the dumpster should be part of assessing the business climate
---
Greg Fretwell
Do you still use staples that are the bent-style? I haven't seem them on a new install so they look 50 years old to me. The switch at the bottom of the picture has paint on the ears. It looks like a mix of new and old. It would take a half hour to sort out that pail and to put the stuff into boxes on the truck. I'd be pissed if my employee threw away good stuff but once it's in the pail, I understand.

I don't like it but I throw away material, too. A small storage compound cost me $2,000 per year for rent. I decided that I could throw away $2,000 per year and quit paying to store it. I save the income tax on the inventory and I don't have to spend my time, every year, counting it. The insurance was about $100 per year and that cost is gone. The compound was a 10 minute drive and I made it at least once per month so that drive and the associated cost is gone.

The first guy I worked for kept everything. He had employees to do the counting and sorting. After, we would take the crap and throw it in a job site bin because he checked the bin at the shop. I learned a lot from him, including what not to do.

The feeling that "this will come in handy" might not line up with the business reality.
OK I was sitting here sitting here listening to the Sunday morning talking head show I recorded and I grabbed that bucket. In about a minute or two I had pulled out the devices, connectors and such. about 5 minutes later I had about 200 wire nuts. (not all of them but all that were still easy to find). At this point I decided if I was actually working for a living I had probably reached the point of diminishing returns. Since my time is free I spent another 20 minutes pulling out all the TapCons, ground screws and other machine screws along with a bunch of washer head sheet metal screws that I use a lot of. At that point it was just Romex staples, drywall screws and other junk I was not willing to fool with.
---
Greg Fretwell
Link Copied to Clipboard
Featured:

Tools for Electricians

* * * * * * *


2023 NEC + Exam Prep Study Guides Now Available!

* * * * * * *


2020 NEC Electrician
Exam Prep Combos:
Master / Journeyman