How far away from an outdoor hot tub must a ceiling fan be? I thought it was 5 ft. but am having trouble finding it.
Thanks
Stay up to Code with the Latest NEC:
Look at 680.22(C) as referenced in 680.42
The exclusionary "box" is 5 feet horizontally and 12 feet vertically from the closest point of the water.
There is an exception for existing lights and fans that lets you be 5' above the water level vertically but still not over the water.
This is from the handbook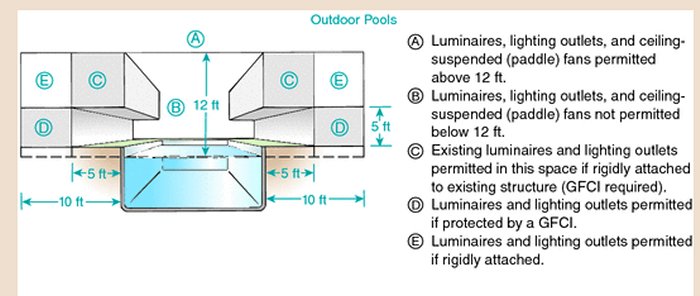 ---
Greg Fretwell
Link Copied to Clipboard
Featured:

Tools for Electricians

* * * * * * *


2023 NEC Now Available!

* * * * * * *


2020 NEC Electrician
Exam Prep Combos:
Master / Journeyman