I have a request to build a theft deterrent alarm for a customer to protect a product display. I have seen similar situations at implement dealers. This systems needs to comprise of a cord that is weaved through the display. Once connected, an alarm will be activated. If this cord gets unplugged or cut, it will sound an alarm and light up the display.

I am looking for some ideas on how to make this work flawlessly.
The easiest way I have seen is to use a SCR with a pull up resistor from the +vcc to the gate and the alarm trigger wire is grounded. As long as that circuit is completed the gate is held low but if the wire is cut, switch opened or whatever else in the circuit opens the resistor pulls the gate high and triggers the alarm. You need to drop power, restore the circuit and power it back on to reset the alarm. Simply reconnecting the wire will not shut off the SCR.
---
Greg Fretwell
The one I described could be made pretty cheap, with the relay or SSR being the most expensive part.
Any DC source, wall wart or battery would work and if your noise maker was also low voltage DC, you could eliminate the relay/SSR and put your alarm device there. This design turned on 120v flood lights and a claxon via the relay.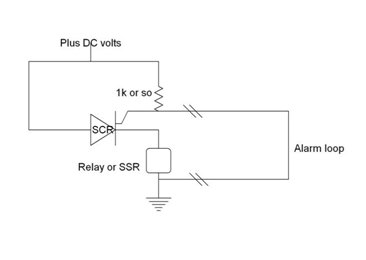 ---
Greg Fretwell
Link Copied to Clipboard
Featured:

Tools for Electricians

* * * * * * *


2023 NEC + Exam Prep Study Guides Now Available!

* * * * * * *


2020 NEC Electrician
Exam Prep Combos:
Master / Journeyman