Who's Online Now
0 members (), 122 guests, and 11 robots.
Key:
Admin
,
Global Mod
,
Mod
Hi,
Please, take a look:
https://www.youtube.com/watch?v=NKnE61aaS9U
Are these 230 kV or 345 kV lines? Without much thinking, evaluating phase clearances and counting number of porcelain bells insulators in strings I would say it is 345 kV. However, there are two things that puzzle me. One power line has just one conductor per phase (no bundle), and 330 kV levels and above are bundle conductors on regular basis.However,I don't live in the states. Anybody from Pensylvannia?
Wild guess is 250kv.
BTW there are some good videos in the side bar next to that one. I watched for about an hour.
---
Greg Fretwell
I think can't be 250 since that's not standardized in USA. Here you can see standardized EHV voltages in the states:
Hard to tell just by the insulators (changes form location to location). Difference between 230 and 345 isn't so big
Last edited by Vlado;
09/20/16
08:11 AM
.
Dunno, that is just what the FPL guy told me about the line behind my house. Maybe they round it off or something.
This is supposed to be 250kv and two 48 kvs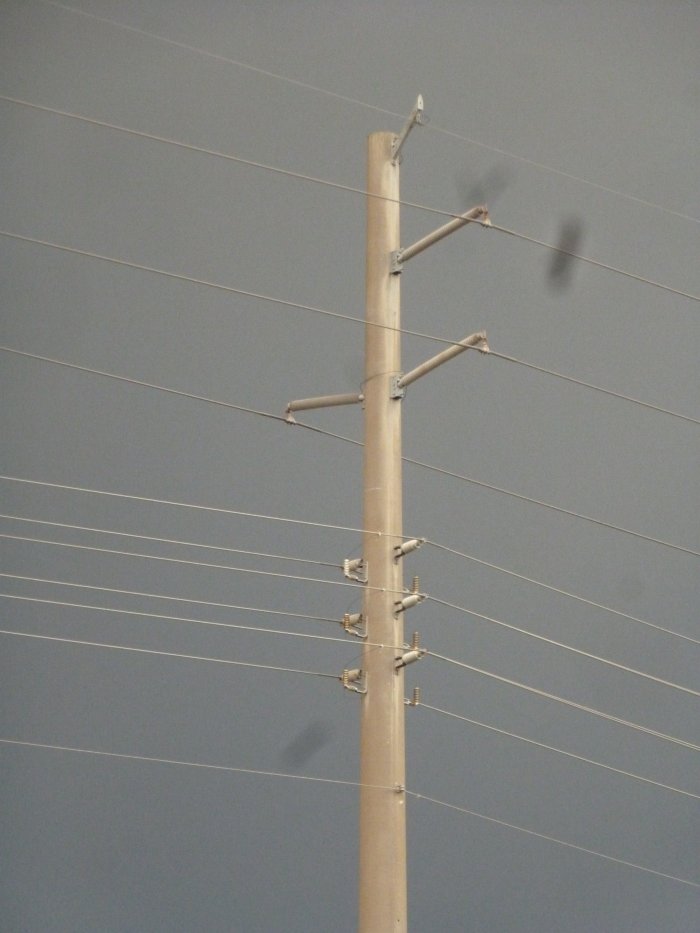 Next time I see the guys working at the sub station I will ask again
---
Greg Fretwell
Yes, probably he rounded it. For systems with nominal voltage 230 kV ac, maximum allowed continuous operating voltage is 245 kV. 250 is close to that
Recently had two (2) 500Kv circuits installed on monopole towers into our switchyard from a plant 2 towns northeast.

I thought about taking a pic this AM, but with the current high state of alert here, I don't need Homeland Security on my case.

The monopoles replaced old lattice towers.


---
John
"Compactifaction" of power lines is a modern trend almost everywhere today. Note however that wooden poles in the yt video are very old fashioned style. Something like that you will not find in EU, especially not above 200 kV level!
Ok, if this isn't some monkey business but proper engineering design, this has to be 230 kV. Althought I've never seen a 220 kV pylon with as many as 18 standard disc units in a suspension string in EU (I think 16 being the most), that number can vary on several things (altitude, predicted contamination/polution level etc). OTOH, I heard there are still operating 345 kV lines with single conductor per phase somewhere in the states. And these are rare. In such cases used ACSR conductors are massive (dia> 1.7"). More importantly, corona suppression rings are put on ends of insulators with no exception.
Would they really put something as high as 220Kv on wooden poles surely to get safety clearance you need a metal pylon
Link Copied to Clipboard
Featured:

Tools for Electricians

* * * * * * *


2023 NEC Now Available!

* * * * * * *


2020 NEC Electrician
Exam Prep Combos:
Master / Journeyman