OK I feel like I should know this off the top of my head, but I am drawing a blank. First question is simply "Can the supplemental grounding electrode conductor go from panel to first ground rod and from that first ground rod to the second in two separate pieces of wire?" In other words use 4 acorns and 2 separate pieces of wire. And secondly when installing a 400 amp service with 2 qty 200 amp panels can I run from the ground rods to the first panel and then unbroken to the second panel/ Or does each service require its own supplemental grounding conductor?

Thanks,
H20
Stay up to Code with the Latest NEC:
Yes, you can splice to a supplemental electrode
From the handbook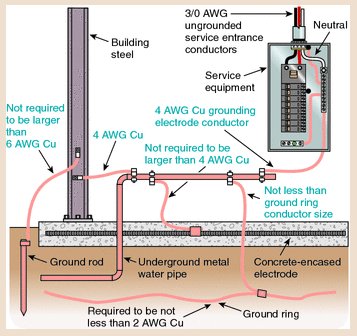 BTW does anyone see the anomaly in the code, demonstrated in the exhibit.
---
Greg Fretwell
Yes, you can splice to a supplemental electrode

Ist you MUST make sure it is a supplemental Grounding Conductor not required by Code.

See 250.52./250.53/ 250.64

Splicing 250.64 C

Taping 250.64 D
Link Copied to Clipboard
Featured:

Tools for Electricians

* * * * * * *


2023 NEC Now Available!

* * * * * * *


2020 NEC Electrician
Exam Prep Combos:
Master / Journeyman