Had my personal use truck stolen out of my driveway a couple weeks ago. After so many years of non-events
I guess I got a little too complacent and didn't lock up.
On top of that I also left a spare emergency key in it. ---->DUMB!!!
Ended up getting it back a week later with nothing but driving glasses missing so in spite of the "rape" I still feel somewhat lucky. Makes me want to drive around at night and catch a thief! BTW, they still have my key so now I'm looking at re-keying the locks. Lessons learned....
With your skills it shouldn't be difficult to add a secret switch so it wouldn't start for any future opportunist.
I have not actually had a vehicle stolen but I have been "car hopped" a few times, once losing a set of tools that can't easily be replaced.

They ended up catching the thief and I haven't had a problem since but I was thinking more along the lines of a fence charger connected to the frame of the car.
I understand 120v would be more effective but that is illegal.
A fence charger is not lethal.
---
Greg Fretwell
Years back, work van parked inside, behind a locked overhead door, vanished during daylight hours.

29 day later, as I mailed the title and keys to yje insuranceco., I got the call from the PD. "John, we found your van". Stripped to the bone, wheels gone and they torched it!! Told the detective, "It's not mine any more, call the insurance co."

Turns out that some temp employees of my shop complex landlord helped themselves to quite a few flat screen TVs and probably used my van!

Had a few door busters to grab tools. Blew out the drivers window on the bucket truck for some loose change and a sweatshirt. Same jerk put a hurt on the utility body cabinet doors for about $1K to replace.

Life went on.....
Last edited by HotLine1;
09/27/14
08:15 PM
.
---
John
I assumed I was being "hopped" by kids but it turned out to be an adult who was a one man crime wave around here.
When they finally caught him he had a house full of stuff, but, alas, not my tools.

I was really ready for him, too. I had about a kw worth of floods aimed at my car and triggered by the interior light going on with 3 cameras pointed at the car.

He was in jail by then.
---
Greg Fretwell
Looks like it's time for a product recommendation!

For reasons having nothing to do with crime, I found it necessary to buy a "security camera." Within a week, I had plenty of video, of excellent clarity, by both day and night. I saw what I needed to see ...

The camera is called "Dropcam." Available for about $150, you can find it on-line and at BestBuy.

Dropcam works with your own wireless network and home computer. The mounting system is simple, infinitely adjustable, and has an integral IR light for night-time use. It requires an ordinary 120V receptacle, and is NOT intended for outdoor use. (Personally, I'd have no problem with the camera being placed in a sheltered location - the 'weak link' appears to be the power supply that plugs into the receptacle.
I have an assortment of coax connected cameras going into a PC based DVR running Grandtec E-guard software.
---
Greg Fretwell
Anyone have any experience with game cameras? Wondering how visible the lights on the front are at night time.
Was thinking of setting one of those up but it wouldn't work if it's too obvious.

I have a cheap game camera. You end up with a picture typical if any of the IR pictures you see on the web. I have no doubt you would recognize a person from 20 feet if you knew them. Much farther that that I think it would get tougher. The fence behind the trash cans is about 15 feet away.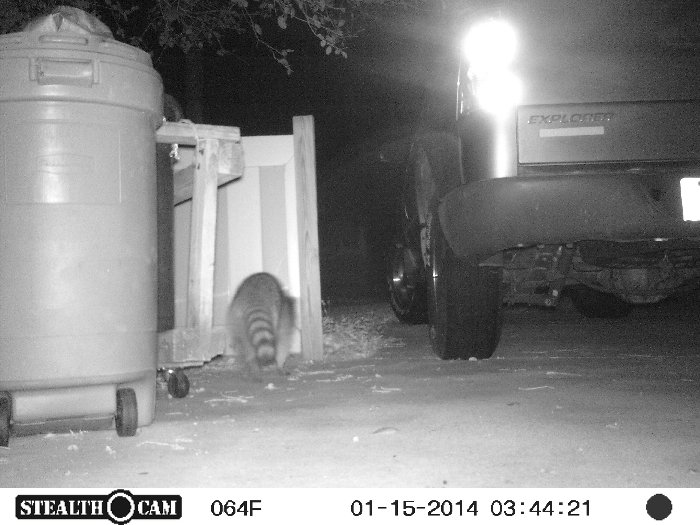 ---
Greg Fretwell
I had a game camera, bought it about four years ago.

It was a budget model, cost about $90. It worked well, for one season - though it was a battery hog. It was also fairly noisy in operation.

If you have 120V available, the Dropcam I mentioned earlier is a far better solution.
Link Copied to Clipboard
Featured:

Tools for Electricians

* * * * * * *


2023 NEC Now Available!

* * * * * * *


2020 NEC Electrician
Exam Prep Combos:
Master / Journeyman