Yesterday I helped clear out an old DIYer's workshop and found a plug I couldn't make sense of. It's a rather small angle plug (small by European standards), the face is about 3.5 cm square. The 4 round pins are very thin, only around 2 mm and maybe 10 mm long. There are hardly any markings, but the screw terminals inside are marked R, Y, GN, BK. The only interpretation that comes to my mind is red, yellow, green and black, which sounds like phone wiring. The screws look decidedly un-metric, or if they are, the number of threads is non-standard (coarser than the average M3). If plugged in with the cable exiting at the bottom, the top pins are spaced closer together than the bottom ones, i.e. the plug is polarised.

Any ideas what that could be? I can take pictures and exact measurements later.
Sounds exactly like our old telephone plugs here in the states...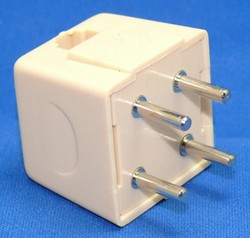 I agree -I remember those plugs in a round form, without the jack shown in the picture.
Yep, Red and green were Tip and Ring. Black and yellow were often hooked to a small wall transformer to illuminate the dial of a "Princess" telephone.
Originally Posted by Lostazhell
Sounds exactly like our old telephone plugs here in the states...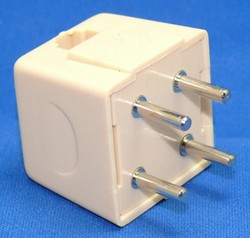 Exactly, that's it! Wonder how that one made its way to Europe. Maybe someone brought a phone over from the states and then changed the plug to make it work here.
Link Copied to Clipboard
Featured:

Tools for Electricians

* * * * * * *


2023 NEC Now Available!

* * * * * * *


2020 NEC Electrician
Exam Prep Combos:
Master / Journeyman