Who's Online Now
0 members (), 43 guests, and 18 robots.
Key:
Admin
,
Global Mod
,
Mod
This yellow rat snake was in a motor it my house. It wrapped around the rotor and trashed the start switch.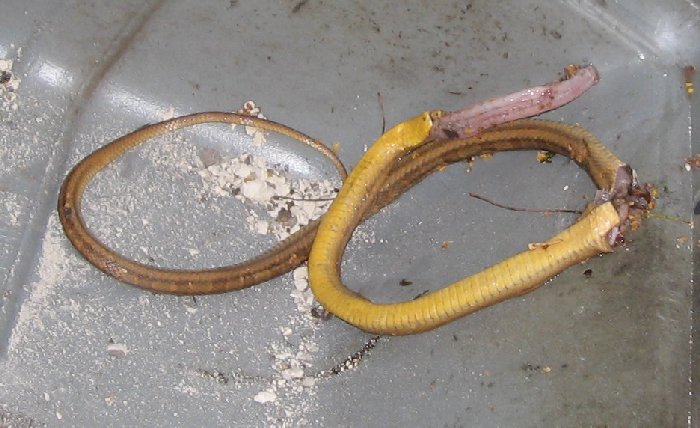 ---
Greg Fretwell
Is it a rat snake cause it eats/hunts rats?
How big is that sucker?
---
John
Looks a little like yellow jacketed 12 gauge romex cable.
I've pulled human hair out of a drill rotor once but never a snake
---
"Live Awesome!" - Kevin Carosa
I got what was left of a small rattlesnake out of a fire pump motor one time. Took the end off saw the rattle and had to step back and re-think my plan of attack, then I realized he was already dead. Was working third shift at the time, this happened about 0230, not sleepy for the rest of that shift!
---
Jimmy

Life is tough, Life is tougher when you are stupid
This was a baby, about 25-30" long. They get more like 4' and yes they will take down a full grown rat. That is why I was sorry to lose this one.
I was just happy that I could save the start switch. These things can be hard to find for old motors. The GFCI saved it. It tripped before the motor got going. Luckily I looked before I just reset it and tried again.
---
Greg Fretwell
A couple of years back a small frog got sucked into our then-new high pressure submersible well pump. It wrecked the turbine. Funny thing, it was a good 6 feet under the surface. We went onto town water and only use the well now for the garden, since cow**** indefinately infected the source with e-coli bugs. Still got the spares kit bits to repair it, [someday!], when the backup-pump finally fails, [if I'm still here!]
---
Wood work but can't!
I seen a family of mice (dead of course) inside a meter socket.
Prolectric:
WELCOME to ECN Forums, from one of the 'Jersey Guys'!!

Jump in any time you want.
---
John
Link Copied to Clipboard
Featured:

Tools for Electricians

* * * * * * *


2023 NEC Now Available!

* * * * * * *


2020 NEC Electrician
Exam Prep Combos:
Master / Journeyman