Who's Online Now
0 members (), 26 guests, and 20 robots.
Key:
Admin
,
Global Mod
,
Mod
I went to the local box store and bought a UL=-listed light for my front porch. Just a simple, basic fixture.
In preparation, I replaced the old-fashioned 'poke the cable through a hole and splice inside the fixture' arrangement with a proper box. Part of my reason for doing this was because the clapboard siding meant that there would be a substantial gap behind parts of the fixture.
Much to my surprise, I was not able to figure out a way to mount the fixture in an NEC-compliant manner. There was simply no way to keep the wires within the box.
I made a mock-up for this picture, to illustrate the problem: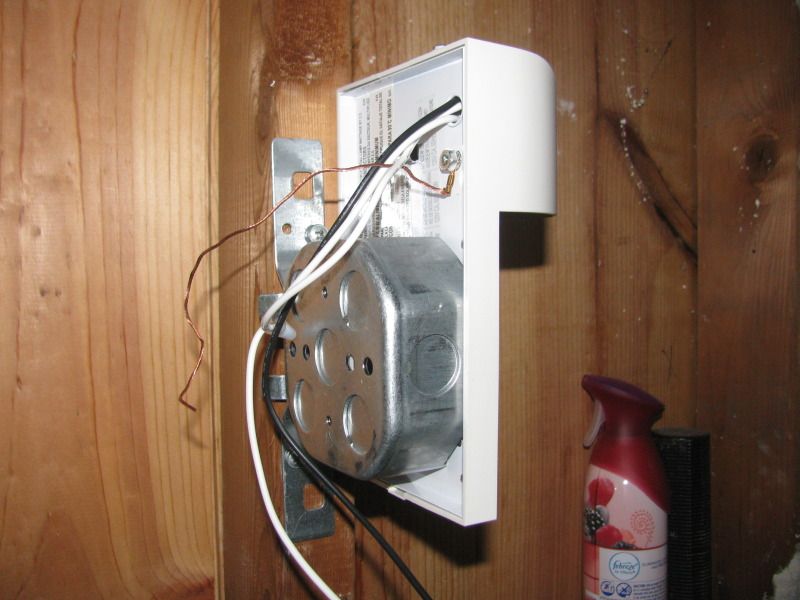 The wires exit the fixture as sent from the factory. The fixture is mounted using factory KO's. Wires cannot be run within the fixture, due to bulb placement.
Stay up to Code with the Latest NEC:
Looks like you are missing a mounting box for it. Hopefully they sell one. The store probably got a good deal on them
---
"Live Awesome!" - Kevin Carosa
I had that same problem with line voltage thermostats that weren't CSA approved. I refused to install them, so the customer sent 160 of them away and they came back with CSA stickers. All they do is try to burn one and do an insulation test on each of them. As for your problem, can you gang 3 sectional boxes and mount them sideways?
Right now, my covered porch (so it's a 'damp,' rather than 'wet' location) is getting by with a keyless mounted on the wall.

There's no 'accessory' plate referred to in the instructions, and the fixture is made with an assortment of mounting holes, so it's clearly intended to be mounted on nearly every sort of 'standard' box. There's even provision for using one of those center posts, so common with light fixtures. My issue is that there's no way to both use the mounting holes and have the wires in the box.

Solution? Well, you can be sure UL will hear about this; someone really dropped the ball. It's either that, or someone is using the UL name without permission.

If my wall were perfectly flat, I might be happy to mount the box directly, and use the 3/8" space behind it as my 'wiring compartment.' My wall is a common clapboard, though. Mounting the light flush to the wall would result in a 3/4" gap where the clapboards met, opening my wall to the weather and making a fine wasp nest.

The previous light had a small round base that would have fit on one clapboard.

As a side note ... The wall has, behind the fixture, studs places so that the greatest distance between them is only 3". In order to mount this box it was necessary for me to notch the stud. The Multi-master is definitely the tool for that job.
Reno:
Would one of those 'adaptors' that are made to go on siding work?

The thing that makes a fixture fit flush & plumb on various types of siding?

Maybe Arlington?


---
John
What is the manufacturer and model number?
---
Greg Fretwell
I have never used, have not even seen, the thing you describe. Might it work? I don't know.
I do know that this fixture is plainly made to fit on a standard box - and it also plainly has the wires going somewhere besides the box. Hence, there's no way this can be installed with the connections IN the box, as the NEC requires.
I suppose you can 'field engineer' anything; maybe I'll slip a milk jug over my keyless and call it 'raintight.'
UL's evaluations test the things 'as installed.' Or, they're supposed to.
OK, entering "Rant mode"
Apart from the specific challenges posed by this fixture ... look to the title of this thread. How often have we heard inspectors tell us "if there's no UL sticker I won't pass it?' Or, they defer any judgement as to whether something is code-compliant to simply looking for the UL tag?
IMO, the presence of the UL tag is nothing more than a convenience, and in no way is it a substitute for the AHJ making their own evaluation. The inspector far too often lets himself remain happily ignorant, passing the buck to UL. UL is NOT the AHJ, and it is (IMO) negligent for the inspector to do that.
My proof? Well, here's one product that slipped through.
The opposite is also true. I've seen an increasing prevalence of the attitude "if it's not made in a factory it can't possibly be allowed." This attitude has begun entering the code in more recent cycles ... here are some instances where a 'field assembly' has been debated:
- Shop-made extension cords, including those with simple cord caps;
- Simply replacing the plug on a cord with a different type (ie: twist-lock);
- Any sort of multi-outlet assembly;
- Simply using a threaded coupling to combine fittings for a transition between wiring methods; and,
- "Traditional" methods for hanging ceiling fans.
Some of these matters have made it into code language. Others are the target with an extroadinary application of the 'listing and labling' clause.
Folks sometimes insist on a listed product, where there is no such code requirement (Romex staples are an example)
Others seem to think that just because something is factory-made there is now a rule that says you can't do it yourself. (Twist-lock to straight adaptors).
The "UL Question Corner" more often has UL stepping beyond it's place and offering "official" opinions on matters beyond their jurisdiction. No one has ever elected UL, or given them any governing authority. They are not subject to the same checks, balances, or limitations as government.
Yet, there are hordes of folks out there who would accept the light fixture I posted simply because it has the UL sticker. Gee, the proplem can't possibly be with the fixture?
Had I mounted a keyless on a Bell box, and run an exposed tail of Romex to it, someone would cry: "that's not a listed luminaire as the NEC requires." Maybe not- but you'll never convince me that this listed fixture, with the individual wires either flying through the air or pinched between the box and the fixture, is 'safer.'
Electure:
Thanks for the link.
That is one of them, the rest are probably within the Arlington Cat.
I see a lot of different config.; vinyl siding, stone, clapboard, etc., but being 'without tools' I don't know the sources.
Here's another one; second row is for lap siding.
Edit to add this link:
http://www.specialliteproducts.com/lighting/accessories/lightblocks.aspx
Last edited by HotLine1;
09/18/12
08:21 PM
. Reason: add link
---
John
Reno:
Looking at your mock-up & the fixture IMHO the widget I have above would probably require some creative engineering to make an acceptable install.

I looked at your fixture, and I would have to say, I agree with your opinion that 'something ain't right'. Just for my own mind, was/is there any instructions to install it?

Also, I see what appears to be a 'tab' on the bottom of the fixture, which may indicate some type of 'back box'? But, with KOs for mounting to a box, as you have said, don't make any sense.

Wonder if it's a 'good' UL label?
---
John
Link Copied to Clipboard
Featured:

Tools for Electricians

* * * * * * *


2023 NEC Now Available!

* * * * * * *


2020 NEC Electrician
Exam Prep Combos:
Master / Journeyman