Who's Online Now
0 members (), 47 guests, and 11 robots.
Key:
Admin
,
Global Mod
,
Mod
In Florida there would be augers every 4 or 5 feet around the perimeter, screwed about 4 feet in the ground with flukes about 5" in diameter. These require 1.5" straps that go over the building to the auger on the other side.

You even need that on a back yard shed.

As Ron White says, "it is not THAT the wind is blowing, it is WHAT the wind is blowing.
You don't want that kiosk tumbling up to your house/store/car at 50-60 MPH.
---
Greg Fretwell
Interesting point to add:

Per PSE&G Green Book (POCO REquirements)

Unguyed service mast is acceptable with a max height above 'highest support' to the point of attachment for size 2/0 or smaller service drop wires....

2" conduit, max height 2 feet
2-1/2" conduit, max height 4 feet
3" conduit, max height 7 feet

note 5: When back guying is required for heights exceeding those listed above, the following requirements shall apply:
- Guy shall be securely fastened to anchored stud
- Guy wire shall be minimum 1/4" galv. wire.
PSE&G assumes no responsibility for building damage associated with this type of construction.

That's a CYA for sure!

On the drawing (Exibit 4) a Minimum of two (2) supports (straps) are required above the meter pan 'with 1/2" machine thru bolts through wall studs; capable of withstanding a 1000 lb horizontal pull.

I'll see if I can scan the pages from the book soon.

Book is 2005, so there may be some changes. Mast services are not common in my twp.


---
John
HotLine, those are interesting requirements; are they ever enforced?
I did a service recently, where I mounted the pan on strut specifically so I could get the lags into studs, and not just siding. In most circumstances, I don't know how you could locate the studs, under the sheathing and the siding. In my case, the inside wall was opened up. Even so, I used only 1/4" lag bolts.
Other trade forums have expressed very strong, negative opinions regarding strut on houses; it is felt to be ugly.
For our kiosk, I don't see where you could place two straps - unless it was acceptable to place them right next to each other.
Just for the sake of illustration, here's a picture of a mast with guy wire support. A commercially prepared 'kit' was used, and that cable is a lot smaller than 1/4":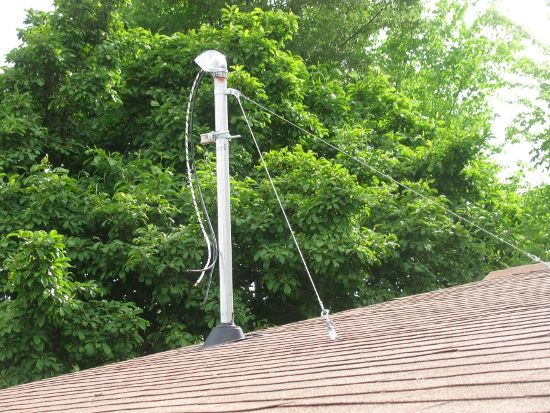 By the way, as a side note ... I'd like to illustrate two equivalent ways of doing this service: the "East Coast" and the "West Coast" way.
The kiosk uses the "East Coast" way, where the meter pan / disconnect is apart from the panel: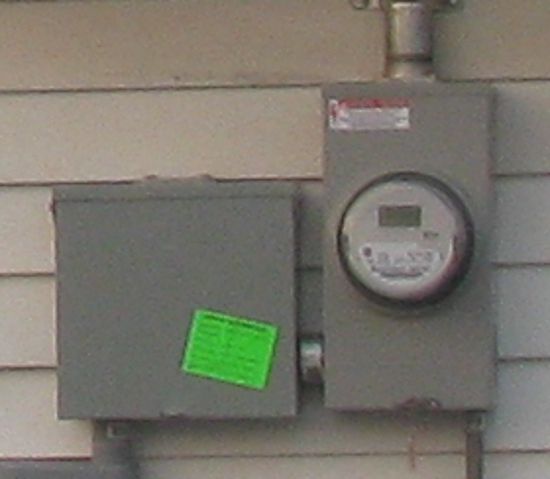 Especially for a smaller service such as this one, I personally prefer the "West Coast" practice of using an "All in One." That's where the same can contains the meter, disconnect, and branch circuit breakers. This one has ten spaces under the lower half of the cover: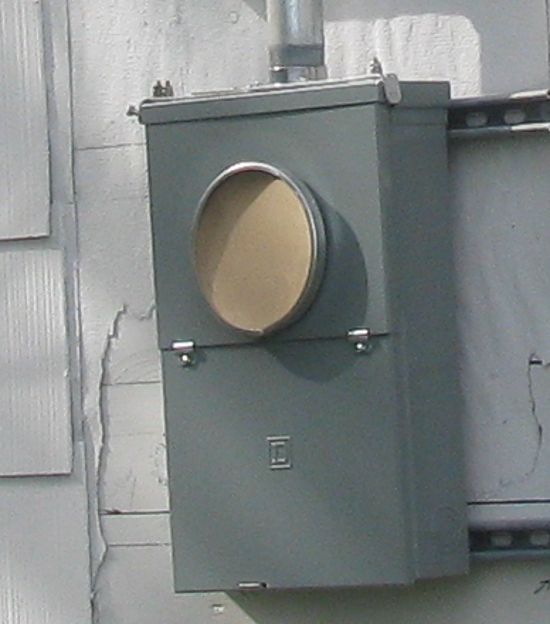 The POCO requirements are the responsibility of the POCO wiring inspectors; they do enforce. As I said, masts are not common in my Twp.

In the last 10 years, I have only seen two (2) 'all in ones' here. For whatever reasoning, they are not used.

I'm going to scan that POCO pages tonite.

---
John
In the picture of the All-in-One, some have wondered about the gizmo on the top of the can:
This is the "intersystem bonding termination." That is, a place for the phone guy to land his ground wire.
This particular version is made by T&B, and self-clamps to the can. A more common version is the type used on this kiosk: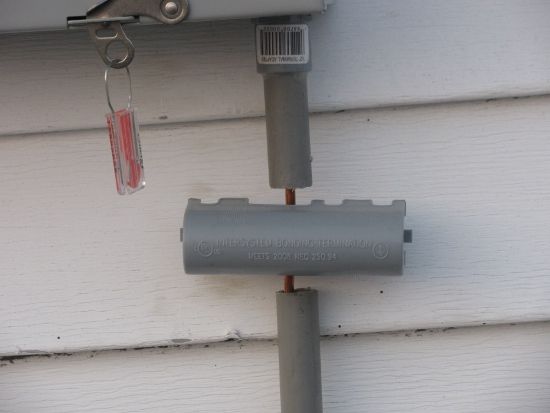 With the 2011 NEC, section 250.94 requires such a provision. It's worth a close look at 250.96.
As I read it, at least, there's no requirement that that you use a listed gizmo for the connection, or that the connection be made to the EGC. It appears that a simply length of free #6 wire (how would you support or anchor it?)would suffice, as would simply mounting a ground buss to the outside of the can.
Since we're talking about the ground, or EGC ....
As you can see in the earlier pictures, the kiosk appears to use a #4 bare copper wire, in PVC conduit. Here's the termination at the rod end: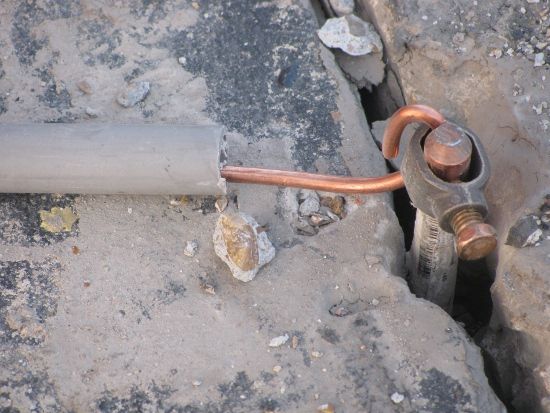 How local practices differ! I would not have done it anything like that - as I am accustomed to running the EGC in EMT. Here's an example of how I expect a rod connection to appear: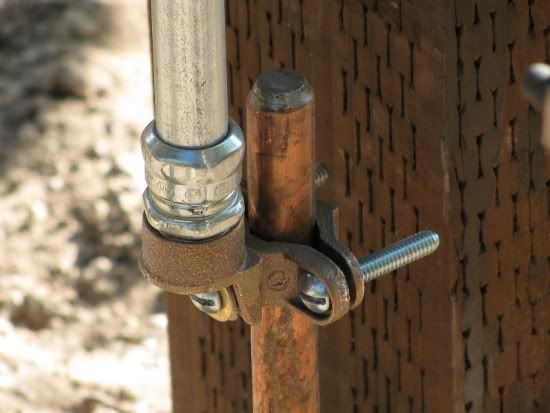 (Picture was taken before hole was filled in).
I must admit that running a simple wire to an acorn sure does look a lot easier.
Some might have concerns about this ground rod being vulnerable to damage, or posing a trip hazard. To be fair, I don't see this as an issue; it's placed such that one is not likely to encounter it. The electrician was there probably before the plumber tore up the pavement ... though I agree it would have been better for the rod to be completely buried.
Regarding the lack of mushrooming on either rod pictured:
The kiosk's rod is in soil that allows for an exceptionally easy driving of the rod; there is very likely an entire 8-ft of rod there.
The other rod pictured was set in a dug hole, a hole used to place a pole, and backfilled. No 'driving' was necessary. Indeed, the rod is partly encased in the concrete of the post footing.
Last edited by renosteinke;
07/15/12
01:51 PM
.
This is a picture of the typical service I saw in the DC area (Taken in Alexandria Va a week or so ago)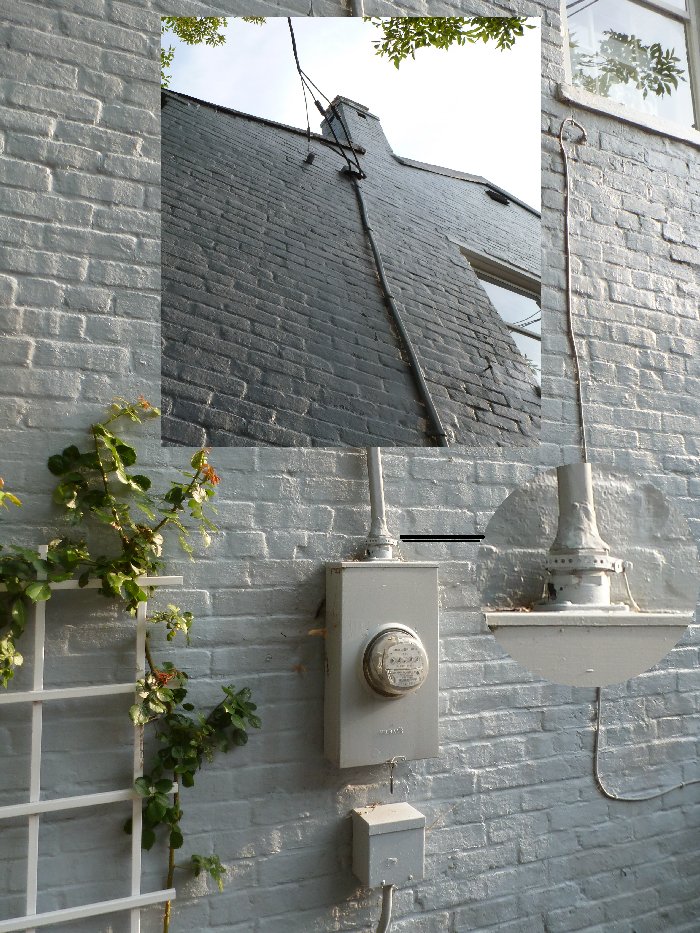 ---
Greg Fretwell
Reno:

The types of IBT devices that mount on the meter pans are not allowed by POCO (PSE&G). Neither is any ground conductors alowed in the meter pan, or passing thru it.

The majority of grd rods are terminated with the acorn clamp; the conduit methods are rare.


---
John
Link Copied to Clipboard