Who's Online Now
0 members (), 30 guests, and 10 robots.
Key:
Admin
,
Global Mod
,
Mod
Somebody please give me the manufacturer name and part number for the type of bracket that mounts to the bottom of a box and provides conduit support approximately 6" from two sides of that box. Google has let me down.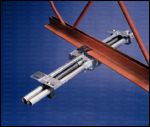 CADDY® Combo Box/Conduit Hangers From Drop Wire/Rod And Beam
The B18 Series
Thanks ptcrtn. Using your information I was able to find the part number I wanted (B12MB18A).
ptcrtn:

Welcome to ECN forums from one of the 'Jersey Guys'!!!!

Thanks for the quick info for Triple's inquiry. Jump right in any time you want!!!
---
John
Link Copied to Clipboard
Featured:

Tools for Electricians

* * * * * * *


2023 NEC Now Available!

* * * * * * *


2020 NEC Electrician
Exam Prep Combos:
Master / Journeyman