Who's Online Now
0 members (), 13 guests, and 49 robots.
Key:
Admin
,
Global Mod
,
Mod
Are any of you using the new CadWeld system? I saw a pitch at the ECF meeting in Ft Myers the other day. It seems fairly cool. They use a preloaded cup and a battery operated igniter. There is also a "one shot" with a single use mold for folks who don't do enough welds to buy regular molds.
---
Greg Fretwell
Greg:
I had molds and a battery pack (rechargable).
I thought that was 'state of the art' back then.

The one shot could be a real 'saver' IF there are a lot of choices. Quite a few times, I had to wait for Fedex with the mold that I needed for a job, the use it & put it on the shelf.

---
John
---
Wood work but can't!
Alan:
'Cadweld' is a brand name of an exothermic welding system. Basically, a graphite mold for the specific type of weld you are doing, a clamping device to hold the mold halves together. You install the mold over the weld you want to do, clamp it, insert a metal disc in base of powder chamber, pour in a patented measured unit of weld powder/compound, insert ignitor, install filter and mold top cover. Step back a safe distance, activate ignitor, powder ignites heats compound to melting point, disc melts away, compound falls onto material that you want to weld, and that's it.
Next step is wait for mold to cool & remove; check & clean weld.
Keep in mind 'wait for cooldown'!!!
The Cadweld system is part of Erico Corp
www.erico.com
is website
They have a fairly current training video, CD/DVD. You should be able to request a copy from the website.
---
John
The number one issue is that the graphite molds are sensitive to relative humidity.

Best results occur IF you pre-heat the mold in your oven the night before.

This drives out the humidity/water...

Then the mold does NOT explode upon the heat of burning...


Aluminum and Magnesium powdered metal...

Which is what drives the whole equation.

ERICO has competition.

Check around...
Last edited by Tesla;
05/22/10
04:52 AM
.
---
Tesla
Yes, we bought the igniter and now buy the new shots. No more opening the shot and dumping the lighter colored igniting powder out into the mold. The new shots are a bit more money, but not too bad.

Just put the foil wrapped cup in the mold, close the cover, slide the wiring harness over the metallic tabs and when ready hold the button down for 2 or 3 seconds...Voila!!

The old system often would not ignite for dozens of trigger pulls with the $65 spark gun. This meant opening another $8 shot just for the igniting powder---and sometimes several if you had mixed age shots and did not keep track of their age or store them where dry.

Inevitably you would put the end of the spark gun too close and it would be damaged somewhat by the heat of the flash.

The molds are the same, so the investment is the (under $150)ignitor pack with leads plus buying the new type of molds from then on.

We always take a 30-45 seconds to dry out the molds with a Bernz-o-matic when we set up. Not necessary to do between repeated uses in that session, just once each before you use them for each hour or so long session. You can see the moisture come to the surface and be gone as you wave the torch over the mold. This is an important step.

This investment has been worth its weight in spark guns!!
Line workers have used this system here for some years.
I remember the first time we tried one of the charges in a given Tee weld.
We sort of under-estimated the power that the charge had.
Luckily, we were all well covered up.
Poorboy...

It all depends on the climate.

In Las Vegas -- it's no sweat.

In New Orleans -- you'd better dry the mold in the oven and wrap in in Calcium Chloride. ( That's what's in those desiccant bags packed in with stuff that can't take humidity.)

Likewise, it's humidity within the charge that is frustrating ignition.

In northern climates this fact is NOT so obvious.

In Hawaii, Florida and the Gulf States: frustration knows no limits.

Penn-Union IIRC has a compression only system which makes exothermic welding ( Caldweld is a brand name for such. ) old news.

It does require their stuff and their tool. Its labor content is much, much, much lower. It's like cutting big wire with an electro-hydraulic gun. ( Gator, anyone?)
---
Tesla
Here is a small slab being readied for a pour. We had 3 ground rods spread out in it, as well as tails for steel columns and water main hookups at a later date.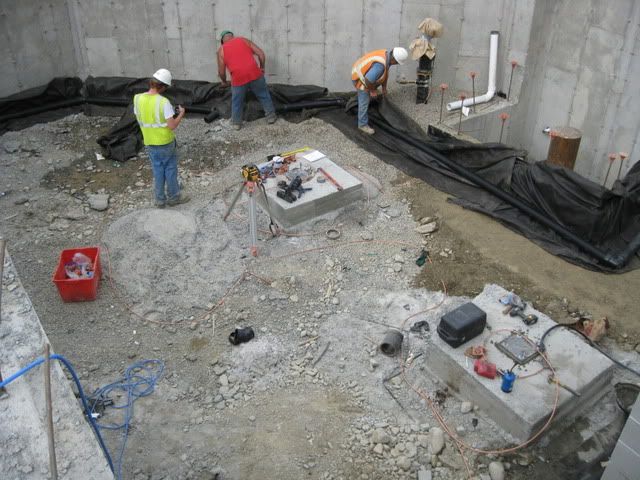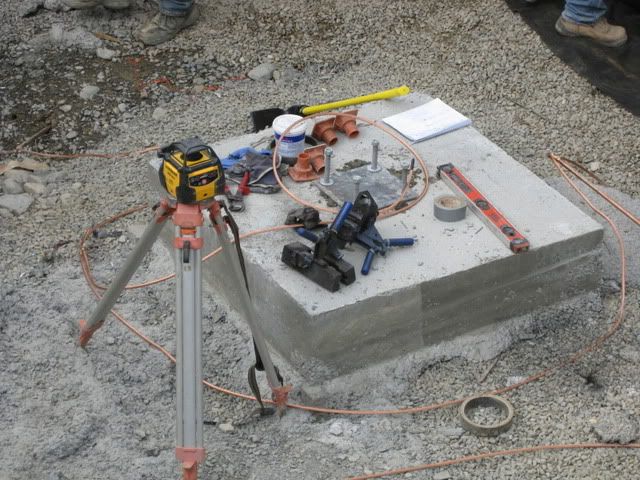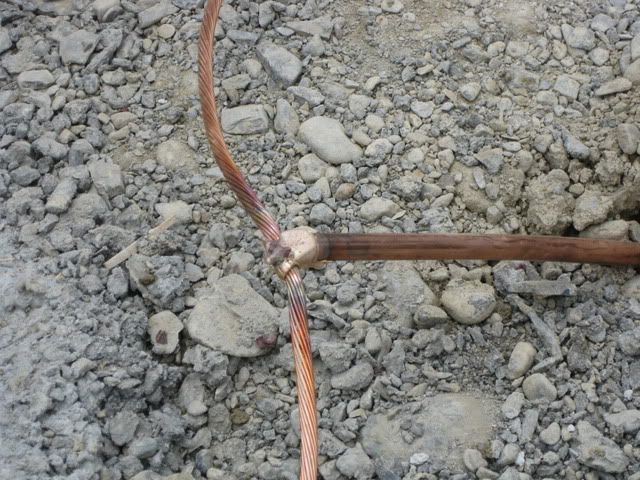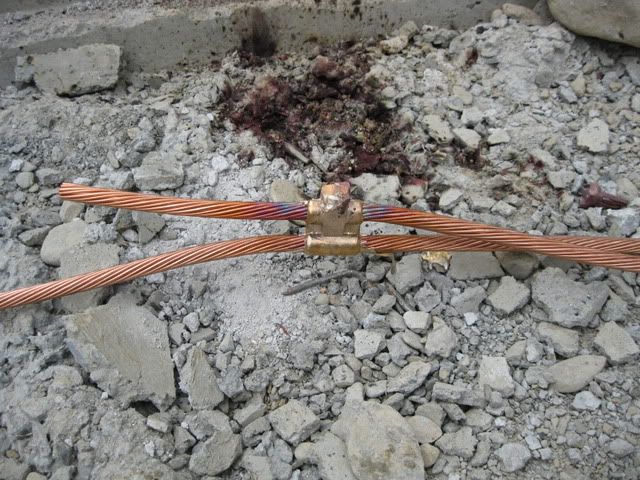 Last edited by poorboy;
05/23/10
09:15 AM
.
One disadvantage to the Cadweld and other systems which use an exothermic or thermite reaction is that the wire at the splice becomes very brittle from the heat and so should be protected from excessive movement. Crimping does not cause the same hardening.
Link Copied to Clipboard
Featured:

Tools for Electricians

* * * * * * *


2023 NEC Now Available!

* * * * * * *


2020 NEC Electrician
Exam Prep Combos:
Master / Journeyman