I have an example where an Electrical Contractor wired Modbus and other low voltage comms systems as a "home run" style and then when told the bus portion of the job was an incorrect way to assemble a bus topology, they proceeded to splice the wires back together, solder the splices, and then also add wire nuts to the same splices.

(As an aside, the same contractor also ran the shielded 18-2 wires thru pre-existing conduit and junction boxes which also contained various unrelated line votage circuits).

I'm aware under NEC article 300 there isn't technically a problem as the low volt wire is rated to 300 volts and the maximun applied voltage in the shared conduit is either 120, 240, or 277 depending on the building and example (multiple buildings). I am also aware that under articles 725 and 800 it is pretty clear the wires should not be combined in shared conduit.

It's also pretty clear from a signal noise point of view its just plain wrong. IEEE / TIA and other standards and best practices for insturmentation jobs don't seem like rocket science to me.

I've been studying NEC2005, and apparently NEC2002 may have been in effect at the time of the work. I'm told they are more or less the same in the areas of interest, but I also need to know where they may differ.

In numerous observed examples, the wire nuts fall out when opening the junction boxess for inspection, and in some cases the wire splices were found to be snapped when the wire nut was applied.

Question is, where in the NEC Code should I look to pin down the issues with the solder joints being not code compliant?

Thanks fo the help...


Stay up to Code with the Latest NEC:
Read 110.14 You well find your answers there.
Yoopersup
Solder is fine as long as you make a secure mechanical connection before you solder.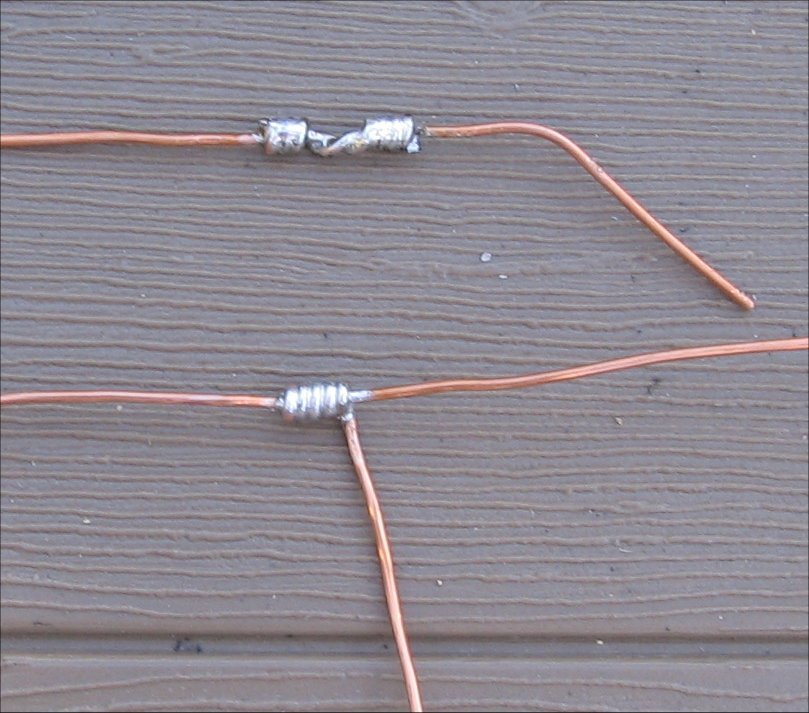 ---
Greg Fretwell
Thanks guys. I just got back from the local Law Library (my source for reference of these codes, short of buying them).

It appears after reviewing both the 2002NEC and 2005NEC, there is very little to mention about the solder issue except what's mentioned in the above comments RE the "mechnically joined" and being "insulated equivalent to..." criteria. There is no mention of whether a wire nut is or is not considered "identified for the purpose of use" as also mentioned, and I suppose a wire nut counts as insulation referencing 110.14 opening paragraph and section (B) splices.

The section seems to be more concerned with the issues of dissimilar metals such as copper and aluminum, which is understandable given the nature of potential connection failures.

I suppose twisting 18-2 standed wire counts as "mechancially joined" in this context.

Any other ideas or suggestions?
Twisted tight and soldered is fine and a wirenut is adequate insulation so you are good to go.
It is a whole lot more than most low voltage guys do.
I see twisted and a dab of tape as often as anything (landscape guys), little blue wirenuts if they have them handy (HVAC and gate guys). These days most datacom is on punch blocks of some kind.
Nobody solders.
---
Greg Fretwell
Is using a wirenut on a soldered joint "following manufacture's instructions"?

As an EE, I have had to tell people that tinning stranded wire before putting it into a clamping connector, is wrong because the soldered joint might fracture which will result in a loose connection.

Larry C
Thanks Larry C, I would tend to agree. Keeping in mind that I'm a facility owner, not a contractor. I'm looking for best practice, not minimal acceptable
I do have some broken connections that appear to have been from the twisting of the solder when the wire nut was applied...
This is an example of the soldered splice Modbus running in shared raceways with line voltage:
Last edited by BullDog;
05/22/09
04:14 PM
.
How about exceeding box fill limits?

Larry C
I wouldn't have thought having the two systems in the one box would be legal?
Larry C - I'm swinging back and analyzing the box and conduit fill, and quite sure they over did it...

Trumpy - Under articles 725 and 800 I can't see how it meets code. Either.

At present I'm gathering my facts and asking the Engineer / Contractor for an explanation.

In the spirit of fairness, I'm looking for someone to point out something I've missed that makes a difference in the situation.
Link Copied to Clipboard
Featured:

Tools for Electricians

* * * * * * *


2023 NEC Now Available!

* * * * * * *


2020 NEC Electrician
Exam Prep Combos:
Master / Journeyman