Who's Online Now
0 members (), 13 guests, and 17 robots.
Key:
Admin
,
Global Mod
,
Mod
Ok, im in a study block and bored so, i decided to start this;

What Operating System(s) do you currently have/use?


--__________________________________________________________-


Mine;
Main OS: Windows Vista Ultimate
Virtual Machines: Windows XP Professional
98
2000
95
Ububtu 8.10

--__________________________________________________________--

POST NOW!!!
---
-Joe
"then we'll glue em' then screw em'"
-Tom Silva
TOH
Older laptop has 2000 pro; Kaspersky
Newer laptop has XP; Kaspersky

Desktop runs XP; Norton
Office desktop (on server) has some version of XP.

---
John
Two on XP Pro, my wife's and my primary machines.
My backup machine in the drawer under this one, the file/fax/scanner/weather server, in the back room and 2 media servers, one in the entertainment center and one out in the pool bar, are running W/98.
They are all on the network.
Two MP3 players in the vehicles are running DOS 6.3

---
Greg Fretwell
What kind of software are you using in your entertainment center? One good thing about Vista, is that Windows Media Center is built-in starting with the Home Premium version... But the system requirements are pretty rediculous.

MP3 players running DOS? You have boxes in your car?
The machine in the entertainment center runs W/98. It usually just plays MP3s but I also stream and archive shows from the ReplayTV there and I used to use it for burning DVDs before I got a regular DVD recorder.
The car and truck players are old P166 class machines running DOS 6.3 and MPXPLAY. If I could find a better player I would get on. I like the key pad interface.
That is also the software on the tiki bar machine out by the pool. The "key pad" is the 3W1 Seeburg wallbox.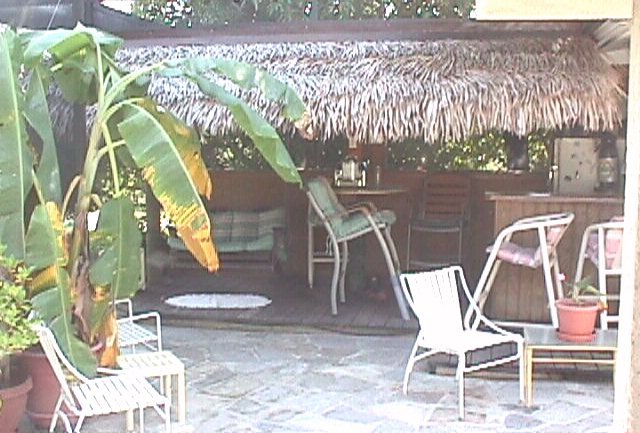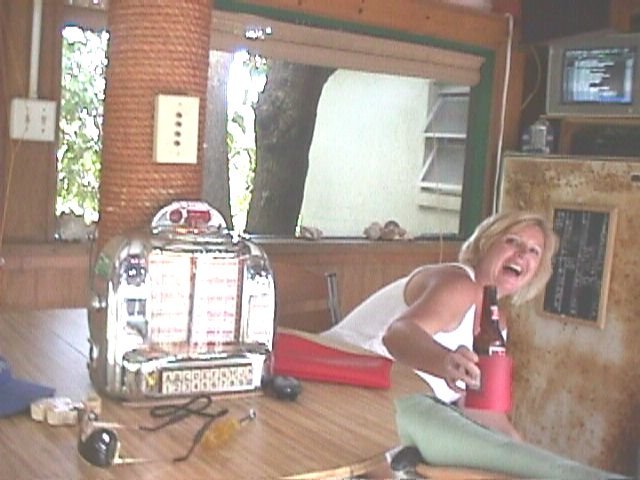 ---
Greg Fretwell
How do you keep an area like that clean and dry during the stormy season? Being from the Pacific NW, I can't imagine having something like that in my back yard... It would be covered in moss. Anyway, it looks like a nice setup...

I am currently running 25' S-Video & audio cables from the computer under my desk (Athlon64X2 6000+) to my TV as the DVR, but am going to put it on another box (P4 3.0) next to the TV. Vista and Media Center run great on the Athlon64X2, we'll see about the P4. I may have to keep the annoying long cables, and having to crawl under the desk to switch out the jacks for my headphones.

I'd be really interested to see how your car setup works... I have been considering moving my Linux box (Duron 1100) into the trunk for use as a mobile grid computing platform, just to say that I can/have. I suppose I could do other things with it, such as MP3 player or GPS, but that can easily come later. Are the boxes just standard cases, or something special? I would be concerned with vibration and jarring while driving down the road. My biggest concern is power; I have an inverter but my car's small battery is pretty easy to kill. I would need to devise a scheme to have the computer turn off shortly (say 15 minutes) after the engine has stopped, and then start it up again with the ignition.

(Getting back on topic):
Work: Windows XP Pro SP2
Home: Mac OS X 10.5.6, Ubuntu 9.04, Windows Vista Home Premium x64 SP1, Windows XP Pro SP3.

I still have copies of Win95, 98, ME and 2000 as well as nearly every version of MacOS. I started with computers using ProDOS on an Apple IIe, and MS-DOS 4/5 on a 286. Then MacOS (System) 6, 7, Win 3.11 and so on.

I don't really claim to take sides in the Mac/Windows/Linux argument, as you can see I use all three on various computers. In fact, I try to enjoy the differences and similarities of all OSes. I have, however, converted to Mac OS for my daily home use, as I bought a MacBook Pro. Even though I often regret and am saddened by the price disparity with the Apple stuff, I did it because I can dual-boot MacOS with nearly any other x86 OS. I currently use XP Pro SP3 for this, booting fresh from the XP partition for games and a few other rare instances and using VMWare Fusion for most everything else.
FreeBSD Unix. (3 laptops, desktop, multiple servers)
XP (1 desktop - mainly for youtube and windoze-only apps)
NetBSD (HP Jornada 680 palmtop - bedside email terminal)

The machine for the tiki bar is actually in the garage on the other side of the wall with long cables. The monitor seems OK tucked up in that corner in spite of the weather. I do go through one every 3 or 4 years but I am not sure they last much longer than that anyway. I get them used from online surplus operations.

In the cars I have regular systems but I do go for as small a case as I can find and hack the board in that fits.
In my F150 I have an Acer 2195 that is about 4" tall. It stands up behind the seat.
The Prelude has a LAN branded server case that is really only about 2.5" tall with a socket 7 AT board hacked in it.
I took out the back seat coushion, put the machine on the floor pan on some carpet and pad and folded the seatback down over it. Nobody over 3' tall could sit back there anyway. I did put some blocking under the seatback so it will breathe and to take the load of the 10 bags of concrete I might throw back there off the PC.
They run on inverters straight off the "ignition" terminal so they go up and down with the key. Since I am not really writing to the disk, I haven't had a problem just dumping them. DOS is pretty good about that anyway, although the W/98 machine in the entertainment center and tiki bar get dumped too.
The advantage of the DOS systems is they are "key on" to "music" in about 10 seconds. The car systems run blind, no monitor. I just have a key pad to select songs by number, "next", "back", "repeat" or it defaults to random play.
That is about all the distraction I want in a car.
The tiki and house machines have a monitor and you can scroll to see what you want. That is it it the upper corner of the pic.

I never worried about bouncing these things around. When I was at IBM they did a study of hard drives and vehicles for the army. If the driver can take the shock, so will the hard drive. Just be sure the machine is fastened down. The secondary shock of jostling around is far greater than the shock transmitted through the vehicle body.
---
Greg Fretwell
In my case two of the home computers use Vista Home Basic, one uses XP Home, for work have XP Professional on one laptop and Windows 95 on another laptop. Before anyone says anything the second laptop is kept on 95 on purpose as it is the easiest one I know of to block out to use some programing languages such as Pascal and Assembly to communicate with some of the older machines I deal with.
Work: 2000
Laptop: Win95
Desktop 1: Win98 SE
Desktop 2: WinXP Pro SP3

Noderaser,
Consider a Schmitt trigger circuit instead of a timer for your auto circuit. Turn off a little above 12 volts and on just below your regulated voltage. A timer wouldn't make up for different loads or environmental conditions.

Greg,
Way to go!

Joe
Link Copied to Clipboard
Featured:

Tools for Electricians

* * * * * * *


2023 NEC Now Available!

* * * * * * *


2020 NEC Electrician
Exam Prep Combos:
Master / Journeyman