Who's Online Now
0 members (), 20 guests, and 15 robots.
Key:
Admin
,
Global Mod
,
Mod
I'd like to get opinions on a slightly odd proposal I've gotten to have 4 subpanels added to a building.
I need 4 separate sub panels to be installed on the exterior of a building spaced evenly over a distance of approximately 600'. Each of the four panels needs to provide a dozen 277V single phase branch circuits. Total load for each panel is under 40A (single phase) but nobody makes a 40A 480/277V 3R panel so the ones I'm getting are bigger.
Here's how our electrical contractor is proposing to do this:
We've got ample capacity at the MDP and several spare breakers. He wants to install a single 480/277V 4W 3phase feeder from the MDP and run this feeder the full 600' along the outside of the building. He wants to tap off of this feeder at 4 locations, one for each sub panel. Each sub panel will have it's own main breaker.
I can't find anything wrong with this scenario except that I'm so used to seeing a separate breaker in the MDP for each sub panel and not used to seeing a single breaker that feeds 4 separate panels.
I know that printed descriptions are hard to follow so here' s a quick sketch.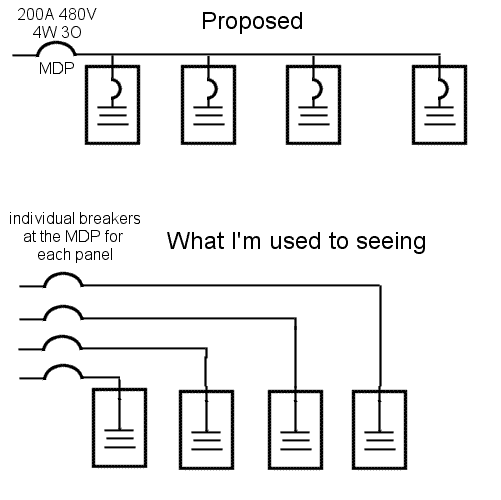 I'd like to hear your thoughts on this.
Is he going to mount a gutter over or under every subpanel? If yes I don't have a problem with his installation.
I don't see a problem either. Are they going to try to exploit the tap rules too?
---
Greg Fretwell
Man, what a waste of wire!

I'd set one 'daughter panel' next to the current 'parent'.

Next, run 20 Amp 277 circuits in groups ( #8 wire? ) towards Lighting Contactor Panels at each of the desired spots.

Look at some of the Tork line, for example.

Control the lights from some point of convenience with low voltage ( 120V or 28V ) relays switching them.

You can use off the shelf systems (Tork) or build up your own ( SqD/ Cutler-Hammer, etc. electrically or mechanically held contactors) or...

You've got too many options to discuss in one post.

---
Tesla
Could you feed each successive panel from the preceeding one? That would allow you to drop the wire size for most of the run and each panel wouldn't need it's own main breaker.

When you say the load is 40 amps single phase, do you mean 40 amps per phase?
Twh, That was what I was getting at with the "tap rule" question. You would have to sharpen your pencil and take a long hard look at voltage drop when you start shaving down the wire size. If the loads are reactive, pay particular attention to the neutral.
---
Greg Fretwell
FWIW, running 600 Feet of 2-1/2" Conduit with Four 3/0 CU. Conductors, performing Three Feeder Taps (enclosures, etc.), and including a Main Circuit Breaker in all Four Panelboards is the most difficult and costly way of doing the Installation.

It does, however, comply with the NEC (the installation complies, not the high cost and difficulty - that complies with some other code; maybe Murphy's Law???)

If I were either bidding the job or Injunearring it (Engineering) - or both, would go this route:

* Four (4) 40/3 Circuit Breakers at the Distribution Panel,

* Four (4) separate Panelboard Feeders - one to each Panelboard - consisting of 4 #8 THHN Cu (throw in an EGC for good measure!), in 1-1/4" Conduit.
(possible size increase to #6 for the farthest Panelboard(s) if voltage drop was found to be excessive),

* Four (4) MLO Panelboards.

... NOW... If there is not enough space in the existing Distribution Gear to install Four 3-pole devices (total spaces needed = 12 single pole spaces, or 4 full device spaces), then it might come down to some different ideas.

*** If only ONE full device (3 pole) space available: ***
Feed First Panelboard with 200 Amp Feeder; remaining Three Panelboards fed from 40/3 Breakers in that First Panelboard.

*** If TWO full device spaces are available: ***
a: 100 Amp Feeder to First and Third Panelboards;
b: Second Panelboard fed from 40 Amp Circuit derived from First Panelboard;
c: Forth Panelboard fed from 40 Amp Circuit derived from Third Panelboard.

*** If THREE full device spaces are available: ***
a: Feed Two Panelboards directly from Gear with 40 Amp Circuits (via 40/3 C/Bs);
b: Feed Third Panelboard directly from Gear with 100 Amp Feeder (via 100/3 C/B);
c: Feed Fourth Panelboard with 40 Amp Circuit derived from Third Panelboard (via 40/3 C/B in the 3rd Panelboard).

Just my 2¢

Scott35
---
Scott " 35 " Thompson
Just Say NO
To Green Eggs And Ham!
Thanks for the replies.

To answer the questions, Yes: he is planning on installing a gutter over each panel. I assume he'll be exploiting at least the 10' tap rule since the panels will all be within 10' of the main feeder.

And thanks especially to Scott35. Your suggestions mirrored my thoughts almost exactly. Make the first panel feed the other three and all panels get their own much smaller circuit than the 3/0 they're proposing.

I'll call my EC up and have a talk. They've done a few other jobs for us and I've had good experiences working with them. This one job just seemed strange. Maybe they've got a few thousand feet of 3/0 THHN left over from another job they want to get rid of. Who knows.

But if this doesn't raise any red flags for anybody (other than cost) then I guess I don't really care how they do it as long as I'm not paying more because of a strange design.

Thanks again.
Link Copied to Clipboard
Featured:

Tools for Electricians

* * * * * * *


2023 NEC Now Available!

* * * * * * *


2020 NEC Electrician
Exam Prep Combos:
Master / Journeyman