Who's Online Now
0 members (), 25 guests, and 14 robots.
Key:
Admin
,
Global Mod
,
Mod
And ... if so, how?
Here's a pic sent me from another forum. (Sorry for the size, etc ... it's not one of the usual formats).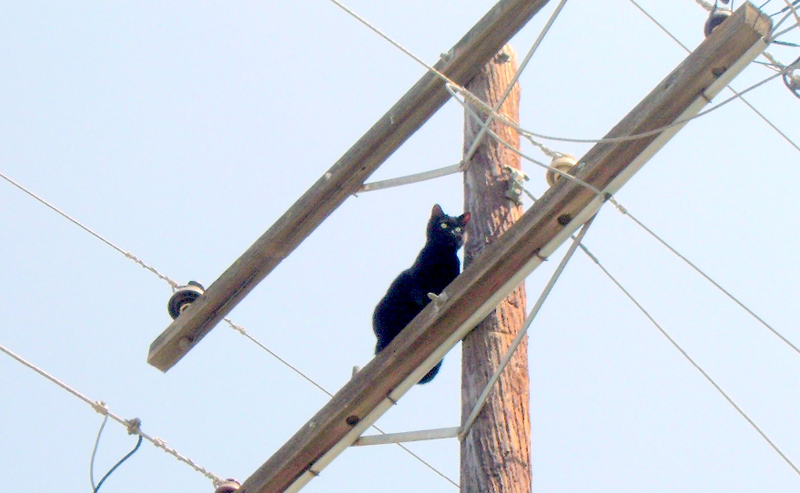 Arc Flash PPE Clothing, LOTO & Insulated Tools
Absolutly NOT! The cat will come down when ready.

Nor do I swerve for squirrels.
---
Earl
I agree, he will come down when he is ready or maybe a little quicker if he gets curious about those wires.
---
Greg Fretwell
No, I've yet to see the skeleton of a cat in either a tree, or on a power pole.
I did not put the cat up there, and have no need to get him down. He will get down when he is ready.
---
Jimmy

Life is tough, Life is tougher when you are stupid
Here's a pic of the rescue in progress (no, that's NOT me!):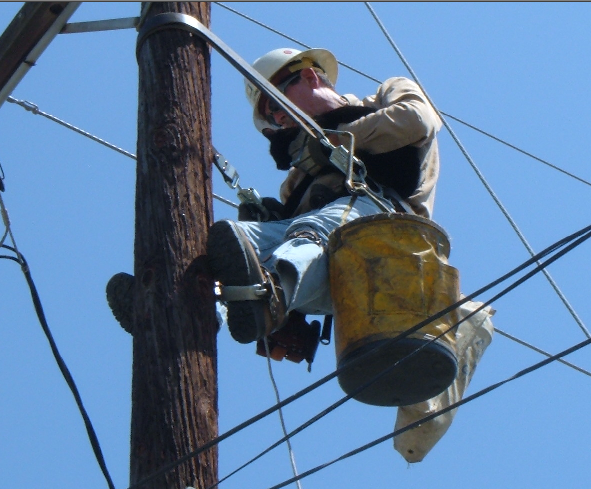 I'm sure the PoCo has an extensive protocol that covers such situations.
My role in all this? As "supreme being" at a cat lovers' web site, this issue comes up with some frequency. I usually tell folks to be patient ... and I've managed to persuade a few folks to put away their ladders, send the tree-trimmer away, etc. There are very real dangers on those poles.
Now, I just have to learn how to change the format pictures come in ....
Originally Posted by earlydean
Absolutly NOT! The cat will come down when ready.

Nor do I swerve for squirrels.
That is too funny because that's exactly what I was thinking. Cats will outlive me by eight lives and squirrels are nothing but pests. Large rats in my opinion.
Seriously, I don't see the justification in placing a lineman in the way of unnecessary harm. Every time they head up a pole, they know that they might not come back down. Doing his regular job is dangerous enough as it is, but going up there for non-work related stuff just isn't worth the risk. The cat will figure it out. Cats are much smarter than we think that they are.
I'm also not a fan of the taxpayer's money being wasted for firefighters to retrieve cats from trees.
I understand that utility companies and fire departments offer these rescues in an effort to provide good community relations, and maybe some practice. I say take the cat's family out to dinner with a $50.00 gift certificate. The cat will be home by the time they return and no human lives will be risked. I'm sure that's a lot cheaper than paying for a line crew with a truck for an hour.
OK, I admit it. I don't like cats but only because they are smarter than we are.
---
---Ed---

"But the guy at Home Depot said it would work."
and does he expect the cat to just hold on, while they climb back down......

In this case I wonder if the concern isn't practical as much as public relations: What about the potential for an outage if the cat gets into the primaries?

-John
Link Copied to Clipboard
Featured:

Tools for Electricians

* * * * * * *


2023 NEC Now Available!

* * * * * * *


2020 NEC Electrician
Exam Prep Combos:
Master / Journeyman