Who's Online Now
0 members (), 8 guests, and 46 robots.
Key:
Admin
,
Global Mod
,
Mod
Is there a source for historical NEC info? Specifically I am interested in reading what was written about 3 wire range and clothes dryer circuits. I am familiar with the rules, SE cable only and fed from main panel, not allowed in mobile homes etc. but I would like to see the code articles if possible.
Stay up to Code with the Latest NEC:
Also, was the requirement that the 3 wire circuit originate at the service equipment only when the shared grounded/grounding conductor was un-insulated or was it required in all cases?
NFPA has either the actual code or the ROP draft on their web site going back to the 50s for a lot of cycles but not the 93 or any others in that era. In 1996 they finally accepted Phil Simmonds' proposal to eliminate that exception to the normal rules. He said "the war was over". It was originally a WWII thing to save copper. Bear in mind, this was a neutral, also used as a ground and neutrals shall be white, insulated. SE was the only cable that didn't require an insulated neutral but you could use the white wire in Romex. That resulted in a lot of installations where the ground was present if sparky didn't cut it off. A very common installation was the ground was hooked to the box and the neutral was hooked to the receptacle. Romex typically was going to have the ground anyway. The requirement that it be from the service disconnect enclosure where the MBJ lands was to avoid voltage drop in a feeder neutral that would impose voltage on the frame of the equipment. Most manufactures still wanted you to add an additional ground wire to a convenient EGC from another circuit, usually the receptacle for the washer or a small appliance circuit although I doubt ranges frequently got it. If it was Romex and they did ground the box with the bare wire, it was easy to install the 4 prong receptacle. Everything was there.
This is the 1990 code.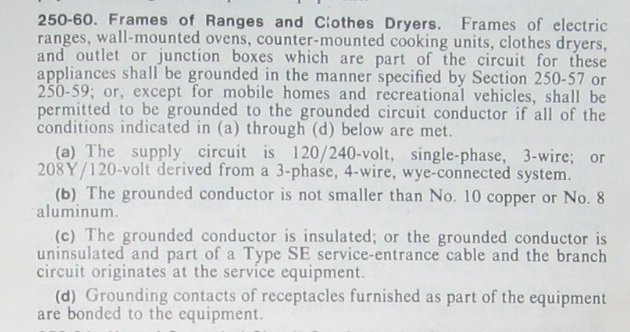 ---
Greg Fretwell
Link Copied to Clipboard
Featured:

Tools for Electricians

* * * * * * *


2023 NEC + Exam Prep Study Guides Now Available!

* * * * * * *


2020 NEC Electrician
Exam Prep Combos:
Master / Journeyman