New TikTok Challenge Posing Serious Electrical Risks
Electrical Safety Authority reminds of the dangers of electricity
MISSISSAUGA, ON (January 23, 2020)
– The Electrical Safety Authority is issuing a warning to all Ontarians not to participate or share a "challenge" on the social media platform TikTok that could lead to electrical fires and pose a serious safety risk. Despite the electrical damage caused by their actions, some TikTok users continue to put themselves and others at immediate risk for injury or fatality.
"While no known injuries have been reported so far, the popularity of this challenge and the serious risk posed by the actions in these videos are very concerning," says Dr. Joel Moody, Chief Public Safety Officer, Electrical Safety Authority. "Electricity is unforgiving, and no family should have to endure the pain of losing a loved one or their home because of a social media trend."
Every year in Ontario, 110 kids under 15 go to the hospital because of a preventable electrical injury. ESA is an administrative authority acting on behalf of the Government of Ontario to ensure that Ontarians can continue to live, work and play free from electrical harm.
ESA encourages parents to talk to their children about safe electrical use. To learn more about electrical safety, visit
ESASafe.com/NoSafeShock
Media Release:
https://www.esasafe.com/assets/file...enge-Press-Release_Jan.23.2020-FINAL.pdf
Arc Flash PPE Clothing, LOTO & Insulated Tools
Hey, I caught wind of that TikTok challenge too. It's crazy how challenges can spread like wildfire. Let's hope people stay safe and use their better judgment before jumping into risky trends.
As one who does not use TicToc.....could someone enlighten me on what the craziness of this one is please.

TYIA
---
John
Dropping a coin in behind a partially installed plug cap. (across the prongs)
I saw this on one of my groups and I think it was a joke but maybe not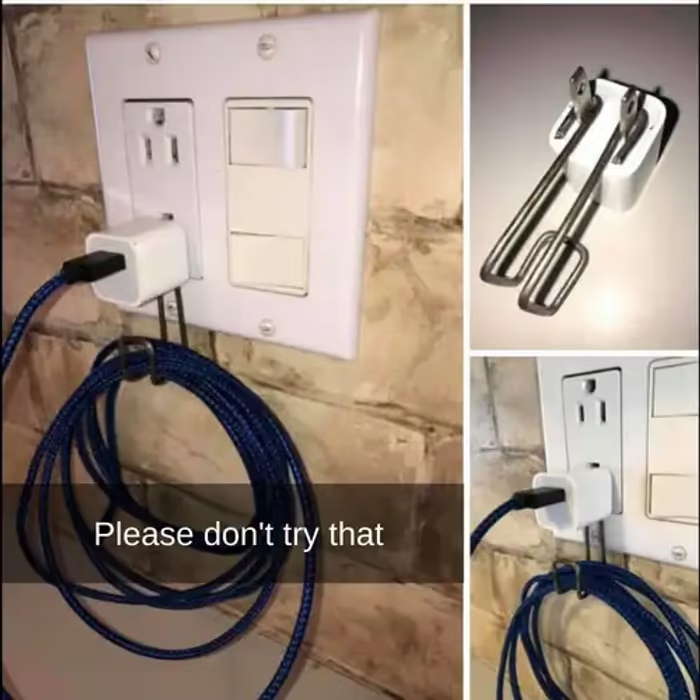 ---
Greg Fretwell
Okay, Thank You.

Now back in the day, probably mid '80s, had a service call from a desperate client with a problem at his home. He said a short circuit, and he tried resetting the breaker a few times.

I went thru the rooms that were dark, and had dead receptacles, and unplugged whatever. Circuit was still shorted, line to neutral w/tester. Back to the rooms, and moved the bed in the sons room away from the wall.
Suprise, here's a 2-wire cord, partially out of the receptacle outlet with a quarter across the prongs. Yes, welded to the prongs from his multi breaker resets. Checked, circuit clear, installed a new Sq D breaker, wrote a service ticket, got paid. Explained that they should keep the bed away from the wall, lucky that the bedding didn't ignite. And, please don't try resetting a breaker that is tripping.

BTW, that device to hang a cord on have a UL sticker???
---
John
I assume that cord hanger was a joke. It will be a flash bang when they plug it in.
I agree about resetting breakers with bolted faults. I had one here after the flood, a 20, that tripped the 150a feeder breaker when I reset it. It turned out to be a bolted fault in a raceway under a concrete floor. It was in RNC and welded itself inside the raceway. I had a real hard time getting it out. I had disconnected that one outlet drop from the circuit and it was dry when I finally got the wire out a month or two later. (it was full of salt water in the flood) I never used it anyway. It was just there to satisfy 210.52(A) (1) & (2). A while later I pulled in a new set of THHN/THWN and it seems OK.
Now I have a highly intermittent trip of a breaker outside that has me somewhat baffled. I am just isolating legs of the circuit at this point. Since it is so intermittent, I am going slow hooking things back up. I think I have it isolated to a single motion detectors with a string of festoon lights on it and 2 post mounted sconces (26 11w incandescent bulbs). It is a L/N fault since the GFCI is not tripping and the GFCI tests OK. The 20a circuit is cruising at less than an amp and that circuit adds a little over 2 more when the lights are on. There doesn't seem to be any pattern to when the breaker trips but it has been days since it did with that circuit offline. I am really going slow because I don't want to lose track of what the bad loop is. The only thing that makes sense right now is I have a fault in one of the all plastic sconces or something in the festoon string. Next step is to open the FS box where all that comes together, on the load side of the motion detector and see what happens when I start splitting that up. I will open up those sconces too. This is just so intermittent I don't want to miss something by getting in a hurry. Since I have isolated to something out in the yard I am not as worried about burning the house down
---
Greg Fretwell
Originally Posted by iTacos
Hey, I caught wind of that TikTok challenge too. It's crazy how challenges can spread like wildfire. Let's hope people stay safe and use their better judgment before jumping into risky trends.
On a lighter note, if you're into TikTok and want to boost your content, considering
tiktok likes for sale
could be a smart move. Stay cautious and have fun while keeping it safe! 🙌📹
Last edited by iTacos;
08/28/23
09:04 AM
.
I love the cord hanger! Look like the wire is #12 solid THHN, and the perfect bends seem to perfectly match the thickness of a pair of lineman's pliers. Now I have a place to keep my excess phone charge cord
Link Copied to Clipboard
Featured:

Tools for Electricians

* * * * * * *


2023 NEC + Exam Prep Study Guides Now Available!

* * * * * * *


2020 NEC Electrician
Exam Prep Combos:
Master / Journeyman