Who's Online Now
0 members (), 9 guests, and 19 robots.
Key:
Admin
,
Global Mod
,
Mod
Hmm, Reminds me of a few years back I had a friend that moved into an apartment beside the coffee shop I used to frequent, and moved into unit "208". Well I think it was and thought it would be easy to remember right ? .. WRONG.. To this day I do not remember if it was unit " 208" or "220"
Also, the now ex-girlfriend, lived in apartment with a common number of a few years back, probably common when her building was originally built... "115"..
A.D
Work Gear for Electricians and the Trades
Quote
208477? That's alot of mileage on the vehicle. It'll be astronomical when you get to 277,480. Only 69,003 more miles to go!
I won't get there, They are promoting me to Project Manager.They are getting me a new 3/4 ton truck to run around in. I'll have to start all over again
[This message has been edited by BEAMEUP (edited 03-09-2007).]
Im at 320,546
Last week I was checking a Hot-Water meter at a customers place, it had just flicked over to "00000", the General Rate meter read "66613".
I guess you had to be there.
Had an old (No longer with me) tyruck that I got to see all "0's" TWICE! Once right after I got it, and once right before I junked it. Been to Mexico and Canada a few time each with it and a few inner states as well.

Back on topic, I have a reminder on my phone at 2:08 for afternoon break - I didn't intentionally make it like that, just the numbers popped in like that...
---
Mark Heller
"Well - I oughta....." -Jackie Gleason
My friend's truck slipped out of gear and rolled into a pond. Now he's got a floating neutral.
Joe
Wife and I bought a bed for our 3 year old. My 5 year old was helping me build it. As I get it all together and go to attach the side rails [toddler bed] I realize that I built the frame with one side upside down, I just stop and stare and say to myself "well that's not right". My 5 year old daughter says with out skipping a beat "Oh daddy, did you screw it up?" I still laugh even when typing it...
Man I am in trouble in a few years...
Quote
Hey, it's not that new.
1987? That's about 25 to 30 years newer than most of the music I listen to!
Start saying "The End of the World" and I'm already thinking Skeeter Davis......
I do like these little "in" jokes -- like 208477 -- which are only significant to someone in the know.
How about these personalized license plates?
What car do you drive? An old Mercedes taxi?
(An Athens cab driver claimed to have driven 2.4 MILLION kilometres in his Mercedes...)
Seeing zero twice reminds me of the guy in my street who tried to sell an old Opel Rekord. Had a paper in the side windows saying: "58000km, 1978 model, no accidents, garage car." No price mentioned.
Well, now to the facts... it only had a 5-digit meter, so the 58000 might very well have been 158000 or 258000), every single piece of the car was painted a very slightly different shade of the same color (obviously patched using the same paint but at different times so the sections were more or less faded), the paint had little rust bumps all over and the entire floor was littered some 8" up with trash. Oh yeah, and the inspection (mandatory every year in Austria) was half a year overdue. Erm yeah. Do I need to mention he never sold that car?
Mercedes makes taxi's?
Nahh, my Jeep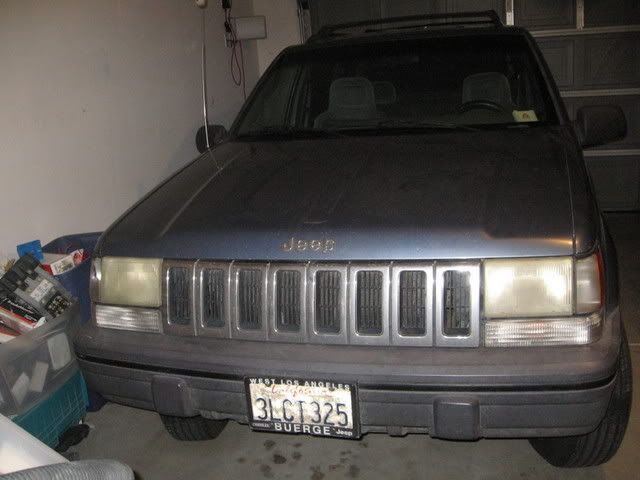 Link Copied to Clipboard