Who's Online Now
0 members (), 79 guests, and 17 robots.
Key:
Admin
,
Global Mod
,
Mod
Well Friday turned into an 18 hour day.
I had to bring a crew to a house (about 22,000 sq ft.) to fix a problem with the service.
Water was coming into the service disconnect by way of three 4" PVCs running from a pad mount up a hill from the house.
The plan sounded simple, dig down outside the house, cut into the PVCs and turn them up into a large hand hole, then install new conductors into the house. The idea being any water coming down the hill would come out of the PVCs and drain into the open bottom hand hole. We also had to change the main breaker as it had gotten wet a number of times.
Sounded easy......
The guys start digging, the material was stone dust and sand, as soon as you went down the sides would collapse. This was at first an inconvenience, then it started threatening to undermine an expensive stone wall and finally it was just getting dangerous to the men in the trench.
We also thought we would only be down about 3' we ended up down about 6'-6".
In this first picture you see an overview, you can also see one of the guys down in the trench. Not the blue shirt, look low for the black shirt.
This next picture you can see all the shoring we had to put in after a trip to the local Big Orange.
In this picture you can see the water draining from the PVC after a hole was punched in.
The power company turned the power on at 10:30 PM, 13 hours after they had killed it for us.
I am glad most Fridays are better.
Monday I will be back doing the clean up and finish, I will get some pictures of the job completed.
[This message has been edited by iwire (edited 06-05-2005).]
---
Bob Badger
Construction & Maintenance Electrician
Massachusetts
No matter what, when it is time to put conduit in the ground the digging crews seem to want the quickest and easiest way out. I hate not being in total charge of the situation on any job, and working with dirt contracters is one of those situations. Not that they are bad guys or anything but it always seems that I am asking for the world if I try to avoid having a job end up like this. You were prob. fixing someone else's work, Iwire, but at the time they installed it I bet the diggers had to "get it buried" and nobody had bothered to figure out the lay of the land to avoid this future problem. It never seems worth it to dig a very elaborate trench to them, "That gonna' work for ya'" is what I always hear.

One of the hardest things for me as an electrician is to try and alert someone to a possible important design flaw without feeling like I am holding everyone up or trying to be a know-it-all. Schedule drives everything but it is still important to know when to speak up. We do a lot of commercial underground conduit infrastructure and believe me, sometimes you gotta take charge of the dirt contracters.
I had a similar problem. We just did a TI for a retail store. It was originally a grocery store with the switchgear which would be in the middle of the new showroom. So the plan was to intercept the 3 4" conduits outside the building and install new switchgear.
We dug down and intercepted the lines and water kept coming out. After about 3 hours of pumping water was still flowing out of the conduits, which was strange since the vault this was fed from was down hill. We then tried to pull a mandrill and ofcourse there is a blockage. Here is what we found:
Notice the holes in this conduit, seemed to be spaced about right for a backho bucket. So these "electricians" repair the pipe still using the damaged section!
Got to love how someone repaired the line trying to save them a trip to pickup some slip couplings. They sliced 3 2' sections of 4" PVC and the couplings. Then they used tie-wraps to hold it all together.
Then end result turned out well though:
Gotta love how it seems like we are always repairing other peoples lack of common sense like you had to deal with iwire.
Bob, what's that?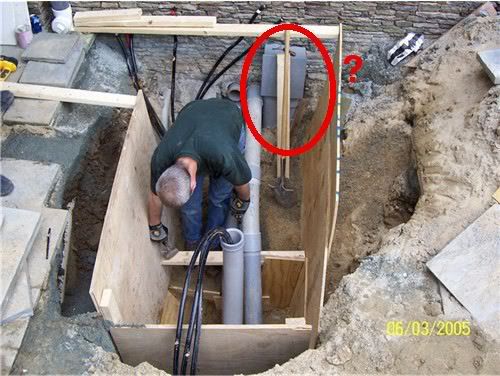 Good eye.
Those would be two 4" PVCs one for phone one for CCTV.
Not my work or my concern.
Bob
---
Bob Badger
Construction & Maintenance Electrician
Massachusetts
No problem with that box, its accessable, you just need to tearup an entry way and dig down a bit. It totally meets access requirements. :P

I feel bad for the home owner when phone gets switched over to a new technology like fiber and they have to tear it all up again.
The owner of this home started out as an electrician. Now he owns a home in the 8 digit range.
The price of having a few patio blocks replaced in order to update the lines will not be a problem for him.
---
Bob Badger
Construction & Maintenance Electrician
Massachusetts
Bob
What did you use to splice the conductors?
I see the green handhole box in the picture, what size is it?

Is there a backup generator for this house - was it running if yes?

Pierre
---
Pierre Belarge
Hi Pierre.
Quote
What did you use to splice the conductors?
Ilsco USPA-500SS-DB
It's a water tight direct burial splice.
Quote
I see the green hand hole box in the picture, what size is it?
Don't really know, I believe the guys said something about 37" at the bottom.
It was homeowner supplied.
Quote
Is there a backup generator for this house - was it running if yes?
Yes about a 50 KW natural gas Genet, installed beautifully in the basement of the house. The exhaust runs underground about 100' from the house.
We brought are own power anyway.
---
Bob Badger
Construction & Maintenance Electrician
Massachusetts
iwire, I have a customer in Lunenburg with the same problem, the pad feeding the house is higher than the house so water keeps getting in and it ends up in the 2 main panels in the basement. Power company keeps fixing it with sealant at the transformer but it does not last. I plan to do the same thing you did with the ground box.
Link Copied to Clipboard
Featured:

Tools for Electricians

* * * * * * *


2023 NEC Now Available!

* * * * * * *


2020 NEC Electrician
Exam Prep Combos:
Master / Journeyman