Who's Online Now
0 members (), 12 guests, and 15 robots.
Key:
Admin
,
Global Mod
,
Mod
I will take many pictures of the electrical wiring, any suggestions?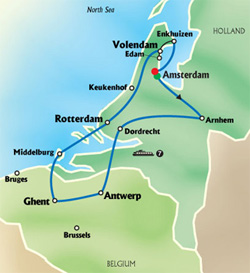 ---
Joe Tedesco, NEC Consultant

Have a great time and forget about electricity for a little while.
OK at least have a great time.
Bob
---
Bob Badger
Construction & Maintenance Electrician
Massachusetts
Thanks Bob, I will make sure that the electrical systems are not in the same pictures as the Tulips.
---
Joe Tedesco, NEC Consultant

Take a small screwdriver. Open boxes, receptacles, etc. Photo industrial control panels- including the switch on the machine. Visit a construction site.

Here's what too look for:
- Trenches chiseled in masonry to run smurf tube;
- Smurf tube ending near/ within round plastic boxes, without use of connector;
- "wedge" clamps on devices that are supposed to engage inside of box when attachemnt screw is tightened;
- "choc blocks" rather than wire nuts;
- different wire colors;
- three phase power to residences;
- Industrial control panels that have entire front covers of thick clear plastic, with small hand-hole to access items often re-set, etc.; and,
- machines with switches with three marks...a "O", a "Y", and a triangle. have someone explain the meaning.

You might want to take a rock with you...since Holland is built on swamp/ sea bed/ mud, most may never have seen one before :-)
Joe
Since you are going to take pictures anyway
Try to see what the differences are from there to here.
I would be more interested in that than violations.
Lighting
Devices
Wiring methods
See if you can talk to an inspector and find out what their procedures may be.
---
Pierre Belarge
Joe,
We actually have a Member here from the Netherlands, Arend.
For a wee bit of a primer before you go, here is
a link
to some pictures of Dutch metering and switchboard work.
Happy travels.
Your going on VACATION!!!!!
and you tell us...>>I will take many pictures of the electrical wiring, any suggestions?
Your nuts, granted you help but notice it. I do every where I go, but.. forget about work for a while Joe.

Have a great time.
Rob
Someone told me he found an old light bulb in a train station in Europe. From Edison's era. He went to unscrew it to "borrow" it and all the lights in the station went out.

Take pictures of good installations as well as the bad.
---
Larry LeVoir
Inspector
City of Irvine, CA
Everyone
Thanks for the ideas and well wishes, it will be fun and I will try to have a "vacation" but .... how can I pass up those nice and neat installations and different systems and materials.
---
Joe Tedesco, NEC Consultant

---
bzzzzt ;-)
Link Copied to Clipboard
Featured:

Tools for Electricians

* * * * * * *


2023 NEC Now Available!

* * * * * * *


2020 NEC Electrician
Exam Prep Combos:
Master / Journeyman