Greg,
Is that like the last gasp of summer people from the north heading down your way?
How far north are you talking?
I was on the understanding that the Government told everyone to stay at home over Thanksgiving, to try and keep the Covid 19 thing under wraps.
Yet there seemed to be people flying everywhere, like nothing at all was a problem, as long as you wore a mask.
And in the queues, there were people that weren't wearing masks.
Over here, the Pakistani cricket team are staying in Christchurch, they breached the Quarantine cordons and went to visit some friends, 6 of them tested positive a day later.
Who know's who they met up with.
Our snowbirds seem to be coming early. Usually we don't see them in force until after Christmas. These are usually from the upper midwest. (Ohio to Wisconsin/Minnesota).
The Canadians are supposed to stay home but they are doing strange things to hop the border like shipping their car and coming over in a helicopter. This last week simply demonstrates that Americans have a bad habit of not doing anything the government tells them to. We set records for the most people on a plane since Covid got going.
---
Greg Fretwell
Yeah,
All of our recent Covid-19 cases in the last 2 months or so have been from people coming in from overseas.
It's like the government still lets people in and they have the virus even before they came here.
I mean, we live here on a couple of islands in the middle of the sea, this sort of thing should not even be happening.
If I was running the show, you would be tested before you even got on the plane and then tested again before you leave the airport to go to the Quarantine facility.
This new variant of Covid-19 was a bit of a shock, it turned up from a guy from South Africa in the UK.
Personally, if I was running the show, we would SHUT all of our borders to everyone.
Admittedly, we live on a couple of islands here, this helps us to a certain degree, but if this gets ingrained here,
it will be bloody hard to eradicate, as there is no means of escape.
And you have people freaking out that they can't go home for Xmas with their families, my opinion on this is this,
do you want to go home to your family later on or do you want to end up in a coffin.
Your choice and you could infect the rest of your family.
I just started a thread with an update on where I have been and what's coming up.
I missed chatting with you guys! I am also going to have some equipment for sale in the classifieds here soon.
I have avoided (so far) the virus despite having to work full time through it (until January that is, I finally decided to hang up the toolbelt.)
Hope you all are doing well.
Cheers!
---
Stupid should be painful.
I am getting pretty good at this retired thing. I think you will like it. Keep moving but move for you. Just find something you like to do and do it. Stay active, be happy and live a long life.
---
Greg Fretwell
Originally Posted by gfretwell
I am getting pretty good at this retired thing. I think you will like it. Keep moving but move for you. Just find something you like to do and do it. Stay active, be happy and live a long life.
And that is the thing about retirement, Greg.
It used to be in the UK, a guy would work his whole life in one job (this is obviously the 60's or the 70's), pay his house off, the kids have all left the nest.
When it came to his retirement party at his job, the realisation that he'd worked all of his life doing one thing and now what is he going to do?
If you don't have a decent hobby by the time you're retired, you've done it all wrong and that is the wrong time to find that out!
What hobbies do you have, Greg?
I like building things and when my wife was building houses in the happy times speed was more important that materials. They threw away lots of good stuff and my first stop when I went to see her was the dumpster. If you give me enough materials I will be building something. I did a pool and a 2400 square foot screen cage with 2 covered bars and a spa. I remodeled 2 bathrooms and the kitchen and put a 365 sq/ft addition on the house. My last big project was a swinging bridge over a swale in the back yard that goes up to the PoCo right of way where I maintain a trail for walking the dog and it is a Gopher Tortoise preserve. I also like building electronic stuff and playing with PCs. Right now I am also primary care giver for 2 people with mobility problems and that eats a lot of my time.
I stay busy
---
Greg Fretwell
LOL,
I've been building things myself recently. Especially with the price of Construction materials now, I find myself eyeballing what the neighbors are throwing out. I'm building up quite a pile...
I'd like to see that swinging bridge.
---
Bill
This is the Ed Labrador Memorial Bridge.
It is actually on PoCo property but I let them use it so nobody has ever complained.
The area up there is a Gopher Tortoise preserve and vehicles are discouraged. The bridge saves them a mile walk it they have to look at anything. The poles are 100 feet high so any serious maintenance gets done by helicopter. It is a 230kv line.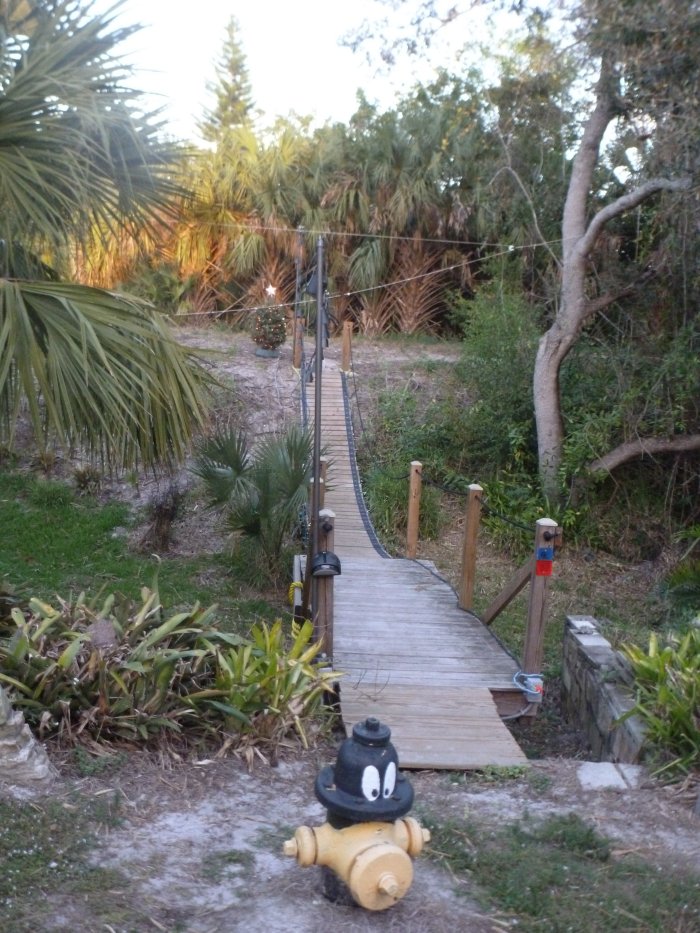 ---
Greg Fretwell
Link Copied to Clipboard