Grounding requirements & Sections.

SDS & Non SDS .

Stay up to Code with the Latest NEC:
The biggest difference between SDS and non SDS is whether you bond the neutral (transfer equipment switches the neutral). Otherwise I think you just create a 250.grounding electrode system based on the largest ungrounded conductor ... but that is just off the top of my head.
Last edited by gfretwell;
08/29/18
05:20 PM
. Reason: clarification
---
Greg Fretwell
Looking at the code you get to 250.20 that talks about how you ground a SDS connected generator. If it is a non - SDS (unswitched neutral), there are no grounding requirements beyond the 250-122 EGC from the attached service.
From the handbook
Non SDS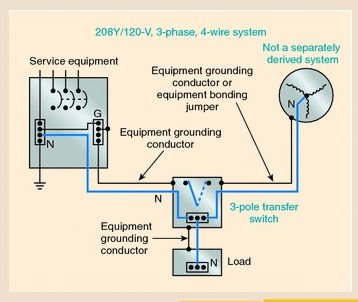 SDS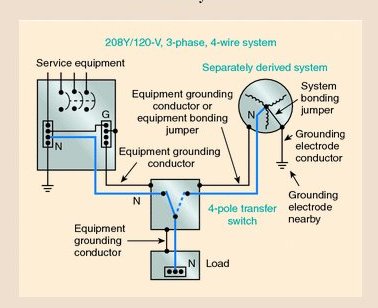 If you do have an SDS it takes you to 250.30 that points you to 250.66 for the details of the GEC 250.52 for the electrode etc.
---
Greg Fretwell
---
John
Thanks, we do lots of generators around here so it is a common question. I usually tell homeowners looking to have transfer equipment installed that, if this is a manual system, the listed panel interlock is usually the best way to go. The labor will be much less and the part, although ridiculous for what you get, is still pretty cheap.
The only thing they really need is a vacant double slot in the panel and moving some breakers around to get your backfed breaker next to the discionnect. You then have to be sure they lift the bonding jumper in the generator to get circuit current off the EGC. This will not be an SDS.
---
Greg Fretwell
Link Copied to Clipboard
Featured:

Tools for Electricians

* * * * * * *


2023 NEC Now Available!

* * * * * * *


2020 NEC Electrician
Exam Prep Combos:
Master / Journeyman