I don't really have much experience with this but the HVAC guys were using it to wire the low voltage to a mini split. This was fished behind the drywall. Does this sound kosher?
---
Greg Fretwell
Stay up to Code with the Latest NEC:
Greg
Conductors with "CT" within the mfg data on the conductor indicate "cable tray" listing. "Tray cable" may be same thing, but I think you are referring to a 'cable'

Most mini splits either use the mfg cable from CU to FCs. I have to look closer on the mfg cable, Some use NM/UF 14/2 inside/outside.

---
John
This is Tray Cable type TC-ER. It is a 4 conductor cable similar to NM but with no inner wrap and an insulated ground. This is labeled sunlight resistant and direct burial as crush resistant as MC (the ER part) but looking at 336.10 I don't see where it can be concealed in walls. If you take 336.10(5) to 725 I would expect to see some kind of CLxx rating on this cable. I didn't.
In real life I expect this is good or better than NM-b approaching UF but I am not finding the code that says it.
This may just be because the cable manufacturers don't want to bite into their other product lines so they have not had it evaluated. It does look like an interesting product tho.
I have never seen a mini split that came with the LV cable. The two I have are somewhat ambiguous about what kind of cable to use,. It just says follow the NEC or similar language.
Both seem to have been installed with 18ga CL2 cable to the air handler. The condensers are hooked to line power with THHN/THWN in carflex.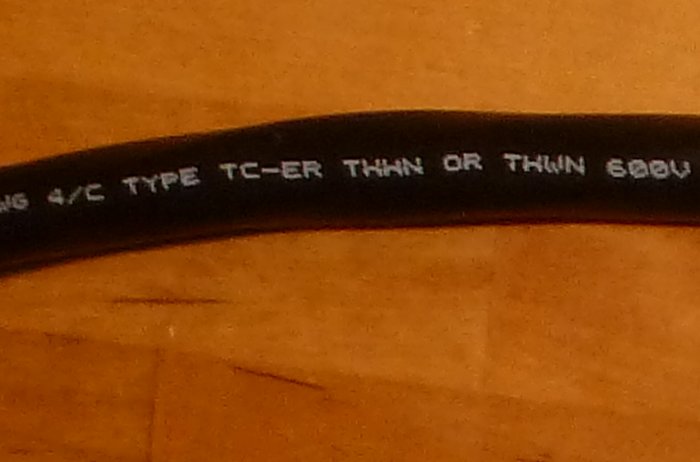 ---
Greg Fretwell
That is what I was told is supplied with the mini splits. I will again ask one of the large HVAC contractors on Thursday.

I have not heard of anyone around here questioning it being 'in walls'. A very large percentage of the units (FC) are mounted on outside walls, with the piping and cabling run on the exterior, and covered with a decorative plastic covering.



---
John
These are strange units. They are ducted air handlers hanging above the drywall but they still get low voltage power from the condenser like the wall hangers. I am not really sure what the advantage is. The duct work would seem to eat any energy savings you get from a mini split. We are just watching this job for the GC and I haven't really talked to the owner but this was his idea. The condensers are hanging on the walls about 18-20 feat above the ground. (Flood is 16')
The GC has not really decided how the access will be provided.
This is one of the air handlers.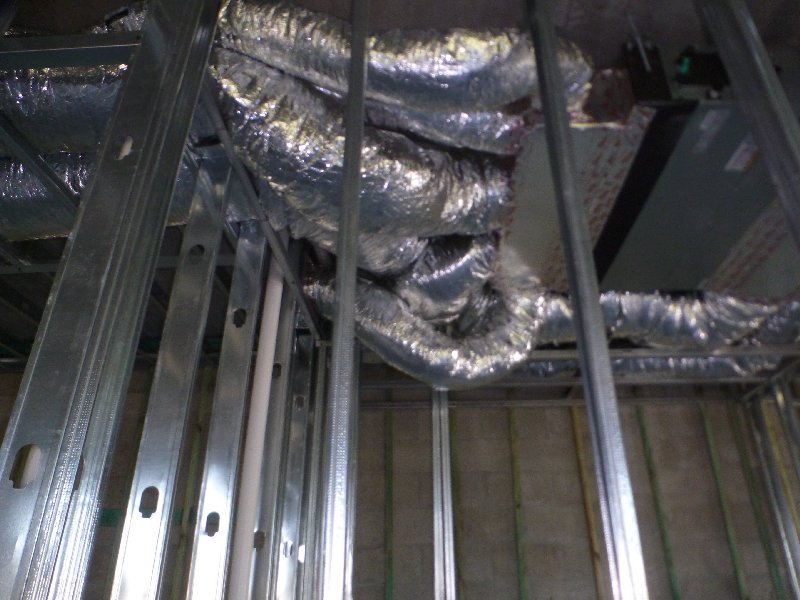 ---
Greg Fretwell
Greg

That has to be a Florida item. I have not seen anything like that.

QW have wall FCs primarily, and one school had 9 heat pump/CUs on roof with 50+ceiling FCs that were the size of a 2x2 lay in diffuser. FCs were wired with MC.
That was/is the only system I have come upon like that.


---
John
Yup that is what they call a "cassette". It sits in the center of the room and gets piped to the CU. You can duct off of a cassette too. (usually one or two 4" round ducts) I did a lot of research on these mini splits when I was trying to figure out what I wanted. We ended up with a conventional system for most of the house, a mini split in the new room we built and another one in the master.
These in the one we are building are strange beasts. I am going to try to get more information on them tomorrow.
The electricians are meeting us there and I want to see what they want to do about this other mess. The drywall guys pulled the wire down about 6-10" away from where the metal framers built the walls. (the "fire code" ceiling went up first). I hope they can cut a hole, inside the wall cavity, reach up and grab the wire and pull it down but then we are into that fire caulk thing for a giant hole.
This whole project has been a fluster cuck from the start and we dropped in late in the process.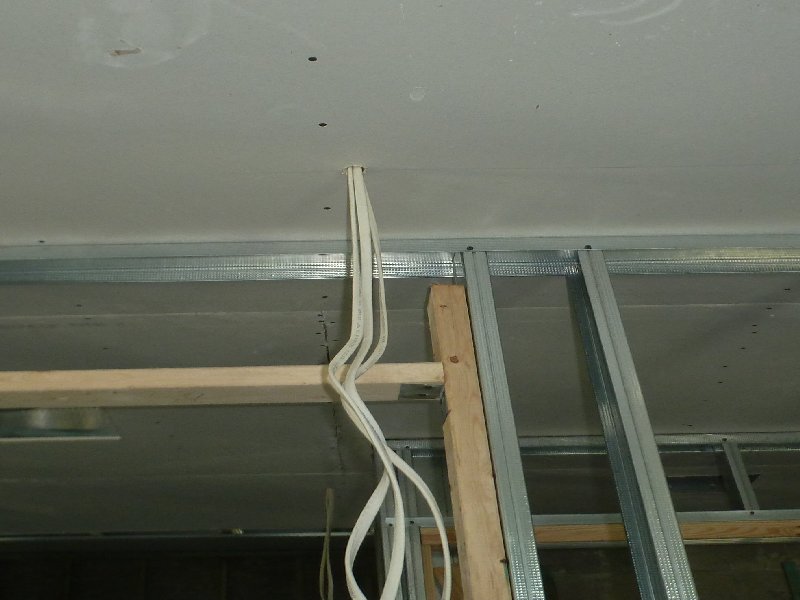 ---
Greg Fretwell
Greg:
You may want to cut an opening in the sr to get to the partition wall.

It's easier to patch the sr and then caulk the penetration in the partition top plate.

Just a thought.

---
John
That is probably what will happen. They do have a lot of penetrations where there are multiple cables so I am curious how they will handle the issue.
I also noticed the HVAC guys wired the power to the condensers with Romex. I am not sure if the inspector is going to catch that. Obviously I did
It may be in Carflex by the time he gets here. This is outside and 18 feet up.
---
Greg Fretwell
I didn't talk to the electricians today. they got hung up on another job and didn't show.
---
Greg Fretwell
Link Copied to Clipboard
Featured:

Tools for Electricians

* * * * * * *


2023 NEC + Exam Prep Study Guides Now Available!

* * * * * * *


2020 NEC Electrician
Exam Prep Combos:
Master / Journeyman