Who's Online Now
0 members (), 23 guests, and 18 robots.
Key:
Admin
,
Global Mod
,
Mod
Hello guys,

I need a quick help in understanding from you as I'm in the process of assembling a machine for use in the US.

NEMA 5-15 Outlet with 15Amp breaker - OK.
NEMA 5-20 Outlet with 20Amp breaker accepts both 15Amp and 20Amp plugs.
If now a 5-15 extension cord with multiple outlets is inserted into the 5-20 Outlet, can't the cord be overloaded? Because the breaker rating is too high?

Thanks,
Andy
In theory (and the real world), yes the cord could be overloaded, based on the rating of the cord.

Does this happen? Yes.

Any issues?? Warm/hot cord; deterioration of the cord over time.

The NEC does not address what gets plugged into the 5-15 or 5-20, or any other devices, and for all intensive purposes we stop at the device.


---
John
I think we all have stories of what the customer has plugged into outlets after we've left. That's why you're only responsible up to and including the device.
Greg
Just figured that out, did you?

Now, take a look at the cords with multiple outlets - cords that are only #16 wire ... even a single 15 amp appliance has that cord overloaded.

Look inside one of those outlet strips with integral 15 amp breakers, and you'll find the internal wire is best described as 'dental floss gauge.'

If household wiring followed the same voltage drop advice as we are given for using extension cords, we'd wire houses in #8.

When reality conflicts with theory ... and everything is working fine ... it's the theory, the basic assumptions, that need to be reconsidered.
When I mentioned what customers plug in, I had a specific case in mind. Home owner had 3 outlets in a small room and wanted a 4th. Not to worry, they bought a 6', #16 extension cord and stapled it to the wall, and plugged in a floor lamp. Then they wanted a closet light. Not to worry, they bought a 2nd #16 extension cord and plugged it into the first, drilled a hole into the closet and again stapled everything in place. Oops, how to connect the light (pull chain fixture)? They cut the 2nd extension cord and hardwired the fixture, and mounted the fixture directly to an exposed wood beam (who needs a box). They told me "it's only 2 lights so it's not overloaded". I was speechless.
OK, time for a stroll down Memory Lane...
Back in time installation of 'outlets' using zip cord, stapled to baseboards and thru walls was common. Matter of fact, Eagle/Leviton made 'devices' for 'surface wiring'.

The device was wired; forget polarity & that 'ground', Screwed to the baseboard, and extended where 'outlets' were wanted. Some installs were 'tapped' off of a duplex, not plugged in.

Light fixtures were installed like Sedesigner1 describes.

Those were the days!! ??

---
John
This was the closet light in my daughter's new house when I first saw it. The "home inspector" either missed it or thought it was fine. No switch, you just plugged the cord to an extension cord through the wall from the other room, hanging by the door.
(yeah I fixed it)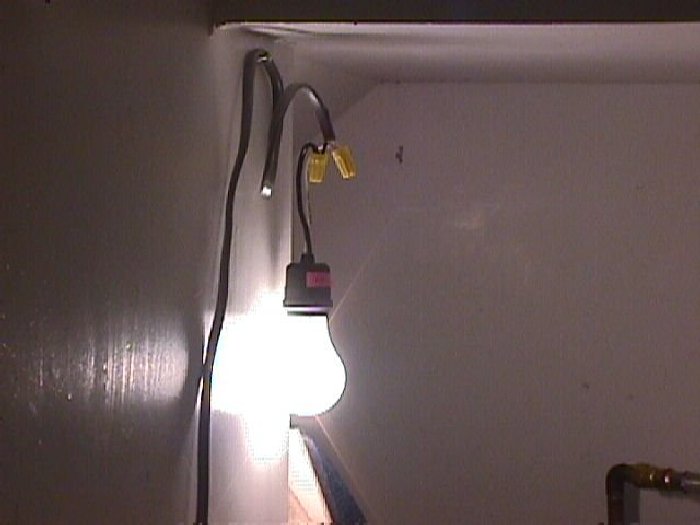 ---
Greg Fretwell
Nice! I especially like the cable support and service loop. Is that a water pipe at lower right? Even better!
Oh yeah, That goes to the water heater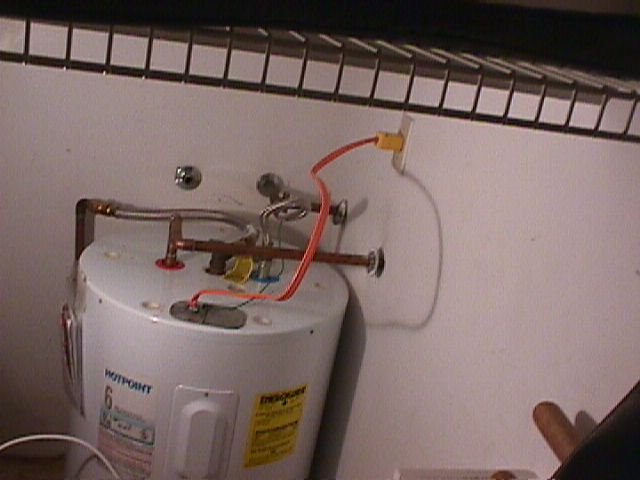 ---
Greg Fretwell
I guess you can plug in a water heater?


---
John
Link Copied to Clipboard
Featured:

Tools for Electricians

* * * * * * *


2023 NEC Now Available!

* * * * * * *


2020 NEC Electrician
Exam Prep Combos:
Master / Journeyman