They didn't even mention GFI until almost 8 minutes into the video.

"Electrical current is always seeking to go back to ground"?
I've always thought that it seeks to go back to it's source.

Never the less, I enjoyed it, if just for it's nostalgic humor. The FPE breaker tripping was the best part.


Thanks. I hope that I can post more videos in this manner without being told that I am "Link Dumping" Please advise and where can I find the BB rules?
---
Joe Tedesco, NEC Consultant

The forum rules are posted up in the "Register Now" button at the top of the page.

The one that may be applicable to your situation is
"You agree not to post any copyrighted material unless the copyright is owned by you or by this BB."

At least make an effort to post some original material with your links, so as not to become known as a link dumper.
It is ironic that the two most reviled names in electrical equipment,FPE, & Zinsco, were shown in that electrical safety video.

When was the film made? My guess is late 1960's since GFCI's were included in the 1971 NEC.
Great video and goes very well with the other thread we had. I would say the video was made in about 1971, because the new GFCI receptacle shown is a Pass & Seymour, and that's the year their site claims they introduced it and was the first of its kind.
Joe,

That film reminds me of our first SS meeting with the Wiz and Sheriff and I. Where the Wiz gave us a speach on the GFI circuitry.
Hello Caper:

Yes it does, and we had a great time! I will always remember our Secret Society of Electricians. I still have the plaque "The Nail" that was presented to me when we all met. I will be away for a few months, but when I return in April, I will make it my point to visit you; and if we can round up the rest of the crew maybe we can meet again. Prodigy was what we had 20 yeas ago; now all is good and faster on my various devices. Please send me (private message) your number so I can call you. I will put the picture we took in Mystic on my board in an album. I imagine we are older and of course wiser. Greg always has something nice to say about the training and help I gave all of the SSE when preparing for the IAEI Certifications. I see he too has time on his hands spending it here as a Moderator.
---
Joe Tedesco, NEC Consultant

I am sorry I missed those SS meetings but I did get the T shirt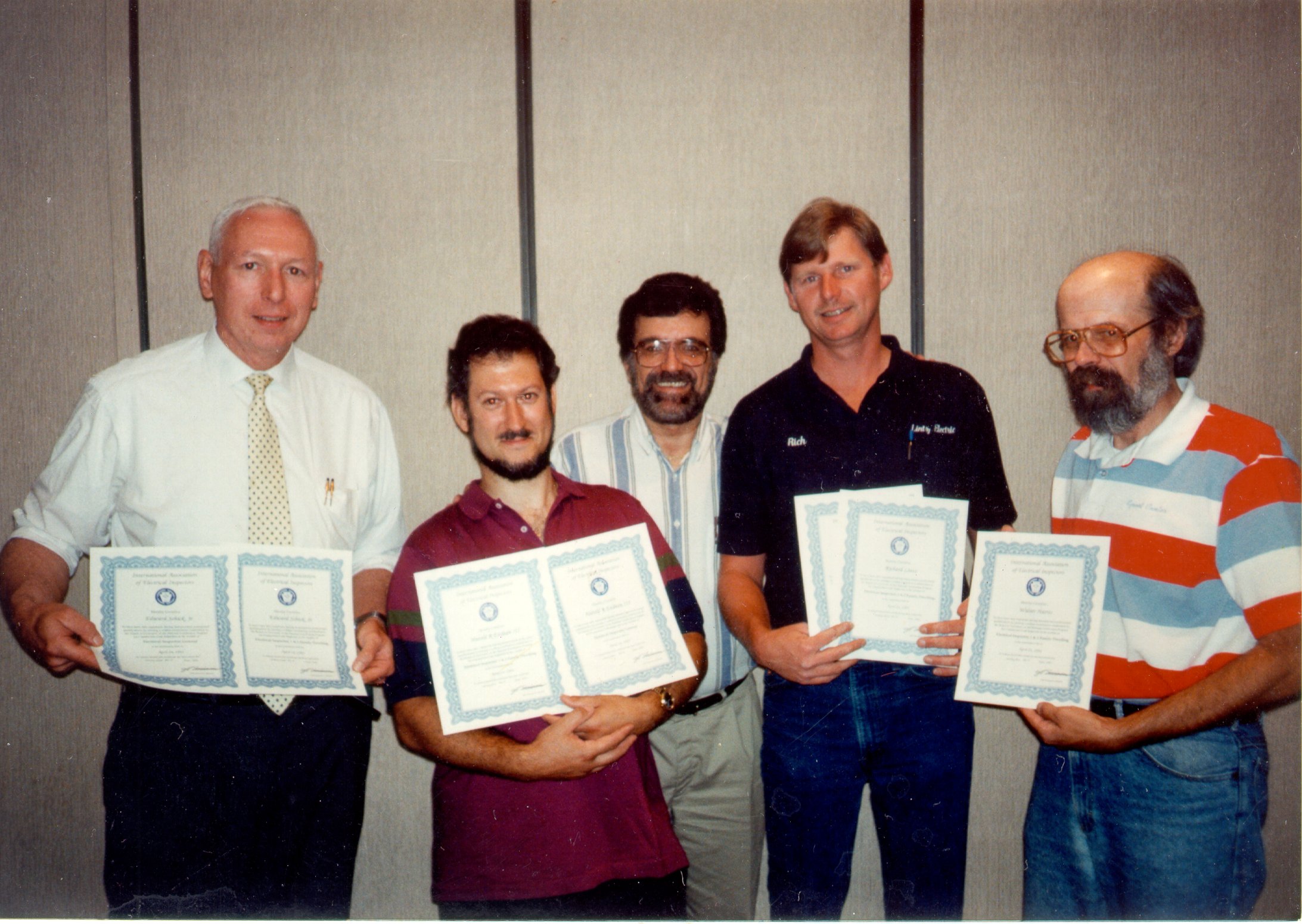 ---
Greg Fretwell
Yikes,

Greg, I look like a terrorist in that picture! Joe,
I forget the name of the gentleman on your left. I remember he worked for the POCO up in Conn. and he taught us about a re-closing devices for the power lines.
Link Copied to Clipboard
Featured:

Tools for Electricians

* * * * * * *


2023 NEC + Exam Prep Study Guides Now Available!

* * * * * * *


2020 NEC Electrician
Exam Prep Combos:
Master / Journeyman