Who's Online Now
0 members (), 47 guests, and 11 robots.
Key:
Admin
,
Global Mod
,
Mod
550.4 extends the scope of the 'mobile home' section to cover job trailers and other permanent buildings.
When I've powered a job trailer, I've set a pole for the service, and run a flexible cord to the trailer itself. I wasn't allowed to attach the service directly to the trailer. Indeed, I've never seen even a 'manufactured home' with the service attached directly to the structure.
Of course, there are plenty of things I've never seen. I've never seen electricity, but I'm pretty sure it exists
Photomats very often had powerbrough to them through a conduit set either in an extremely shallow groove in the pavement (conduit not buried), or run on the surface of the pavement with a 'speed bump' made over it. Sometimes they were simply added on to the parking lot light circuit
Then again, in those days all they had was a light and a fan.
So far .... we seem to have a draw. Half seem to think the fixed service is OK, and half want the building anchored first.
:
Construction trailers are the same here, temp pole, and an Article 300 wiring method to the trailer.

Mfg homes/mobile homes are fed from a meter location, trenched usually with PVC conduit.

One of the last Fotomats I disconnected had its feeder pulled thru the site lighting conduits.

---
John
As several have pointed out, that mast just doesn't look right. I've even heard a reference to Jack and his beanstalk
. Here's a close-up: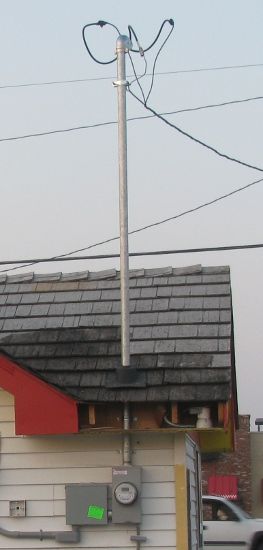 It appears that there is nearly eight feet of mast above the roof deck. There are threads under the weatherhead (it was fun watching them try to install the weatherhead over the coupling), and that is a complete, uncut length of pipe. To be honest, with this location being in a parking lot, I'm in favor of raising that connection as high as possible.
The local PoCo standard reads: "Guying or bracing may be required, see NEC 230.28." The artwork shows a maximum of five feet of mast above the roof deck (and not the peak).
The NEC simply says: "Where a service mast
is used for the support of service-drop conductors, it shall
be of adequate strength or be supported by braces or guys
to withstand safely the strain imposed by the service drop."
Well, there ... that clears things up. Yea, sure it does - as clear as mud.
For comparison, another utility's standard reads:
"Periscope to be installed in accordance with NEC Article #230. Periscope structures projecting
over 30" above the roof must be braced against the normal pull (see Section 4.0) of the service
drop conductors. Larger conductor or longer spans may also require bracing. Bracing, when
required, shall consist of two galvanized steel members installed at approximately 90° spread.
Minimum size brace shall be 1-1/4" x 1-1/4" x 1/8" galvanized steel angle. Periscope bracing shall
be anchored through sub-roof with minimum 3/8" galvanized carriage bolts."
Now, that's more definite!
Considering the direction of the drop, I think that's the way to do it - with rigid bracing, rather than guy wires. Considering the arrangement of the building, you can't get that 90-degree spread, but I'd certainly want something.
To put it in perspective ... in this area I have seen masts made from 1-1/4" RMC with permanent bends caused by the weight of ice from storms - and this location is in the South, not far from Memphis. Not an area known for harsh winters.
Try 2008 NEC 344.30 (a).
Wouldn't tieing to the Utility company be a termination! Thus
36 inches & over support (Guy wire ) required.
sAYS SERVICE HEAD RIGHT IN THAT SECTION ALSO.

A very good contribution, Yoopersup!

I would also point out similar language was added in 2011 to Article 342.30(A), referring to IMC.

That is, in brief, the requirements are for support within:
1) 36";
2) Where structural members are not present, within 60"; and,
3) Specifically not to require support within 36" of the weatherhead.

Interesting that both PoCo standards I referenced missed this detail.

How to support the mast? I have found two commercially available bracket kits.

One type is for rigid support, and is designed to work together with 3/4" pipe as the structural members. Considering the wording of the one PoCo standard (which referenced angle iron), I'd say that EMT is not adequate.

The other comes with some extremely light duty stainless aircraft cable.

IMO, the installation above would require the use of a rigid support method.

One matter that concerns me is the PoCo specification for carriage bolts. In my experience, it it is almost never possible to access the underside of the roof deck, or to even find the framing members. Both of the commercial kits I've used came complete with 5/16" lag bolts.

While extreme at this job site, the lack of support of service masts seems to be quite common.

I don't have a problem with the service if the building is tied down but that mast is very troubling when you look at the length of pipe going into the hub vs the height above the roof. That is a heluva lever. I would want to see it supported in two axis. (the line pull and the lateral forces from wind)
---
Greg Fretwell
I think you might be able to call it a "Temporary" site as long as it follows the rules of 590 of the NEC?
John,
Is there a ground rod? Then maybe it is attached to the earth. Kinda sorta?
I hope that green sticker isn't permanent, it is crooked! Your ye will tend to go and look at the crooked sticker.
Oddly enough, the ground rod is one of several details I'll be expanding upon. Not that I object to the arrangement; just that it's done a little differently than I would have done it.

Instead of the usual "it's wrong" sort of declarations - I don't see anything outrageous in this kiosk - I thought I'd try to get a thread going that actually discussed the various alternatives, issues, and regional practices.

That's what really caught my eye: that the details of this job are so different from what I would have done.

I also see this as a good chance to -again- reference standards besides just the NEC.

I'd like to give folks a bit more opportunity to discuss the service mast ... then I'll post some ground rod pics- OK?
Last edited by renosteinke;
07/09/12
09:28 AM
.
Harold, let's look at your suggestion, that we consider this as 'temporary.' Would that have changed anything about this service?

You also raise a good point: just what constitutes anchoring the kiosk to the ground? Do we need a slab with anchor bolts every few feet ... or would a couple tent pegs be enough?

Though 'anchoring' the service is a good point. After all, tap that kiosk and it will move - with the service drop immediately responding to the impact. While a pedestal is not proof against impact, at least a stiff breeze won't send it skittering across the parking lot.
Link Copied to Clipboard