Who's Online Now
0 members (), 21 guests, and 14 robots.
Key:
Admin
,
Global Mod
,
Mod
Can a 120 volt outlet for the dryer be put on with the 20 amp. laundry circuit?? Thanks, Steve..
Stay up to Code with the Latest NEC:
---
John
Thanks John, that's what I thought. Just wanted to make sure.
Yup there is some confusion about this. You are really just required to provide a 20a circuit for the "laundry". There is no restriction about how many receptacles can be on that circuit or what you can plug into as long as it is in the laundry.When I see a single 20 behind the washer location I understand someone has misunderstood where we are supposed to be going with this. They want you to be able to run the washer and the iron at the same time.
Kids there used to be this thing called an iron ...
---
Greg Fretwell
Hey Greg- You old timer, can I put my mangle on the laundry circuit? :))


Here's my real question— If I have a 120/240v. staked unit, do I still have to put in a 20a. 120v. laundry circuit?


Just jerking your chain Greg.
---
George Little
---
John
George
Do you mean one of these? Just serving the laundry?
I am not sure what I would cite to require an additional circuit.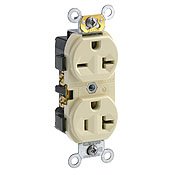 Quote
210.11(C)(2) Laundry Branch Circuits. In addition to the number of branch circuits required by other parts of this section, at least one additional 20-ampere branch circuit shall be provided to supply the laundry receptacle outlet(s) required by 210.52(F). This circuit shall have no other outlets.
It doesn't say 120v only
---
Greg Fretwell
Greg, I'm not sure of the amperage on the stacked unit but I was thinking it was 30a. Haven't seen one in a while. With that in mind, if it were 30a. the question becomes do you still need a 20a. circuit for the iron? or for some of us folks the Mangle. I think the Stacked unit is a 30a. 240v. single receptacle.
---
George Little
You still need a 120v 20a circuit.

I was confused by the "stacked" question. I see now you mean a stack washer/dryer.


---
Greg Fretwell
Link Copied to Clipboard
Featured:

Tools for Electricians

* * * * * * *


2023 NEC Now Available!

* * * * * * *


2020 NEC Electrician
Exam Prep Combos:
Master / Journeyman