Who's Online Now
0 members (), 125 guests, and 14 robots.
Key:
Admin
,
Global Mod
,
Mod
Ground rods can be connected at any point in the grounding system?

Just had inspector inform me of this after seeing a very long run in a crawlspace. I went from the ground rods to the panel. He said I could of just ran a much shorter run to any metal cold water pipe or split bolt onto the main bond jumper.

Never heard this and could not find in the code book.

Any truth to this?
Last edited by Trick440;
02/15/12
03:03 PM
.
---
Shake n Bake
Stay up to Code with the Latest NEC:
Trick:

Looking thru 250, going to 250.53 (D)(2) Exception leads some to believe what you describe as being compliant. However, reading the exception, it refers to 250.52 (A)(1) exception, which states 'industrial, commercial, and institutional structures....' So based on that I will lean towards a "NO".

The 'split bolt' also is a NO, as the connections should be irreversable. IMHO!

But, let's see what others say!
---
John
The grounding electrode conductor needs to be unspliced or spliced with a non reversible device but you can have a tap to a secondary electrode with any approved chapter 3 device as I read it.
Quote
The tap conductors shall be connected to the common grounding electrode conductor by exothermic welding or with connectors
listed as grounding and bonding equipment
in such a manner that the common grounding electrode conductor remains without a splice or joint.
If you are hitting a water pipe you need to do it within 5' of the entrance.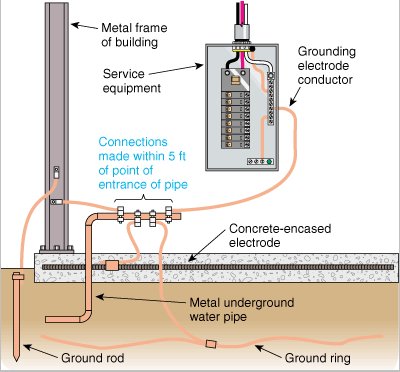 ---
Greg Fretwell
This is for residential. Thanks for any clarification on this.
---
Shake n Bake
As far as the ground rods being connected at any point in the grounding system, I'm wondering if it could be considered a violation to connect the rods to the #4 CU that was run to a ufer, if that #4 was meant to be used as the sole connection for it, but maybe not.
The way I read it you can tap a bonding jumper onto the common GEC to a secondary electrode with any listed splicing device as long as the GEC remains unspliced.
---
Greg Fretwell
Just read what John and Greg wrote and would add the words in 250.64(C) and that is the only place I find the word "irreversible", when they are taking about splicing the GEC. This gets used for example when the main service panel is being relocated and they want to extend the GEC to the new location instead of installing a whole new wire. Beyond that I think you can use exothermic welding or connectors Listed for grounding and bonding. I'm sure you could also us an "irreversible" connector if you choose to but that would probable depend on what was on the truck
250.64(C)(1)
---
George Little
When I think of things listed for bonding I think swimming pool. What is OK for splicing that fat solid wire?
---
Greg Fretwell
Greg:
There are some split bolt connectors that are listed/labeled as 'suitable for grd/bond' (my words) that are used on pool installs. They are also 'DB' and concrete encasement.

I've also seen crimp tap connectors (HyLink)used for the bond taps. Then, there are the few who don't do pools on a regular basis that use 'whatever is in the truck'

Cadweld and crimp is the norm at the data centers and cell towers.
---
John
Ok, so it sounds as if it is acceptable to tap off the GEC as long as the GEC remains unspliced and the connector is approved for grounding and bonding. A split bolt is not approved for this.

As far as tapping off the cold water supply for the secondary ground, we would need to keep that within the 5' of entrance rule.

Sound about right?

I'm going to check with the supply house about approved connectors for this. We only carry cold water clamps, acorns, split bolts and parallel groove connectors on the truck.
---
Shake n Bake
Link Copied to Clipboard
Featured:

Tools for Electricians

* * * * * * *


2023 NEC Now Available!

* * * * * * *


2020 NEC Electrician
Exam Prep Combos:
Master / Journeyman