Who's Online Now
0 members (), 78 guests, and 17 robots.
Key:
Admin
,
Global Mod
,
Mod
Heath and safety has asked me to find relevant code rules for the new installation of a garbage compactor and lift abutted to the building with regards to mechanical damage subject to the cage door switch and wire.
The wire is grey cmg 18/4 -60 to 105 ft4 600v communication wire not marked for exposure to weather.The wire is ran up the side of the lifts loading cage, supported by metal straps and fused at 2amps 120v.This is located next to metal ramp for carts with a removable rail that affords no protection.
I went to section 38 looking at material lifts,and table 19.I haven't had much time to go through it all but right away see rules 2-200,12-100,12-508 and 12-518
The machine was installed a few months ago,is under warranty and has been blowing the 2a fuse intermittently for a week(keep changing it).The metal straps are also cutting through the door switch wire insulation do to machine vibration and tywrapped to the hydrolic lines going through an exterior wall.The garbage company wants to place a metal guard over the wire and call it good,obviously we don't agree.Am I on the right track?Do these rule apply as they are being dismissed?
a few pictures.opinions please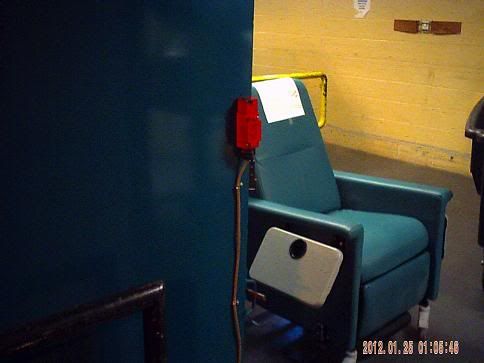 https://i1160.photobucket.com/albums/q500/matt_2007/compactor/PICT0001.jpg
Last edited by frank;
01/27/12
10:52 PM
.
49 views and no one has a comment?
frank, what is your solution?
Either seal tight to ridged as there may be an exemption to the 1.5m rule here,Teck cable to ridged up the side of the cage or pipe the whole thing in ridged.The run is only 5m but full of choke points making piping arduous.Regardless the status quo is tenuous at best and asking for trouble as nothing is bonded.Our current inspector would be very upset if he saw this and give us the where is your common sense speech.
This installation however is out of my hands as it's warranty work.I was sent to replace the fuse and found a intermittent short so it bounced back to the installing company who thinks it's ok to run wire without mechanical protection.Vibration from running the machine alone is causing the metal straps to cut into the wire,little or no thought was put into this.
The housekeeping staff is also cleaning out their garbage bins and dumping the water and corrosive cleaner through the metal grated ramp right on the wire.I'm looking for relevant code rules to change there mind.
Last edited by frank;
01/31/12
08:33 AM
.
Link Copied to Clipboard
Featured:

Tools for Electricians

* * * * * * *


2023 NEC Now Available!

* * * * * * *


2020 NEC Electrician
Exam Prep Combos:
Master / Journeyman