Well, it was news to this unheated, semi-enclosed industrial facility. After twenty years in it's current location, they decided to have an electrical contractor - one familiar with industrial work, and accustomed to RMC- instal some heaters.
Here are two pictures of a typical install. Does anyone notice anything unusual about the EMT run to the thermostat?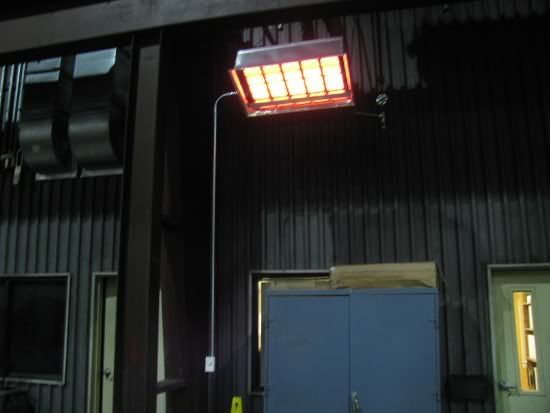 And from the side, in case you need a better view: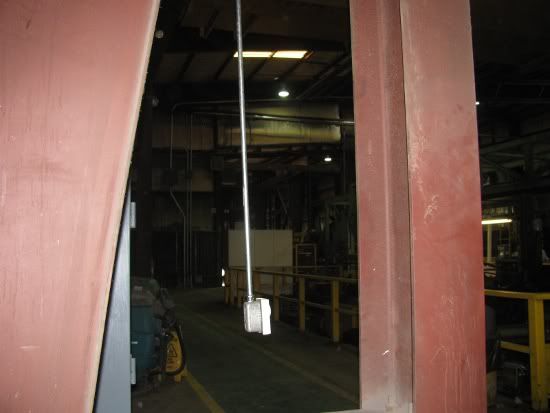 BTW, the installs were made when the weather was still nice, and have survived so far.
Can you say 'unsupported'?? Tell me that there is something on the short side of the 90...& not just a connector & locknut.

And this guy is an industrial EC??
---
John
Absolutely without any support ... though some units have a single support on the short side of the 90. The EMT goes right into the side of the heater.

We think alike regarding the EC. (Especially with all those columns nearby!)
Last edited by renosteinke;
11/28/11
11:34 PM
.
Guess who showed up this morning? Yup, the EC ... to 'fix' the installation.
I say 'fix,' because ..... well, I'll have pics later
Maybe it's the carpenter's fault...for forgetting to put a wall around the box?

LOL
---
Ghost307
OK, as promised ... the REST of the story
I arrived on site this morning to find that someone had been busy during the night; the pipes had been worked on. Either one heck of a cincidence, or the EC lurks this site. Here's a first look at the new pipe run: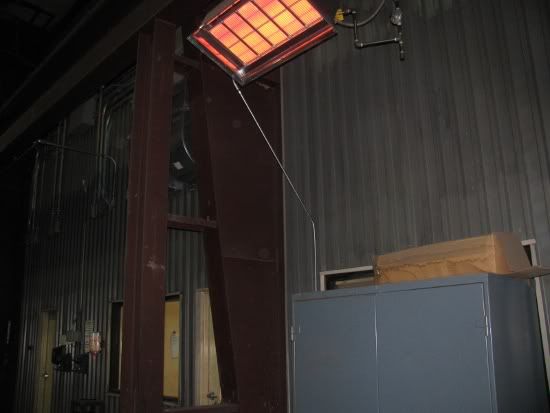 Much better- but still not quite there.
HotLine had been asking about the 90 up topside; here's a closer view:
On closer examination, it looks like the run started as RMC -note the factory 90- and then transitioned to EMT. Let's step back now, and look at the wall-mounted pipe: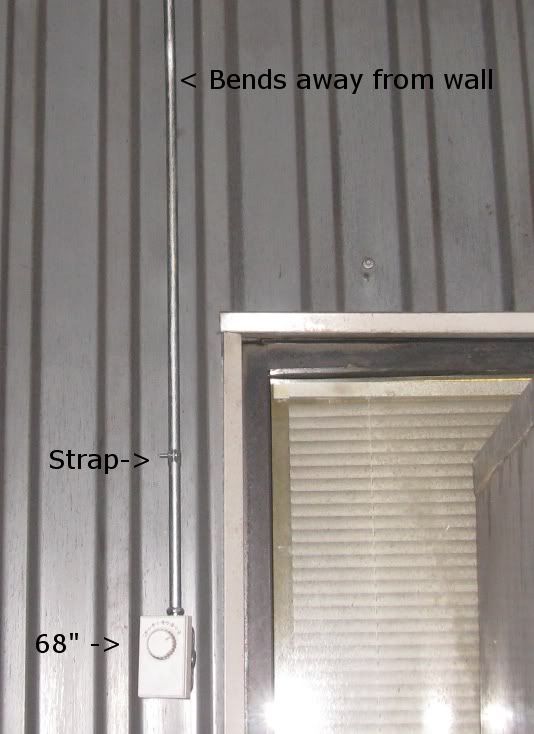 Only one strap, and that controller is mounted somewhat high- about face level. Still, not as bad as this one down the hall, which is mounted somewhat higher: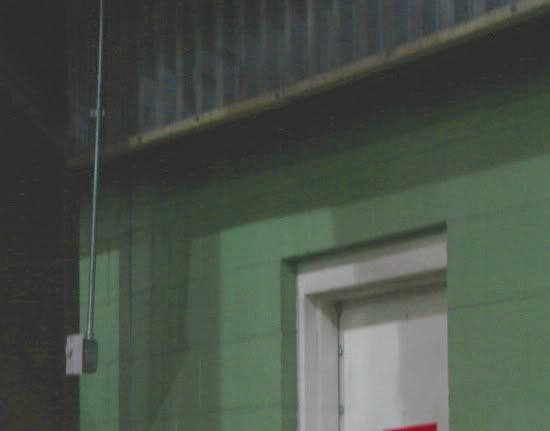 Friends, that's almost out of reach. What do you think the odds are that the pipe was bent 'in place,' and they didn't bring any more pipe or wire along?
You have to believe me when I tell you that I have no official part of this operation, and cannot express my judgement. Somebody needs to hang up their toolbelt for a bit, and ponder the errors of their ways.
Reno:

Amen to hanging up the tools for this mechanic.

I had first week students at VoTech that had more talent with EMT and RGC.

I have Red Tags, if you care!!

That topside 90 is taught in the class of 'if it don't fit....force it'
Last edited by HotLine1;
11/29/11
09:45 PM
.
---
John
We have these heaters installed at work but wired rather differently

The heaters are hung on jack chain and a short length of flex connects to the heater to a junction box mounted at high level, then the flex either joins to singles in steel tube, or armoured cable down to the switch

of course, its all attached either to the steel work or the wall!
---
I took my time, I hurried up, The choice was mine, I didn't think enough
No, Harold ... the last two pics are all the 'fixing' this place got.
Amazingly enough, so far nothing (a year later) has been damaged - this, in a place that regularly breaks stuff made from 1/2" steel plate!
I suppose it's an improvement over the portable heaters they had been using for the past two decades. Yup, the place is 21 years old, and they only mounted these heaters last year
As for the portable heaters ... they were using these:
http://www.grainger.com/Grainger/ww...N=0&GlobalSearch=true&sst=subset
.
Every one of these portable heaters has some interesting stains on the reflectors. Many also have replacement protective 'screens' with much smaller openings than the original screens. You guessed it: they've been used as electric BBQ's!
Link Copied to Clipboard
Featured:

Tools for Electricians

* * * * * * *


2023 NEC Now Available!

* * * * * * *


2020 NEC Electrician
Exam Prep Combos:
Master / Journeyman