Who's Online Now
0 members (), 13 guests, and 49 robots.
Key:
Admin
,
Global Mod
,
Mod
Guys,
I burned my bass amp out last night, this is a thing that I built back in the 1980's, using some 2N301 power transistors as the finals and I'm surprised it's lasted this long.

I now have a new design that I'm pondering, it has a pre-amp, where as the older one didn't.
What I'm enquiring about is this, I need a potentiometer volume control, I can't for the life of me remember whether you use an A taper (Linear) pot or a B taper (Logarithmic)style thing for this application.

Any takers?


Hey there Mike;

The Volume Pot should be one with an "Audio" Taper - a Logarithmic increase or decrease in Resistance value, so go with the type "B" Taper Potentiometer.

If the type "A" Linear Taper Pot was used, the perceived increase, or decrease in sound level will not be "Linear" while the Pot handle is rotated.
A Linear Taper Pot would result in a gradual perceived increase in Volume Level for the first 40% to 45% of the rotation, then appear to quadruple the Volume between 45% and 60% rotation.
At the end, it would appear to double the Volume for the final 40% (from around 65% to wide open 100%).

The Linear Taper Pot could be used on the Preamp (or at the Output of the Bass Guitar) if you cannot find an Audio (Logarithm) Taper Pot available with the Resistance & Power Values you need.
Probably not an issue finding an Audio Taper Pot, with a Value of 250K or 500K Ohm, 1/2 to 1 Watt rated, and a decent Tolerance (5% and less).

-- Scott
---
Scott " 35 " Thompson
Just Say NO
To Green Eggs And Ham!
Hey Scott,
Thanks a million, mate.
For once in my life, I've elected to make things reasonably simple on myself and have gone with a kit-set approach.
Jaycar down this way make a pretty good 50 Watt Mono amplifier that is based upon an LM 3876T chip.
(In case you folks were wondering, 50 Watts is more than any amount for a Bass amplifier, anyone that tells you any different, is trying to sell you something you don't really need)
I've bought all the bits for it (sans speakers) and I was having a wee bit of a set-out session here the other night.
This kit requires a dual-rail power supply of +/- 35V and for this I needed a centre-tapped transformer, the only one I could find was a toroidal type and unfortunately, it takes up half the case.
Here's a little picture of how far I've got so far: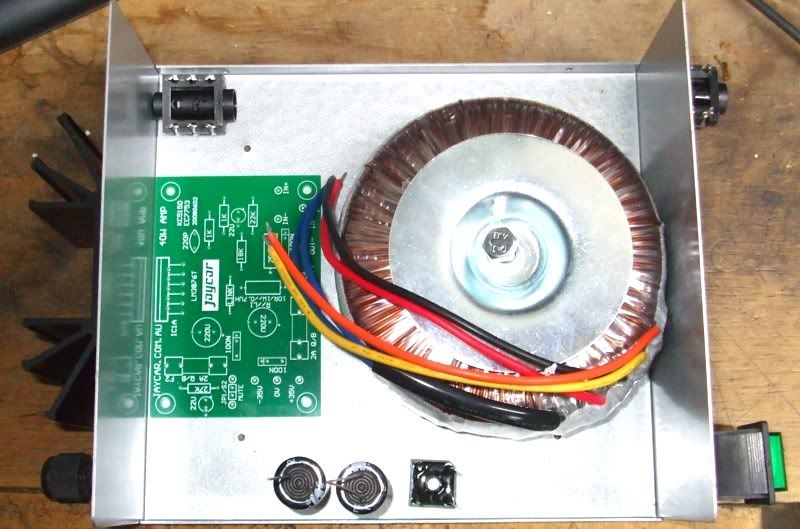 When Labour weekend hits here the weekend after next, I'm going to be into this like a rabid dog.
Not so much the electronics construction, but building the speaker cabinet that will hold 4 x 8" speakers and a base port.
These speakers are rated at 200W a piece (RMS) and from the specs, they should do the trick.
One thing I was wondering about though, do you need to have a pre-amp to have any sort of "tone shaping" with an amplifier, what I mean is (very loosely), Treble, Mid-range and Bass pots.
A bass guitar gives you rather limited control over how your signal sounds on the output of an amp.
Is there a simple circuit I could use, to effect some sort of top-end or low-end cut/boost?
Mike,
Awesome job with the Power Amp!
I forgot that you play Bass, as well as Drums.
Regarding the Preamp, you could place Tone Controls between the Instrument Signal Input, and the Power Amp, via a basic Tone Control type OPAMP based Driver, or as part of an actual Pre-Amp.
The Tone Control block is a simple Pre-Amp, so either way you will have a Pre-Amp'ed Signal to the Power Amp.
If you trim the Signal's Tone with Pots only (no Pre-Amp), the Signal might be noticeably lowered with Trim pot adjustments.
I will search through my Circuit Archives for a simple Tone Control Schematic, designed around a common OPAMP.
If successful, I will let you know, so as to E-mail the Schematic to you.
Until then, here is a Link to a nice On-Line Electronics site:
Epanorama
From the Main Page, under the
AUDIO
Section, select the "Music" link. This area has several Instrument Oriented Schematics.
Good luck!
-- Scott
---
Scott " 35 " Thompson
Just Say NO
To Green Eggs And Ham!
Woah!,
A lot of good info there Scott.
I think what I might do, is build this amp and speaker unit up and see how it sounds, before I go changing anything.
You never know, it might sound great from the start (that would be a first though).
Thanks for your help, mate, it's most appreciated.
More pictures will follow, once I've actually done something with this kit.
Scott,
While I've got the front and rear panels fitted out, I have a question for you, that I hope you can answer.
There have been documented cases of guitarists (and bassists) being electrocuted by touching the strings on their guitars (which are inherently steel, because we need things like pick-ups).
Is this a breakdown of the amplifier circuitry that has caused this to happen?
See this amplifier works off the 230V mains here and the way I intend to build it is that so parts that need to be "grounded" within the amp, will be tied to mains Earth.
I'm not sure what your experience is with musical gear, but any advice you can give me would be most appreciated, as I don't really want to electrocute myself just yet.
Oh and could you please type slowly, as you know that I don't read very fast.
Mike,
I have seen Guitarists get Shocks from various connection points.
From the looks on their Faces (and the swear words immediately following...), the Shocks were Intense and quite Painful!
Luckily, none of these Faults grabbed and held anyone, nor did I have to pull anyone off of Live Equipment, or treat a Victim for Electric Shock Trauma.
Mostly the results were Bruised Egos.
There were a few Ankle Sprains (from tripping over patch cords / falling off the riser / etc., after the Shocking experience...)
These Shock Scenarios were caused by the Infamous term:
---"GROUND LOOPS"---
The most common Shock was between a Guitarist and a Microphone. Right through the mouth, too!
Loop Currents would flow when Guitarist held Strings (playing a Chord), and touched Microphone (Singing) at the same time.
Other Loop Current Shocks were found when plugging in Patch Cords to Auxiliary Equipment - i.e. at the PA.
To correct these issues, all Sound Equipment EGCs were bonded to a single Star Point.
The AC Power Cords from the various Audio Equipment (Amps, Effects, PA, etc.), connected to a Break-Out point at the same location.
Several 20 Amp Branch Circuits were brought to this Break-Out point, via a dedicated home run.
Where XLR Connections were used, the Shell was Ground Bonded at (1) End only (at the PA).
If needed, I can draw a basic schematic of the Star Point concepts, and reduction of Loop Currents on Instrument Cables + Equipment.
In addition, please let me know if the questions were answered satisfactorily
(I am half asleep while typing!
)
-- Scott
---
Scott " 35 " Thompson
Just Say NO
To Green Eggs And Ham!
I think these things are caused by people not investigating defective equipment. They have a fault that puts a hum in the system and they immediately start cutting ground wires to make it go away.
---
Greg Fretwell
Mike,

How is everything coming along with your Instrument Amps?

-- Scott
---
Scott " 35 " Thompson
Just Say NO
To Green Eggs And Ham!
Mate,
To say I've made any real progress with this project, would be a lie.
I've got the case all drilled out for switches, sockets and the volume pot.
I also have the stand-offs in for the main board.
Here are some pics of it thus far:
Above is a pic of the little I have done to the base of the amp case.
Above is the front panel, with a 230V DPDT switch that has a neon in it, the lower hole to the right is the input socket, the hole above that is the Master Volume pot.
Above is the rear panel, on the right is where the 230V feed will head into the amp, via a cable gland, to the left will be the output to my speaker cabinet.
In the middle is the hole for the screw that will tie the Power amp IC to the heat-sink on the outside of the case.
The one thing (aside from work) that has held me up on this project, is that you can't buy plywood here at the moment and I need this to build any sort of a strong speaker enclosure.
More pics will happen when I advance through this project.
Last edited by Trumpy;
12/27/11
01:25 AM
. Reason: Typo
Link Copied to Clipboard
Featured:

Tools for Electricians

* * * * * * *


2023 NEC Now Available!

* * * * * * *


2020 NEC Electrician
Exam Prep Combos:
Master / Journeyman